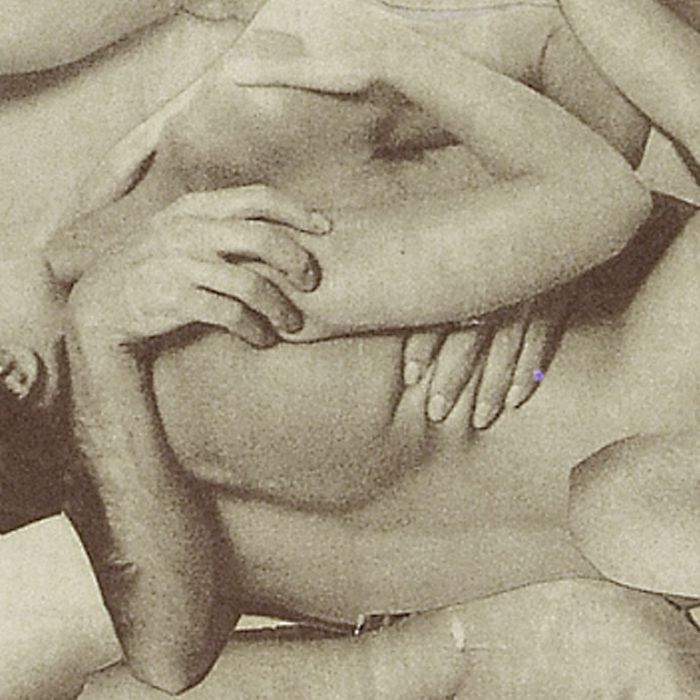 Photo-Illustration: James Gallagher
This week, a woman meeting up with a fling for some BDSM action across seas: 48, single, New York.
DAY ONE
9 a.m. PB and I met in Switzerland, where I spent most of lockdown, even though I'm a New Yorker. I work in hospitality, so I had to shut down my business for a while. It's been a little over a year since I've seen PB. We met via an app that I was just about to delete. During our initial sexting, he told me how lockdown had left him lonely, super horny, and looking for sex, drugs, or violence. I told him I could offer all three — I'm a former professional dominatrix, after all. Within an hour, we met up and had something of a marvelous mutual masturbation mess. It was wickedly satisfying. Witty textual banter has ensued for a year, and today I'm flying back to Europe — Switzerland, then Italy — to see him and all the other friends I made there.
10:12 a.m. I text with PB. He has not strayed from the chastity promise I imposed ten days ago, in anticipation of our big reunion. I firmly trust he is a man of his word. I have been tormenting him from afar with images and three-second clips of what is to come.
4:40 p.m. I decide to repack my luggage and make sure I am not forgetting anything, like regular clothes to wear every day, and double-checking anything that vibrates is set to "travel mode." Inside my luggage, there are toys galore, multiple tall shiny boots, carefully wrapped latex, soft rope, and punishing tools. It's a micro-dungeon.
7 p.m. Off to Europe.
DAY TWO
12 p.m. Landed. Another day, another nasal swab before passport control. My luggage is among the first cluster down the chute since my pampered ass will only fly business these days. I grab and go find my rental car. I know the route, but dial in the GPS, and I am on the road to kink.
1:30 p.m. I receive a warm welcome from my other home away from home; a humble B&B on a gorgeous lake. I get the keys to my favorite room, which is the entire top floor with its own elevator. I will need that much space for the night's play.
3 p.m. I finish decompressing, shower, and get dressed in fresh-smelling clothes. I unpack the perv sack and strategically place items about the room — some in view, some hidden. PB lets me know he's about a half-hour away.
5 p.m. He shows up perfectly on time (how very Swiss). We've had so much fun repartee since our hookups last year, so I was giddy with anticipation but also completely relaxed, and it was great to see him.
6 p.m. My friend Silvia is the first to arrive for dinner. She's a hoot, a hottie and smartie. She completed her Ph.D. in Scotland and remained there for a decade, and was delighted to hear PB's fetching Scottish accent as he sat down at our table. While he went back to his car to retrieve a couple bottles of booze, she gave me the full seal of approval, fanning her hand in her face, clearly indicating "hot."
8 p.m. The gang is mostly here and dinner is almost ready. PB and I have the kind of banter that hints at what is to come without being overt. It's arousing. My friends all know what I like to get up to, what I have done in my former life.
11:30 p.m. Dinner disbanded, we waste no time with the ritual of getting dressed. Latex is always fun when the task of dressing is shared. It's a sticky night despite a gentle cross breeze, so suiting him up takes a few. I marvel at how beautiful he looks in his shiny hood, glossy head harness and gag, latex gloves, and stockings spilling into five-inch red heels. I bind him to the chair with supple red rope and then get dressed myself.
1 a.m. After a change of positions in full restraint and both dressed for pleasure, he whispers, "I want to fuck you." A statement like that would have resulted in a backhand across the mouth back when I was a professional, but this is pure hedonism. He's younger, he's handsome, and I'm at liberty to indulge.
DAY THREE
7:30 a.m. We wake up without a mote of awkwardness and giggle over the contents of the night before. The conversation ends with him off-loading in my face. Good morning!
12:59 p.m. PB has to head home today for work. He thanks me for the adventurous experience and for putting so much thought into it. The feelings I have for him aren't romantic. I'm decidedly single and enjoy my freedom, but he's funny, he's so curious, he's all about exploring his kinky bent — but, of course, at the same time, would love to find a wife and start a family, which is clearly not me! I do hope to help him find who he is looking for. I am a great friend like that!
2 p.m. I have a bit of jet lag, so I return to bed for a nap.
7 p.m. I take a lovely boat ride with a dear friend.
DAY FOUR
10:30 a.m. I get a text from a former lover in the area with images of his new metal chastity device that I only half-suggested. He is really into devices and submission. We've only played once after meeting at a fetish party, which happened in between severe lockdowns.
3 p.m. A lot of messaging back and forth. He is quite amusing and a gentle soul, despite the unsolicited lurid pictures clogging up my WhatsApp.
9 p.m. I go through all his photos once more. I stare at them, send a pervy text, and delete them.
10 p.m. Start to get my head in order for reopening my business in New York. That has to happen in the next few weeks.
DAY FIVE
9:20 a.m. I check out of the B&B and begin to drive north, toward a cute town full of friends and PB's home.
2 p.m. I arrive to the sweet embrace of my friends at their restaurant. They are a husband-and-wife team of a decade and a half and just reopened their much-lauded restaurant.
4:30 p.m. Another fabulous couple I befriended during the pandemic turns up and even though we are all slated to have a proper dinner here again tomorrow, we can't stop chatting and enjoying the bites set before us.
9 p.m. Somehow, it got late. They called me a car back to my other B&B since it was still too hot to walk anywhere, even in full darkness.
DAY SIX
11 a.m. I go to my friend's family's lakeside cabin. It's bliss.
2 p.m. Back at my new B&B, I jump in another lake. More bliss.
5 p.m. I arrive back at my friend's restaurant, and PB is there already, looking perfectly preppy. Other friends arrive. We have a marvelous meal. I wanted PB to become friends with the crew I know to ever widen the circle.
11 p.m. Stuffed. Taste buds satisfied. Felt like ten courses. Boy, do I love this room and everyone in attendance.
11:30 p.m. Since my car was parked out back and contained my toy bag, I told PB to bring it home and pick out the toys he wanted to keep. It would lighten my load and keep him inspired for exploration in the winter, when we might be able to meet up in the EU again.
DAY SEVEN
9 a.m. I leisurely make my way to another part of the country for a few days of complete me time … maybe with a bit of adventure thrown in.
1 p.m. I check in to the next port of call and am rewarded with a brilliant room with a tub, a terrace, and a view of snow-capped mountains. I am in heaven.
3:30 p.m. The sound of the rain, the rumble of thunder, and the sky going from a yellowish healed bruise back to black gets me horny. Thunderstorms always do. I get a sext from an almost-forgotten ex and just don't have the urge to reply. I am taking my me time seriously, doing what I want, when I want and how I want.
5 p.m. Bath time with a view. The water and the decompression allow me to think about the friendships, both kinky and vanilla, platonic and otherwise, that I have been able to engage in during the pandemic and revisit in the aftermath. Life is a beautiful power play; don't ever think you are all this or that. Allow yourself to be humbled by the experience of others who want to share it with you and find the joy of sharing.
8 p.m. When I return, I have a ton of work, which will keep me tethered until the New Year at least. I decide to let the bedding swallow me. Sometimes, sleep is just the high your body needs.
Want to submit a sex diary? Email sexdiaries@nymag.com and tell us a little about yourself (and read our submission terms here).