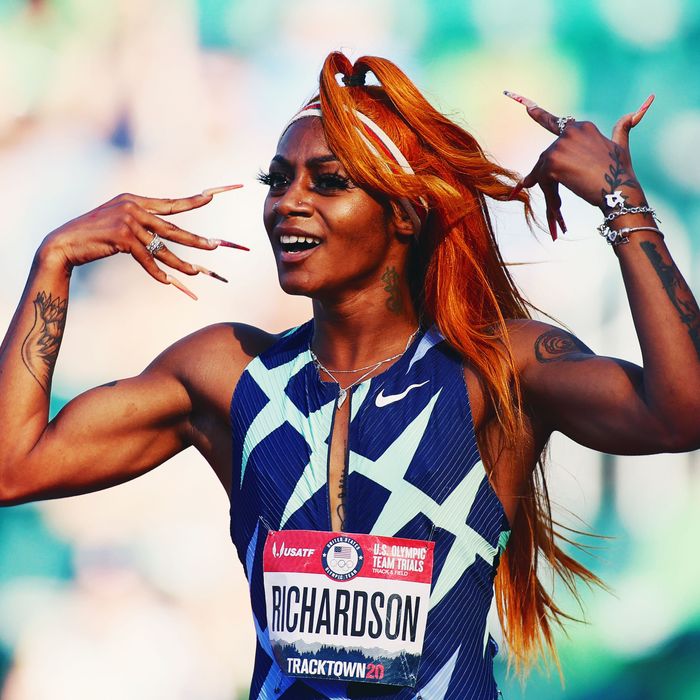 Sha'Carri Richardson at last month's U.S. Track and Field Trials.
Photo: Steph Chambers/Getty Images
After winning hearts and the 100-meter race during last month's U.S. Olympic Track and Field Trials, star sprinter Sha'Carri Richardson will not be allowed to compete in Tokyo due to testing positive for cannabis. "I want to take responsibility for my actions," Richardson said in a Friday-morning interview with the Today show. "I know what I did and what I'm not supposed to do. I know what I'm not allowed to do and I still made that decision."
Richardson's one-month suspension began on June 28, reduced from a potential three months because she agreed to participate in a counseling program. The timing barred her from participating in the 100-meter race at the 2020 Tokyo Olympics, though initially, there was still the possibility that USA Track & Field could select her to compete in the 4x100-meter relay, which takes place a week after her suspension will have expired. On Tuesday, however, the USATF declined to do so, explaining in a statement that while it "fully agrees that the merit of the World Anti-Doping Agency rules related to THC should be reevaluated, it would be detrimental to the integrity of the U.S. Olympic Team Trials for Track & Field if USATF amended its policies following competition, only weeks before the Olympic Games."
"All USATF athletes are equally aware of and must adhere to the current anti-doping code," the statement continued, "and our credibility as the National Governing Body would be lost if rules were only enforced under certain circumstances."
Speaking to Today last week, the runner said she used marijuana to cope with her mother's death while in Oregon for the Olympic trials. She learned of her mother's passing from a reporter during an interview at the trials. "To hear that information coming from a complete stranger, it was definitely triggering," Richardson told Today. "It was definitely nerve-shocking. It was just like, who are you to tell me that? No offense against him at all. He was just doing his job. But definitely, that sent me into a state of mind, a state of emotional panic." Recreational marijuana is legal in Oregon.
"Not making an excuse or looking for any empathy in my case, but being in that position of my life and finding out something like that — something that I would say has impacted my life positively and negatively in my life when it comes to dealing with the relationship with my mother — that definitely was a heavy topic on me," she said. "To have to go out into the world and put on a face — who am I to tell you how to cope?" she added. "Who am I to tell you you're wrong for hurting?"
"The rules are clear, but this is heartbreaking on many levels," said Travis T. Tygart, CEO of USADA. "Hopefully, her acceptance of responsibility and apology will be an important example to us all that we can successfully overcome our regrettable decisions, despite the costly consequences of this one to her."
Richardson's suspension has drawn comparison to Michael Phelps, who also faced suspension after he was photographed using a bong in 2009. While Phelps lost sponsorship deals as well as financial support from USA Swimming, his three-month suspension did not impact his ability to compete in major events, as it took place months after the 2008 Olympics and six months prior to the 2009 World Championships. Phelps's punishment was also solely in response to the photo; he never tested positive for marijuana.
"Right now I'm just putting all of my time and energy into dealing with what I need to do to heal myself," Richardson told Today, adding that this hasn't deterred her from competing in future competitions. "This is just one Games," she said. "I'm 21, I'm very young … I have plenty of Games left in me to compete in and I have plenty of talent that backs me up." As also reflected in her drug test, Richardson made it clear that she does not use steroids or performance-enhancing substances.
When asked what she hopes of the public, Richardson said, "Don't judge me because I am human. I'm you. I just happen to run a little faster."
This article has been updated.