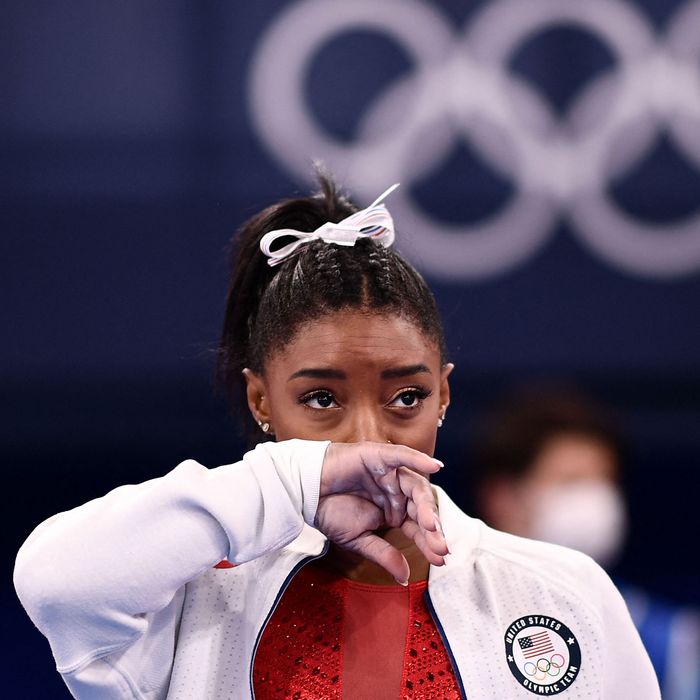 Photo: Loic Venance/AFP via Getty Images
On Wednesday, Simone Biles dropped out of the Olympic individual all-around competition in order to prioritize her mental health, according to the New York Times. "We wholeheartedly support Simone's decision and applaud her bravery in prioritizing her well-being," said a statement from USA Gymnastics. "Her courage shows, yet again, [why] she is a role model for so many."
The news came just a day after the defending Olympic champion dropped out of the team finals after competing in just one of the four events. Carol Fabrizio, a spokesperson for U.S. Gymnastics, initially told USA Today Biles withdrew due to a "medical issue," offering no further information. However, during a press conference following the competition, Biles confirmed there was "no injury, thankfully." She cited her mental health as one of the main factors in her decision to withdraw. "I felt like it would be better to take a back seat," she said. "I didn't want to risk the team a medal because they worked way too hard for my screwups."
During the first rotation of Tuesday's team finals — the vault — Biles appeared to bail out of her expected routine. She had planned to do an Amanar, one of her more difficult vaults, which involves a two-and-a-half-rotation twist. However, she only completed a one-and-a-half twist. Biles is considered the best vaulter in the world — as the New York Times notes, she is capable of landing skills "so difficult and daring that no other woman even trains to do them" — so the stumble and subsequent low score were a shock. After her Tuesday vault routine, Biles left the floor with a trainer.
Biles later told press she realized she felt off and that it was her decision to withdraw, explaining that she also wanted to avoid risking a severe injury. Though coaches cleared her to continue competing on Tuesday, she said she told them, "No … I can't risk a medal for the team so I need to call it." Teammates Jordan Chiles and Sunisa Lee competed in Biles's place, with Chiles on the beam and uneven bars and Lee on the floor exercise. Biles was incredibly supportive of her teammates, saying, "I knew they were going to be just fine." With Biles out of the competition, the U.S. placed second behind the Russian gymnastics team. Later in the week, during Thursday's individual all-around competition, Lee won the gold while Biles cheered from the stands.
Biles told press that this Olympics in particular has been "really stressful," given its unique circumstances related to the pandemic. "We should be out here having fun and sometimes that's not the case," she said, also noting that tennis star Naomi Osaka, who has been a vocal advocate for athletes' mental health, inspired her decision to withdraw.
During Tuesday's press conference, Biles didn't confirm whether or not she would compete again in Tokyo. Biles had the highest score in the individual qualifying competition and qualified to compete in the uneven bars and vault on Sunday, the floor exercise on Monday, and the balance beam on Tuesday. However, on Friday she said on Instagram she was still struggling with "the twisties" — a term gymnasts use to describe a mental block like the one that appeared to prevent Biles from performing her vault on Tuesday. "Literally can not tell up from down," she wrote. "It's the craziest feeling ever. Not having an inch of control over your body."
Biles's decision to prioritize her mental and physical well-being has been met with support from many of her fans and fellow gymnasts. In an Instagram post on Thursday, she wrote: "the outpouring love & support I've received has made me realize I'm more than my accomplishments and gymnastics which I never truly believed before."
This post has been updated.