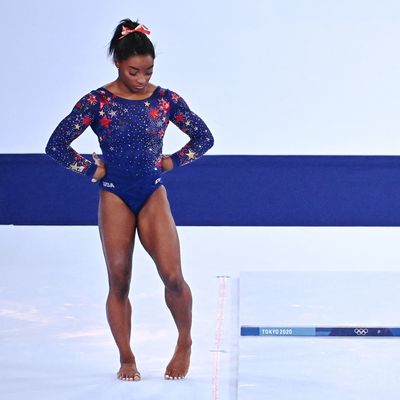 Photo-Illustration: LIONEL BONAVENTURE/AFP/Getty Images
In a stunning turn of events, Team USA's most decorated gymnast, Simone Biles, withdrew from both the team and individual all-around competition at the Olympic Games this week over concerns about her mental health. But what's really surprising is that, in a pivotal career moment, Biles had the courage to tell her coaches, team, and the public that she was not well and needed to step back. What's surprising is that she smashed society's idea of the strong Black woman stereotype. And all while she was bearing the pressure of being the most famous athlete at the Olympic Games.
The four-time Olympic gold medalist has been called the greatest gymnast of all time. There are four different moves named after her because no one else has been able to perform them. She broke another record this year by winning her seventh national championship, and the last time she lost an all-around title was in 2013. This year, she was hoping to become the first woman in a half-century to win a second consecutive title in the Olympic all-around. The whole world was watching to see what she would do.
But they weren't just watching to see her performance. Biles was one of hundreds of women and girls who came forward with sexual-assault allegations against former USA Gymnastics team doctor Larry Nassar, who was convicted of molesting seven girls in 2018 and is currently serving a sentence of up to 175 years. Biles is the only survivor of Nassar's abuse competing at the Olympics this year, and she showed up because she felt an obligation to push for change in an organization that swept decades of sexual abuse under the rug. "If there weren't a remaining survivor in the sport, they would've just brushed it to the side," she told Hoda Kotb in a recent interview. Biles has used her fame to push for accountability before. As Juliet Macur pointed out in the Times last week, USA Gymnastics cut ties with the Karolyi Ranch training camp after Biles tweeted about being abused there, and a top official stepped down after Biles surfaced an old tweet in which that official opposed Nike's support of Colin Kaepernick. "Biles became such a force that her teammates started asking her to tweet that the team should get all-expenses-paid vacations to the Caribbean," Macur wrote. Biles had power and visibility that her teammates didn't.
On top of facing expectations from fans around the world that she would excel in her performances, leading Team USA toward gold, she also felt a personal obligation to show up for her fellow survivors because USA Gymnastics made no efforts to protect them. Imagine performing to the best of your ability in an environment that allows and enables widespread sexual assault. Imagine knowing that one of the only reasons the organization that employed your abuser finally took action is because of your success and fame. Imagine the pressure to succeed, knowing that your body — commoditized and monetized — is also an agent for social justice.
When we see Biles so effortlessly take flight, repeatedly nailing her routines with moves so challenging and dangerous that judges often underscore them to deter less-skilled gymnasts from attempting them, it's hard to remember that, while she has superhuman talent, she is simply human. The expectations that her fans, team, coaches, and endorsers place upon her to consistently win are unbelievably heavy. During a preliminary round of the Olympics earlier this month, Biles shared a message on her Instagram, an early indicator of the rising pressure she felt: "I truly do feel like I have the weight of the world on my shoulders at times. I know I brush it off and make it seem like pressure doesn't affect me but damn sometimes it's hard hahaha!" Minutes before Biles withdrew from the women's team final on Tuesday, she had performed a vault in which she lost her way in the air, only barely avoiding serious injury. She dropped out not just to protect her mental health but to avoid real physical risk. ​​"It's the Olympic Games," Biles said later, "but at the end of the day, it's like, we want to walk out of here, not be dragged out of here on a stretcher."
As the outpouring of support from fellow gymnasts made clear, Biles prioritized her health in a way other competitors in the sport haven't always been able to. Gymnast Dominique Moceanu tweeted a clip from the 1996 Games in which she fell on her head during competition; the then-14-year-old "competed in the Olympic floor final minutes later," she tweeted. "Simone Biles's decision demonstrates that we have a say in our own health — 'a say' I NEVER felt I had as an Olympian." Biles also drew comparisons to Kerri Strug, the 19-year-old who won her team the gold by competing on an injured ankle at the 1996 Games. Pushed to perform by her coach, Bela Karolyi, she had to be carried off the floor after her vault by Larry Nassar and was treated like a hero afterward. "Sending love to you, Simone Biles," Strug tweeted yesterday.
Biles is not just making a major statement for fellow athletes but also for Black women, who can feel pressured to succeed at all costs and put our own needs last. We feel the burden to excel in our careers, take care of our families, and problem-solve the many challenges that feel unique to our communities, including economic and racial inequities. Burnout is real. If everyday Black women feel it, how must Black women athletes feel with the world watching? How powerful of a message has Biles sent in prioritizing her mental health and simply saying "no"? As the author Luvvie Ajayi put it, "Black women have been the epitome of resilience, but it's time to show a new kind of strength — the strength to say 'Nah, not today.'"
Biles is still the true hero of the Olympic Games. What she's doing is the real sign of strength, even if the world doesn't know it yet. Stepping away from the biggest moment of her career takes courage and bravery. The world was watching to see her greatness, and that's exactly what we saw.