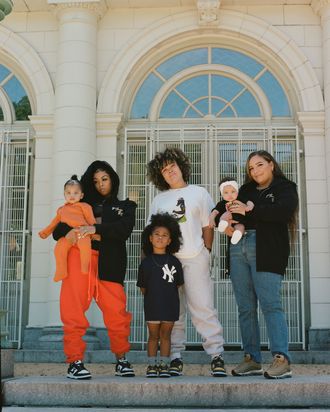 I decided a few months back I needed to stop buying graphic tees. I love them, but my closet was simply too full. Yet I think I just found a new T-shirt that I have to make an exception for. Brooklyn-based artist Aya Brown and streetwear brand SNS have teamed up to create a capsule benefiting Planned Parenthood. In addition to graphic tees, the collection includes zip-up hoodies and tote bags.
When SNS was approached about doing a campaign for Planned Parenthood, Brown was the first artist to come to mind — most likely for the brilliant sketches displayed on her Instagram, or perhaps her personal collection of original graphic tees that promote Black queer pride. Coincidentally, Brown had already been drafting a project with Planned Parenthood herself — so the collaboration just made sense. "We were all excited to work on something that creates visibility of Black queer parenthood and Black queer love," Brown says.
The capsule was created with those experiencing pregnancy in mind, with items chosen to prioritize comfort and style and "make their lives a little easier." The products feature Brown's colorful sketch drawings depicting several different Black mothers.
SNS gave full creative control of the campaign to Brown, who hopes to provide visibility for Black and brown queer mothers and queer maternal planning. Brown hopes the art featured in the collection will help put an end to the idea that parenthood, or families, should look a certain way, as well as pay homage to the older Black queer folks who paved the way for her. "I need to make sure that people who are Black and queer, and especially lesbian, can see themselves in all spaces — especially Planned Parenthood," Brown says.
In addition to the capsule, SNS will also donate $5,000 to Planned Parenthood. You can purchase all the items featured in the collection on the SNS website now. I, obviously, suggest the graphic tee.