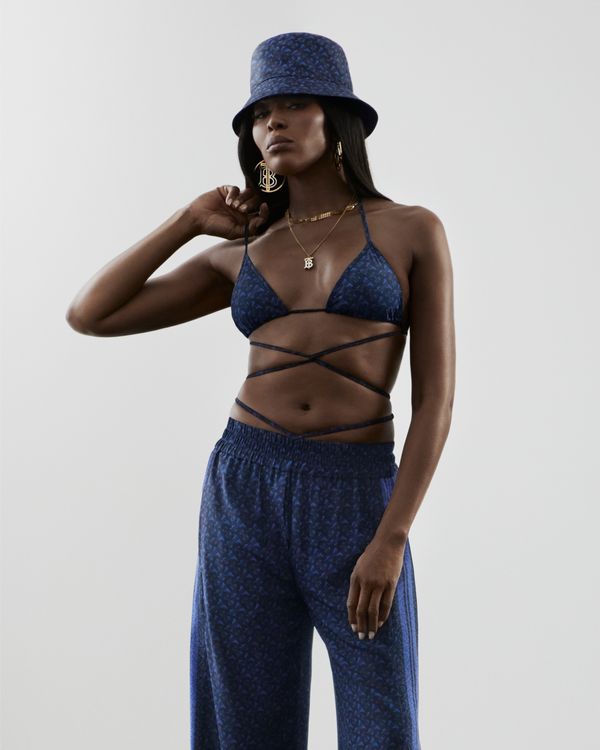 This summer, the reality that I have to work to survive hit me hard. In my fantasies, I'm lounging by the pool in designer clothes; in reality, I'm struggling with burnout while sweating through heatwaves in Bed-Stuy. But as a daydreamer, I won't be restrained from manifesting a future where I'm finally a rich person in Miami, wearing swimwear from Burberry's new TB Summer Monogram Collection.
Accompanied by a campaign starring Naomi Campbell, the collection is an ode to the British brand's founder, Thomas Burberry, whose interlocking initials are given a summer-inspired colorways reminiscent of the beach under a full moon: cobalt blue, deep royal blue, and light grey. The collection of lightweight pieces — including bikinis, one pieces, flowy separates, bags, and bucket hats — printed with the new Thomas Burberry monogram.
"The collection captures that optimistic feeling of summer and that feeling of constant momentum, the excitement for what's next," chief creative officer Riccardo Tisci said. "And so, for the campaign, I couldn't think of anyone better to symbolise this enduring nature than my incredible friend Naomi Campbell. Naomi has this transcendental energy and beauty that embodies both a timeless classicism as well as the vitality of summer."
To celebrate the debut, Burberry even took over the pool at Strawberry Moon at the Goodtime Hotel in Miami Beach, completely covering cabanas in the print, of course. If I didn't have to work, I'd be there now, blending into a cabana cushion like a chameleon with my Burberry swimsuit. Anyway, watch the campaign video below. And shop the entire collection here.