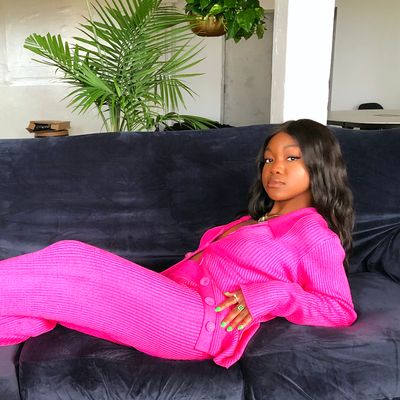 Photo: Courtesy of Mary Imevbore
During her senior year of college, Mary Imevbore says that she fell in love with wearing wigs as a protective style for her natural hair. It was also a fun way to switch up her hairstyle without much time, money, or effort. But she found the experience of shopping for them to be pretty bleak, with endless vendors on the internet and shady reviews to sort through and no obvious brand to buy from. So, along with her two best friends, Imevbore founded Waeve.
"People are building wig collections and switching up their hairstyles daily, like we do with our clothes," Imevbore told the Cut. "It didn't make sense that such a fun product would be so hard to buy, so my co-founders Susana and Tiiso and I came together to create a wig company that we'd want to shop from. What keeps us going is our mission to uplift and bring joy to Black women. We've been long overlooked as consumers in the beauty space, and Waeve is about reclaiming our agency and taking up space."
We spoke with Imevbore about her favorite hairstyles, bedroom fashion shows, and the hot-pink Nicki Minaj Crocs.
What's one wig from Waeve that's especially meaningful to you?
Wednesday! It's truly the softest synthetic hair I have ever felt, and the style is iconic. The side part and the flipped ends? It's giving luxury!
How do you thank someone for a gift?
I want to say a handwritten note, but in reality, it's usually a long, heartfelt, and rambling text — or a phone call, depending on the person and how I received the gift. I think a sincere expression of gratitude is the most important thing, no matter the format!
What would you never wear?
Something uncomfortable.
What's your dream vacation?
I'm Nigerian, and my best friend and co-founder Tiiso is from Botswana. We have been trying to plan a two-week Lagos-Botswana trip for as long as we've been friends. It'll happen one day. The idea is that we would first go to Lagos (the city with the absolute best nightlife) and turn up for a week. Then we would head to Botswana (an insanely beautiful country) for a week of rest, relaxation, and connecting with nature. I think it would be the ideal trip!
What's a good book on your coffee table right now?
Zen and the Art of Motorcycle Maintenance. I've read it a couple times now, and it's always on my coffee table. I love having it close by so I can pick it up whenever I need inspiration because it's just full of so much wisdom!
Last show you binge-watched?
Yasuke on Netflix. It's about a Black samurai and voiced by LaKeith Stanfield. So, yes.
What's your guilty pleasure?
Trying on dramatic-ass outfits that I'll probably never wear anywhere but in my room by myself for hours. I love a good party-of-one fashion show.
Secret to hosting a good party?
Food, great music, and flowing drinks. But most important is food! Every great party's got to have something to eat.
What is a trend that you like right now?
I think that pink is really coming back as a color to wear, and I love it. For a while I was like, I'd never wear pink. That's for little girls, and I'm grown. But the older I get, the more I realize that was a weak take. Pink is a power color!
One you don't understand?
I wouldn't say I don't understand, but it's one I have yet to try: the crop tops that are just like an "X" of fabric over your chest. My question is, how do your boobs not fall out?
Favorite restaurant in New York?
Dinner Party. It's a great new spot in Fort Greene!
What's the one thing you could eat every day for the rest of your life?
Rice and stew. The Nigerians know.
Shoes you wear most often?
These days it's a toss-up between my pink Crocs and my all-white Balenciaga Triple S's.
What are five inanimate objects that bring you joy?
"I am not ashamed to say that when Nicki Minaj posted that pic, I immediately made my way over to Crocs."
"It makes me happy every time I look at it. I get a lot of compliments on it. It makes my phone more comfortable to hold, and it doubles as a phone stand if i'm FaceTiming or watching something."
"It's the most comfortable outfit ever. I feel like a boss bish but I'm also in sweatpants."
"It just gives my hand some gravitas! I like the weight it has to it."
"She needs no explanation … just look at her."