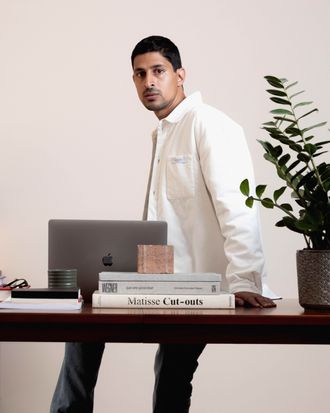 Photo: Courtesy of Faisal AlFadda
Loolios is a Spanish brand that finds its inspiration in museums and art galleries. Under the creative direction of Faisal AlFadda, the creative team collects photographs, art, and documents that they've gathered on each of their travels. It all takes form in breezy unisex separates and swimwear featuring landscape paintings of countryside hills by AlFadda, who hoped to embody a recent road trip taken across southern Spain and Portugal.
"I've always had a passion for art and design, whether it's designing a room or piece of furniture, which I've done in the past," he told the Cut. "I thought of expanding, but clothing was very new to me. I took that as a challenge that I wanted to try, which inspired the creation of the brand creation and taking it forward. It's been quite an interesting journey."
We spoke with AlFadda about beach destinations, Haribo gummy bears, and his favorite pajamas.
What's one piece that's especially meaningful to you?
It would probably be the Seurat terry camp collar shirt. It really represents my style, and the fact that it's multifunctional is just a plus. You can wear it out or use it to dry off with.
How do you thank someone for a gift?
I prefer to thank someone personally or, if that's not possible, over the phone. That is usually followed by a small gift as a thank you. It's just part of my culture and the way I'm used to giving thanks.
What would you never wear?
You will never catch me in a sleeveless shirt.
What's your dream vacation?
Any beach destination for sure!
What's a good book on your coffee table right now?
Henri Mattise: The Cut-Outs.
Last show you binge-watched?
The Handmaid's Tale. It's a must!
What's your guilty pleasure?
Gummy bears, especially Haribo.
Secret to hosting a good party?
Play with the lighting of the room and have a good guest list!
What is a trend that you like right now?
Cakes and chocolate made with olive oil. If you haven't tried it, you should!
One you don't understand?
TikTok. I just don't get it.
Favorite restaurant in New York?
I haven't been to New York yet!
What's the one thing you could eat every day for the rest of your life?Pizza. I just can't stop having it!
Shoes you wear most often?
Ozweego Adidas.
What are five inanimate objects that bring you joy?
"I'm a big fan of PJs, and Tekla has the most comfortable ones and the coolest colors."
"My go-to product. This is definitely a must-have for every shelfie."
"Ambiance is so important, and candles add the perfect touch. I always have this lit in my home. The handblown glass and distinct smell make it very unique. The size is perfect, and it makes for a good vase after it's done!"
"This fridge brings immediate joy anytime I see it."
"This is one of my all-time favorite pieces. The simplicity of the design and unique texture make it exceptional."