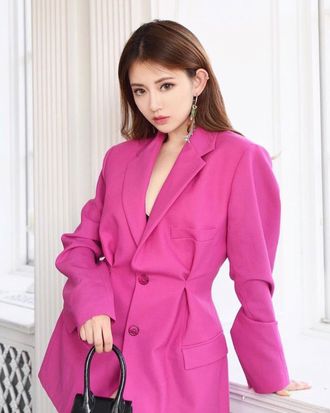 Courtesy of the subject
Photo: Courtesy of the subject
Based in Los Angeles, Nana Jacqueline makes clothes for Instagram hotties. The line was founded by two friends, Nana and Jacqueline Zhang, who were inspired by old glamour — the Audrey Hepburn type. Although their goal was to helm a full-fledged line, the brand got its start with luxurious pajamas, robes, and other loungewear essentials in silk charmeuse and French velvet.
Eventually, Nana Jacqueline introduced ready-to-wear into the mix. Think playful silk, satin, and velvet dresses for a night on the town; diamond-adorned accessories; and newly released swimwear, denim, and shoes. Now, celebrities like Lisa from Blackpink and Saweetie are fans.
We spoke with Zhang about crystal party dresses and lots of heels.
What's one piece from a new collection that's especially meaningful to you?
I love our signature crystal party dresses. I have spent many special occasions in my life wearing one.
How do you thank someone for a gift?
I usually send notes when I thank someone for a gift. Sending flowers is always a thoughtful option too.
What would you never wear?
Crocs.
What's your dream vacation?
A trip to the south of France.
Last show you binge-watched?
Why Women Kill.
What's your guilty pleasure?
I love sweet pastries.
Secret to hosting a good party?
Playing the right music.
What is a trend that you like right now?
I love the trend of knit fabrics. The pieces are so comfortable and flattering to wear.
One you don't understand?
The colorful chunky plastic rings.
Favorite restaurant in New York?
Buddakan.
What's the one thing you could eat every day for the rest of your life?
Yogurt with honey and blueberries.
Shoes you wear most often?
The Attico heels.
"Her heels are so stunning and make me feel feminine."
"I love this china. The combination of art and design on the intricate pieces is so beautiful."
"Mach & Mach is very chic."
"I love her abstract vases. They look so elegant inside of a home."
"I like high and strappy heels for any moment."