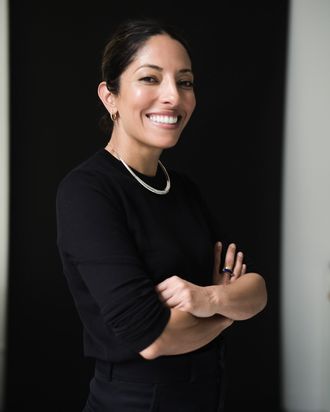 Photo: Courtesy of Nellie Partow
Nellie Partow says that her personal style is an extension of her namesake brand, rooted in minimalism, unstudied luxury, and a tension between modern femininity and masculinity. Her intention is for women to feel empowered, and she thinks that what you wear should be dictated by what feels good, not by what's trendy. Strength and empowerment define her life as a fashion designer — and as a champion boxer. (In 2007, she fought in front of sold-out crowds at Madison Square Garden and won the New York Daily News' Golden Gloves title.)
"Everything I did was directed toward starting the brand," Partow told the Cut. "I made sure to get a business degree prior to going to Parsons so that I could understand the inner workings of the business outside of the creative world. Upon graduating from Parsons, I worked for Calvin Klein and John Varvatos. The industry experience was crucial to me prior to launching my own brand."
We spoke with Partow about marching to the beat of your own drum, doing what makes you happy, and the things that bring her joy.
What's one piece from a new collection that's especially meaningful to you?
The Amira sweater. The color combination is unexpected, and the yarn is one of the most beautiful tissue-weight Italian yarns. It feels incredible on.
How do you thank someone for a gift?
Handwritten cards and hugs.
What would you never wear?
Can I plead the Fifth?
What's your dream vacation?
Always on a beach. I especially love Italy.
What's a good book on your coffee table right now?
Just Kids, by Patti Smith.
Last show you binge-watched?
Sharp Objects with Amy Adams. Also, great soundtrack!
What's your guilty pleasure?
Dark chocolate, daily. Should I keep going? There are many, and this may require a therapy session.
Secret to hosting a good party?
Great company and delicious food and drinks.
What is a trend that you like right now?
My favorite trend is not following trends. I'm a huge believer in marching to the beat of your own drum. I love individuality.
One you don't understand?
As long as it makes you happy, then no judgment here.
Favorite restaurant in New York?
There are so many! Pistoia, which is Tuscan Italian, or Sofreh in Brooklyn, which is Persian.
What's the one thing you could eat every day for the rest of your life?
Pasta.
Shoes you wear most often?
Sneakers.
What are four inanimate objects that bring you joy?
"I love how it makes my skin feel, and it's doesn't strip your skin."
"I travel a lot and drink too much coffee and not enough water, so this helps keep my lips hydrated."