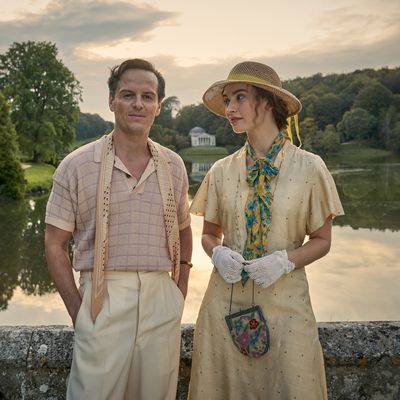 Photo: Robert Viglasky/Amazon Prime Video
If reality TV had existed in the 1930s, the Mitford sisters would have had an empire that covered the spectrum of political ideologies. Born between 1904 and 1920, Nancy, Pamela, Diana, Unity, Jessica, and Deborah (and brother Tom) grew up in country manors in varying states of decadence and decay (their aristocratic father was "cash poor") and would come to represent the extremes that threatened to split Europe in half. Eccentric, beautiful, witty, and even dangerous, the sisters are ripe for the limited-series treatment. One became a duchess while another embraced the rural landscape similar to where she grew up. Jessica, Diana, and Unity explored communism, British fascism, and nazism, while Nancy Mitford became a celebrated journalist and author.
The chaotic lives of these six women is the subject of Emily Mortimer's directorial debut, an adaptation of Nancy Mitford's best-selling 1945 novel The Pursuit of Love. Predominantly set between the two World Wars, Mitford pruned real-life observations, people, and events to depict the contradictory period of brewing conflicts and celebrations. Tragedy, friendship, and romance are entwined in this story of Linda Radlett's (Lily James) search for love at a time when Europe was set on a collision course to war. Mortimer, who has given herself a small but pivotal role, embraces the vibrancy and humor of Mitford's biting words, while capturing the author's pointed sartorial musings through costumes.
The story is told over a period of 15 years, beginning with Linda. Her journey begins at her family's ancestral countryside home as a teenager. She travels to London and Paris and has dalliances with bohemian aristocrats and artists. With approximately 67 changes for Linda alone, costume designer Sinéad Kidao was tasked with this transformation, using an "unapologetically girlish" palette. Mortimer and Kidao tell the Cut how they pulled Linda Radlett and the wonderfully decadent Lord Merlin (Andrew Scott) off the page.
The Bright Young Things
Linda's sister Louisa is the first of the Radlett siblings to have a coming-out ball, which is attended by far older aristocratic friends of their father. Lord Merlin's arrival, with his entourage of "Bright Young Things," shakes this party (and Linda) to the core. 
On Lord Merlin's Pajamas and T-Rex's "Dandy in the Underworld":
Kidao: For Andrew's interpretation of Lord Merlin, we based a lot on Cecil Beaton (a British photographer), and we had images of him in silk loose pajamas. We found original '20s fabric and decided it was completely appropriate for him to turn up [like that] and for everyone to be amazed. When we filmed that on the day they did a rehearsal (but in tracksuits), and then they came out and the older men in the room were completely shocked.
Mortimer: We rehearsed and knew "Dandy in the Underworld" was going to be the song, but I had moments thinking, Is this too mad? I kept getting validation in the form of real punk-rock souls like Marianne Faithfull and Spider [from the Pogues] telling me they love that book. I wanted it to feel for the audience as close as possible to how it might have felt for Linda seeing those people: You've never seen anything quite like that before and it feels exciting, sexy, and dangerous.
On the inspiration:
Kidao: Nothing they're wearing is us exaggerating what it was. They were aristocrats, they were wealthy, they had access to huge resources, and they went to town on it. We really didn't want to shortchange that moment. Reading a description of a party Cecil Beaton threw, and what everyone was wearing at the time, how he orchestrated it, it was so theatrical, it wasn't just turn up in fancy dress — he specifically asked different people to come in different outfits, and he had two outfit changes.
Mortimer: They used to go and stand in the middle of parties and appear in tableau. We decided they'd gone as these strange circus people that had a wink to Surrealism, Dadaism, but [they] were still trying to look really nice.
The Gold Frock
Linda's first marriage has fallen into disarray and she has turned to endless partying with Lord Merlin. This sequence covers a period of five years, in which Linda becomes a society beauty while "frittering her life away."
On the inspiration:
Kidao: The idea for it was to complement the set, because I knew in advance that it was going to be shattered mirrors and silver. Originally it was going to be a gold 1930s evening dress with a cape, and we made those elements, but the cloche hat was an original. Because of the choreography — she goes up and jumps off a chair — we shortened it. Here we pushed it more towards fancy dress. It's gold lurex, which all started with the hat, and then made everything else to match.
Mortimer: A lot of 1930s costumes do feel sometimes like '70s costumes, and the gold dress could be in the '70s. I always wanted that nightclub to feel, like they were in Studio 54, or at a party with Mick Jagger, and there are whiffs of that through the book as well. When I think of those sorts of parties, I do think of Marianne Faithfull in a fur coat in some sort of castle with the Rolling Stones. I don't know whether that's just me or whether there is some kind of connection. But to me, it felt like dangerous glamour — very exciting and sometimes toxic.
Sometimes those sort of posh types, there's something about the way they live and see the world, which is quite unfettered by the normal restrictions that we place on ourselves. It comes from thousands of years of not really having to give a fuck. It can feel extreme, very beguiling, and also really dangerous and horrible at times. I feel like rock stars have that vibe and the danger of that. I could see Linda in a nightclub in the '70s or '80s in that dress, just as much as in the '30s.
The Mink Coat
Linda's blonde mink coat is her staple outerwear in the novel. She is seen wearing an interpretation here, with Fanny, at a rooftop party that is less refined than her days living it up with Merlin. It doesn't fit in with the communist crowd or where her journey takes her in episode two. A suave French duke named Fabrice immediately calls out Linda's "terrible" taste.
On the materials:
Kidao: There's a lot less impact to use something that's been sitting in a costume house for 100 years. That's an original 1930s coat (because the reality is people did wear it at the time) and we didn't want to go and create a polyester version — which also wasn't accessible to us at the time because we couldn't source a lot of fabrics when we were making it [because of the pandemic]. We repurposed an old coat that was completely moth-eaten, took the collar, and then made the coat. It's a wool coat, but you still don't lose the line of where he's [Fabrice] saying about her hideous mink coat.
On the inspiration:

Mortimer: It would have been something Tony would have bought for her that would have been in a way fancy, but slightly hideous. And then would take her through her communist years and [it's] one of the only things she takes when she goes to Spain. It goes from man to man to man, and then the symbolic moment when the French duke takes it off, puts it in the dustbin, and says, "You can't possibly wear that, you have to wear a proper fur coat." There's something rock and roll about that coat, as well as being kind of slightly hideous and depressing — I can almost see some girl walking up the Portobello Road in it today.
Parisian Chic
Linda embraces all the fashion capital (and Fabrice) has to offer. We see the stark difference between the Radletts' tweeds and the glamorous clothes in Linda's "kept woman" closet.
On Paris versus London:
Kidao: Nancy describes it as Linda having this realization where she could never consider herself chic until she got to Paris, her clothes prior to then are so awful. Without having her spend most of the three episodes in awful clothes, you have to find something that tops what she was wearing in London.
On the inspiration:
Mortimer: I wanted the place where they made love to be absurdly frilly, pink and boudoir-like, and ridiculously over the top, but then the costumes had to feel sexy — like she's really finding her sexuality. Part of what is liberating for her is she's allowed to enjoy sex. She's becoming sexually awakened and aware, so I felt like the clothes couldn't be absurdly pink and frothy. I started going to Helmut Newton–type photos; there's an amazing Helmut Newton photo of Catherine Deneuve in a very sexy black silk nightie.
On the palette:
Kidao: We decided to go with black-and-white, more graphic colors, quite deliberately chic and very high fashion, whereas up until then Linda is always quite quirky. She's always got a yellow scarf, a big flower, mismatched jewelry, and it's all quite specific. We decided there would be a jump, she's gone into the Galeries Lafayette and been dressed head to toe. She's on her way to go to the high-fashion houses and this is the moment, she's a kept woman and she's being bought all these fantastic clothes, but they're not necessarily Linda.
Mortimer: I have a book, which became a guidebook for everybody with all these photos that meant something to me about the moments we were shooting. Helmut Newton seemed to be something I kept going back to in talking to Sinéad about how Paris should look. She's suddenly gone quite monochrome, it's quite sexual — even that big white collar. It's black-and-white and confident, very high fashion.