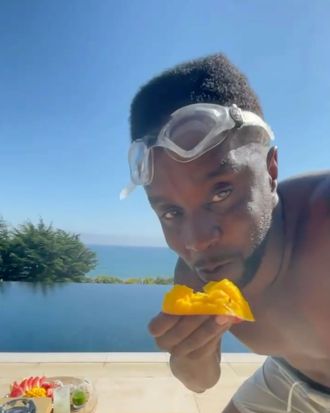 Unbridled, mango-fueled joy.
Photo: @Diddy/Instagram
Well, a certain Mr. Sean Combs appears to be having a great time. First, he entered the J.Lo chat with his own little throwback photo. Now, Diddy has shared a video on Instagram in which he is living his absolute best life, being a whole entire vibe, and having himself a bit of a Hot Mango Summer. Good for you, Diddy. Good for you.
"You could do it," Diddy says at the start of the video, standing in front of an infinity pool and chomping on a mango. "You could be whoever you want. You could be eating mango too, with the ocean as your backyard." I wish to be you, Diddy, eating mango by the ocean.
"I ain't special," he continues. "I just want it. I want it bad, you feel me? I won't allow myself to not have mango. I hustle hard. You know what I'm saying?" I do know what you're saying, Diddy. Why have I been allowing myself to not have mango?
Finally, Diddy says something indistinguishable while still enjoying his mango before walking his flippered feet to the edge of his pool, lowering his swim goggles, and hopping in like a child on vacation.
But Diddy was not done there. To really inspire the world to hustle, rise and grind, eat mango by the beach, etc., he gifted us with his origin story in the caption of the video: "One day when I was growing up, I woke up and there was 15 roaches on my face. At that moment I said hell no, I refuse to live like this. Work hard, believe in your crazy dreams… AND NEVER SETTLE!" You heard it here, with a mouthful of mango, folks: 15 roaches inspired this man to be the Diddy he is today.
Will short motivational speeches be the next iteration of Diddy's guided meditations? One can certainly dream.