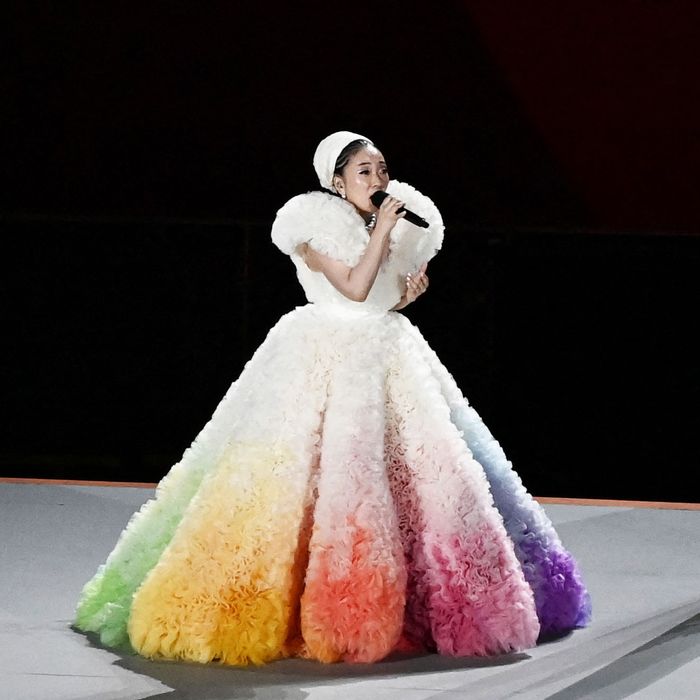 Photo: Jewel Samad/AFP via Getty Images
The 2021 Olympic Opening Ceremony, which took place in Tokyo on Friday, was a little bit eerie, but there were plenty of exuberant outfits to at least sort of distract from the empty stands. For starters, the Japanese singer-songwriter Misia performed the Japanese national anthem in a voluminous, rainbow-colored gown by designer Tomo Koizumi. Afterwards, the Parade of Nations offered a rare survey of the world's fashions, from Angola to Vanuatu.
Each nation, of course, brought their own color to the ceremony. Some wore elaborate gowns and headpieces and suits. Some, like the athletes from Bermuda, wore … Bermuda shorts. And others wore nothing at all on top. The Ukrainians donned yellow fanny packs. Sierra Leone had the best tracksuits. And I'm considering stealing the dresses worn by the women of Croatia. There were also some designer fashions in the crowd. Telfar Clemens, the man behind the "Bushwick Birkin," made some pretty incredible uniforms for Liberia. Plus, Giorgio Armani and Ralph Lauren once again did the looks for their respective countries. (Although they weren't standouts, I must say.)
There are no winners and losers at the Opening Ceremony; everyone looked great. But, in my opinion, some of the best outfits were not worn by athletes, but by the sign bearers, whose costumes (and speech bubbles) were reportedly inspired by manga. Cool! Below, a roundup of some standout looks from the 2021 Olympic Opening Ceremony.
Angola
Bahrain
Bermuda
Cameroon
Cook Islands
Croatia
Italy
Kenya
Liberia
Sierra Leone
Tuvalu
Ukraine
United States of America
Vanuatu
Best Dressed: The Sign Bearers