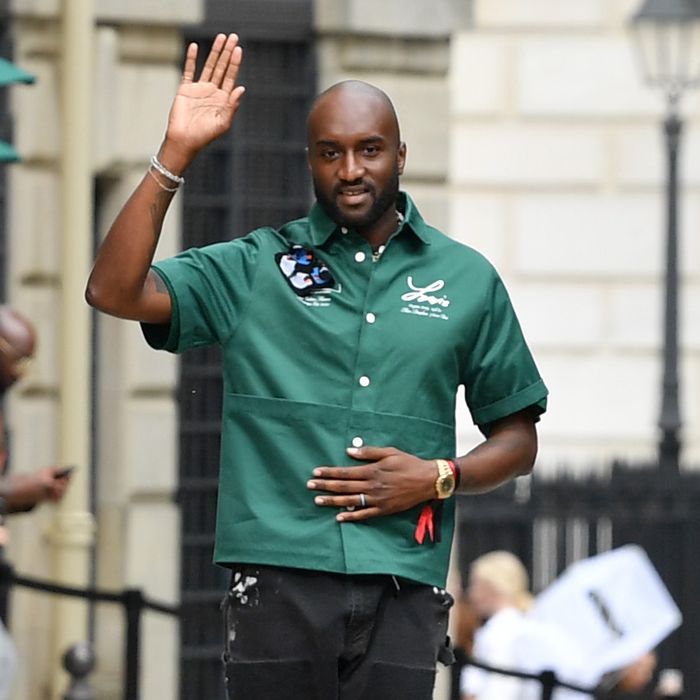 On Tuesday, the most powerful luxury-goods conglomerate in the world announced that it is giving a seat to one of the most prominent Black designers and executives in fashion. LVMH is becoming a majority investor in Off-White, the high-end streetwear brand founded by Virgil Abloh in 2013 in Milan.
As part of the agreement, LVMH is purchasing a majority stake of 60 percent in Off-White LLC, the trademark owner of Abloh's Off-White brand. Milanese company New Guards Group, which is owned by Farfetch, will continue to operate the business since it owns the license for the brand. Meanwhile, Abloh will retain a 40 percent ownership and will also continue as creative director at Off-White, as well as at Louis Vuitton as artistic director of the French fashion house's menswear collections.
Abloh's relationship with LVMH stretches back to 2007, when he interned at Fendi. At the time, Kanye West hired Abloh as creative director to help launch some projects outside of music. He founded Off-White in 2012, and three years later became a finalist for the LVMH prize for young designers. In 2018, he was named menswear designer of Louis Vuitton.
Now, LVMH and Abloh are both agreeing to jointly pursue new projects. Bernard Arnault, chairman and CEO of LVMH, said that he's looking forward to "working together with Virgil to bring his unique sensibility to a broader range of luxury categories" in a statement released Tuesday morning. And it makes sense that Abloh would be the guy to help with this venture, given his wide-ranging collaborations with brands including Nike, Mercedes-Benz, Ikea, Evian, Vitra, and Braun — just to name a few.
In the grand scheme of things, taking a majority stake in Off-White is just another day for LMVH. Last year, it bought Tiffany & Co.; last week, it announced it was taking a minority stake in Phoebe Philo's new namesake label; and according to WWD, it has deepened its foothold in experiential luxury by opening hotels and restaurants around the world.
Abloh told the New York Times that "the partnership would be used to expand Off-White into categories like cosmetics and homewares, as well as to grow the leather-goods side of the business." In a statement, he said, "For nearly a decade, we've been building Off-White to be a brand designed to empower our generation and challenge the status quo. LVMH brings to the table the additional firepower and scale to accelerate our momentum and evolve Off-White into a truly multi-line luxury brand."
This is also a historic moment on the long, white history of the fashion industry. Abloh is a first-generation Ghanian American, making Off-White one of the rare LVMH properties that isn't rooted in European heritage. The French conglomerate touts its commitments to DE&I but still has an entirely white board and executive committee; it paused Fenty, Rihanna's luxury fashion label, last year. While this is a step in the right direction, it's a reminder that large strides are still to be made.