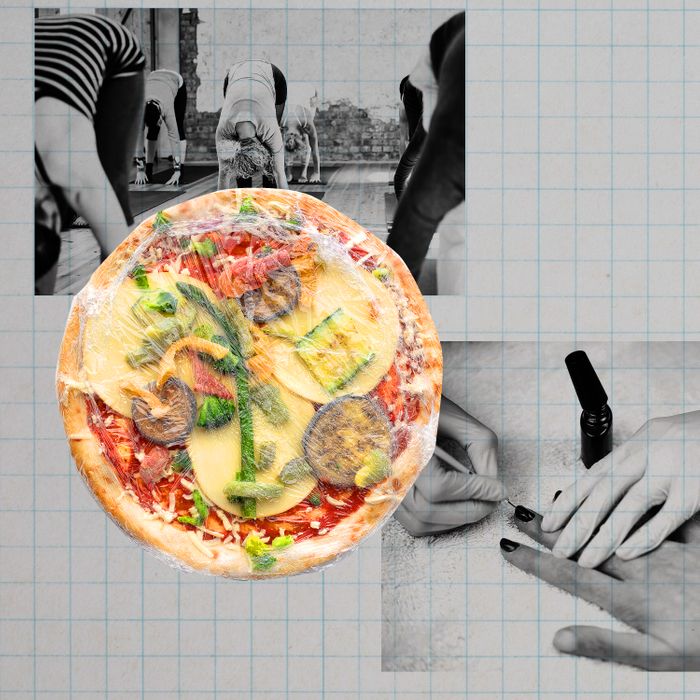 Photo-Illustration: by The Cut; Photos: Getty Images
Recently, I've been spending money like a robber baron's wayward son. I'm buying flamboyant leather boots, limited-print-run poetry collections on thick paper, tiny statuettes from the local thrift store. My pent-up energy has been directly channeled into frivolity. If you're selling me a drink with a wild garnish (ramps, sure!), I will order one for me and one for you! This is a marked change. I used to be a woman of simple tastes: a whiskey neat with lemon, literally zero statuettes.
It seems as if many of us experienced a tidal shift in how we think about spending during the pandemic. But as fun as it is to talk about what we are buying, I also wondered what people have decided to forego. Asking around, I found that even people who feel as spendy as I do have also isolated things they never want to buy ever again. The homesteaders gained skills they never knew they could possess: They could do their own spa treatments, they could make their own pickled delicacies. The aesthetes realized they'd rather have the weird, special, real thing and never settle for substitutes. And the previously buttoned-up discovered the deep pleasures in avoiding bras.
After talking to 12 people about their budget cuts, I saw that it wasn't astringency or asceticism that changed them: It was making sure that what they were buying was as fun, comfortable, lively, and joyful as possible. The answers below might be about giving things up, but only in the name of pleasure.
1.

No More Isolated "Fun"
I'M DONE WITH DRIVE-IN MOVIES. It's not fun to watch movies sitting in your car. Don't care who says different. The people around you can't figure out how to turn their parking lights off. You, in turn, can't figure out how to turn your interior lights off. The sound is crackling via the radio feed. Then you're sitting in the front seat of your car, which is a chair designed for safety, not comfort. And your windshield is never as clean as it might be. I went to see Tenet at the drive-in with my mom and a close friend. It was peak pandemic, so we were all in separate cars. And I just see both of them peel off, one after the other, minutes into the film, because they couldn't take it anymore. — Meredith, documentarian, Los Angeles
2.

No More Salon Manicures
I got really good at doing my own nails, so, definitely, no more regular mani-pedi. I succumbed to one of those Instagram ads for Olive & June that sells manicure kits, and I ended up loving it. It was $80 total and included like six different colors and all the supplies, but people keep asking me if I got my nails done and I'm just doing them myself! I like having my nails painted, but I can't just paint my nails with regular nail polish because the hospital hand sanitizer takes it off immediately. This withstands hospital hand sanitizer. — Sheila, nurse, San Francisco 
3.

No More $16 Rushed Lunch Umami
Back in the old days, if I made it through a tough morning, I'd reward myself with a $16 salad from Sweetgreen or Chop't. I don't really want to spend the rest of my life inside an office tower, I'd tell myself, but at least I get to leave for ten minutes to fetch a salad. I get to eat some leaves, which is sort of like experiencing nature. My favorite Chop't salad had frizzled onions, while my favorite Sweetgreen salad had a miso dressing. They both offered just enough umami weirdness to cut through, briefly, the wan gray experience of cubicle life.
After the office shut down last March, I started making salads myself. Sweetgreen taught me that the trick to a good salad is two to three extra ingredients. Throw in some quinoa! A sweet potato! A handful of almonds! Leftover cauliflower! And make it 50 percent bigger than you think it needs to be. Once I started doing this, I realized that Sweetgreen had taught me another thing: I do not need Sweetgreen. I am perfectly capable of inventing new salads, plus I enjoy it, plus it's definitely cheaper. Umami weirdness just tastes better when you do it yourself. — Liza, editor, New York City
4.

No More "Sad" Things (Frozen Pizza)
I am no longer buying frozen pizza, i.e., making something sad when it doesn't have to be sad. Frozen pizzas are what you make when you're short on both time and love for yourself. They have a lingering flavor of the thinnest, most diaphanous kind of plastic and a strange malaise. The alt to frozen pizza is the dressy sweet potato. And instant ramen is good if zhuzhed with veggies and egg. — Jack, poet, Oakland 
5.

No More Luxury Loungewear
Before this past year, I always imagined I'd graduate into some sensual, affluent, Nora Ephron phase of life and wind up with a drawer full of matching pajama sets. In April, maybe, I bought full silks — my first pair was in a color that can only be described as "sage but if it were purple." Then, a few months ago, I saw myself through my little video window on a late-night friend Zoom, in this shiny, shiny satin matching pajama set — and I was so embarrassed! The desperation of trying to make an unconscious period into something special. Some things don't need to be special! I'd already bought three sets, but I can't bring myself to wear them ever. Until last year, all my sleep clothes were old tank tops that got too loose and boob-y to wear in public. Sleep clothes should be free, and those are still the ones I reach for anyway. — Hazel, therapist, Philadelphia 
6.

No More Oyster Pails and Polyethylene Terephthalate
I'm not ordering any more takeout. I never really ordered takeout until last year — I either cooked, or we went out. We wanted to support our local restaurants this past year, but seeing all the packaging piling up was horrendous. — Leigh, economist, Washington, D.C.
7.

No More $79 Miscellany From Target
I spent a good part of last year staring at my stuff and getting rid of my stuff — and I got so resentful of Target as an institution. They trick you by having stuff you need, like paper towels, into getting things you didn't even know existed! Tchotchkes with no personality somehow, and tchotchkes should only exist to have personalities. Why do I have a leather envelope organizer? I swear, I bought every candle in a cloche they ever sold. I didn't become a minimalist or make any life-changing revelations about materialism. I still love things! But I don't want to go into an emporium just for things I didn't think to want.
And, side note, two years ago, I was in a Target during a minor earthquake (a 7.1, 100 miles away) and it was … a bleak place to be. — Connie, media consultant, Los Angeles 
8.

Sauerkraut
I will never buy tiny, expensive jars of kraut again. Buy a big vessel, jam it with salt and cabbage, fennel seeds if you have a good head on your shoulders, and wait! — Lelia, artist, Los Angeles 
9.

No More Person-Filled Yoga Studio …
I'm not going back to in-studio yoga classes. I got a Peloton and love YouTube yoga in my apartment so much. I just like not having to leave my house and I don't really use yoga for a physical workout — I use it more for like a mental happy place, moving-meditation-type thing. My apartment is a better place for that; it's very light and airy. — Lou, doula, Oakland
10.

… and No More Online Yoga
I'm canceling my CorePower online subscription. I'm going to try to find an outside class or just do loooong walks and hikes. I've just been cooped up in my apartment all day working! I don't want to work out here as well. I want a change of scenery! — Maria, e-commerce manager, San Francisco 
11.

No More Endless Streaming Options
I am cutting down on my streaming subscriptions. Throughout various quarantine periods, I acquired HBO, Netflix, Hulu, Apple TV, the Criterion Channel (don't judge), Disney+, and ESPN. First of all, that's about 16,000 dollars a month. Second, I don't want so many options anymore. I don't want my laptop to be a zone of absolutely endless options. I want to live my life outside more again. And if I'm doing that, I definitely don't want to keep giving 6,000 dollars a month to Disney+. — Lucy, speech language pathologist, Denver
12.

No More Blister Wreakers
I'm not going to buy one more pair of uncomfortable shoes. After a year of wearing only sneakers, I can't go back to shoes that pinch or don't give support. When I went to DSW to buy sandals for a wedding last month, I went straight for the Naturalizers and didn't even think of trying on anything else. My middle-school self would be mortified. — Olivia, therapist, Brooklyn