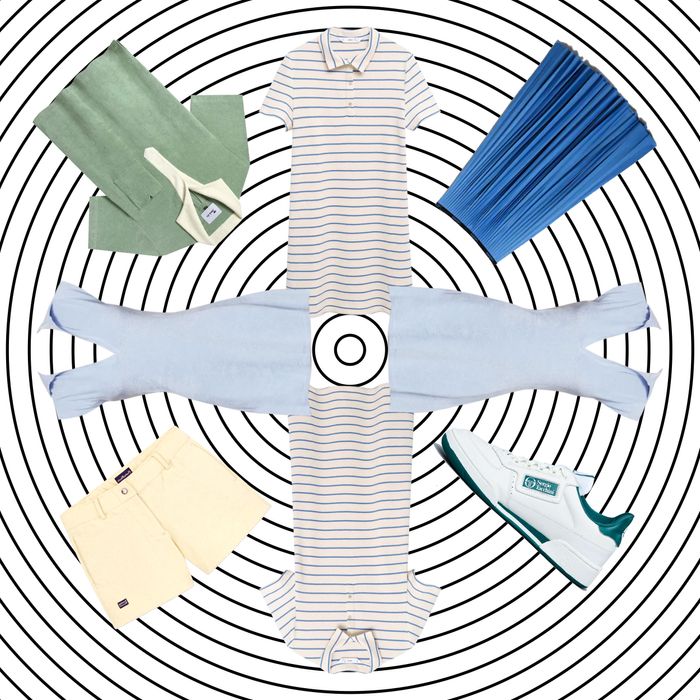 Photo-Illustration: by The Cut; Photos: Retailers
It happens almost every sunny day lately. I'll be swiping through Instagram Stories when I'll notice at least one person posing with a racquet in a head-to-toe tennis look. Some people don't even bother with a racquet.
"We are definitely seeing our customers gravitate towards tennis fashion, such as pleated skirts, polo knits, retro sneakers, and ankle socks," Caroline Maguire, fashion director at Shopbop, told the Cut. You don't have to play to have fun adopting the sport's signature style: crisp, preppy, comfortable, and colorful.
Tennis got a boost during lockdown as a way to stay physically and socially active while adhering to social-distancing precautions. You could grunt and chitchat from opposite sides of the court, staying at least six feet apart at all times. But it's not going away now that New York is becoming its old self again — if anything, the return of our social lives has only made it more popular.
For one thing, now you get to show off your outfits to a wider audience. One person who picked up a racquet during the pandemic explained that she likes the way tennis style both augments and contrasts her usual wardrobe. "I will take any excuse to wear a miniskirt, and having that set sort-of-preppy aesthetic as a reference is nice because it's not normally a way I'd consider dressing," she told the Cut. "I feel it's also subversive because I am terrible at tennis and don't own sneakers. I have been playing in my platform creepers and everyone keeps sending me DMs saying I am going to hurt myself."
Pondering the appeal of tennis fashion is a huge part of the job for Louise Trotter, creative director of Lacoste — a brand that has been selling clothes, shoes, and accessories inspired by the sport since it was founded by two tennis players in 1933. She believes people are gravitating toward tennis, and tennis fashion, because it offers a way to belong.
"Today, tennis is a game for everyone," Trotter said. "With that comes a sense of community, not just in the activity itself but the lifestyle around the game. I also believe that values have recently shifted from consumption to a more balanced lifestyle. During the pandemic, many of us have reevaluated comfort and style, and a white polo shirt or tennis sweater have stood the test of time."
French Moroccan designer Charaf Tajer would argue that there's a level of sophistication that's appealing, too. His brand Casablanca launched in 2018 and was a finalist for the LVMH Prize two years later. It combines streetwear, athleisure, and tailoring in fabrics like silk, cashmere, and terrycloth for a look that's part country club and part tropical getaway. "Growing up, tennis was always the most elegant sport," he told the Cut. "It was so aspirational — two people facing off against one another, with moments of intensity matched by moments of relaxation and elegance."
Now that things are opening back up again, many of us are trying to forge a new personal style that balances the comfort of lockdown sweats with a slightly classier, more pulled-together approach. So maybe it's no wonder that a sport beloved by French kings and famous for terrycloth shorts has become so popular among fashion people. From fresh white skirts to terrycloth dresses, shop the style below.