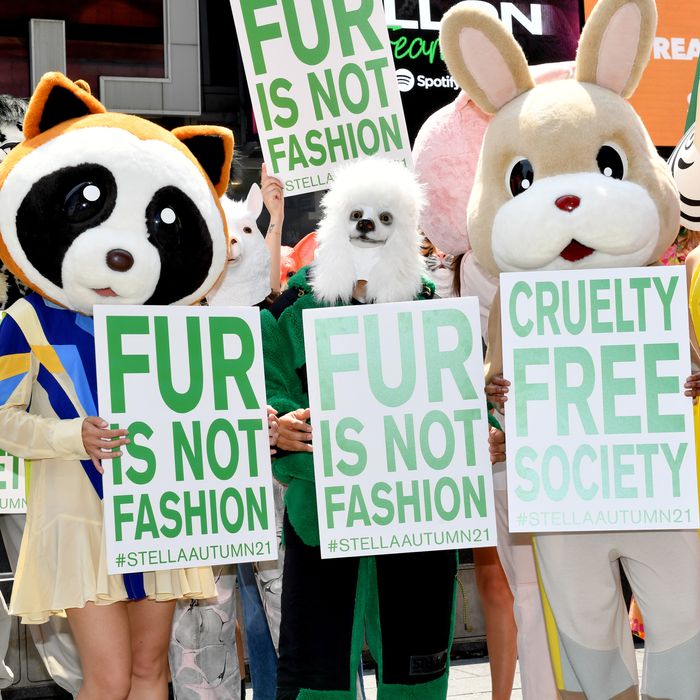 Photo: Noam Galai/Getty Images
Yesterday, British designer Stella McCartney staged a "guerrilla gathering" in Times Square. To anyone passing by, the event looked like anonymous protestors in massive animal-mascot heads. They were dressed in the brand's colorful autumn 2021 collection and holding signs that said, "FUR IS NOT FASHION."
The stunt was to celebrate the launch of the British label's "Our Time Has Come" campaign, which raises awareness of the animal-cruelty-free movement. Unlike the average Times Square mascot, who might ask for cash in exchange for a photo, these animal ambassadors encouraged people to sign the Stop Deadly Fur petition created by the Humane Society of the United States, which has a near-term goal of reducing U.S. imports of fur apparel by 50 percent. The partnership is fitting, since Stella McCartney has never used leather, feathers, fur, or skins since the brand launched in 2001.
Standing in midtown during a New York City heat wave sounds agonizing, but what's worse is that millions of animals "spend their entire lives in cramped cages, deprived of the ability to engage in natural behavior," according to the Humane Society. "While this campaign is lighthearted, I wanted to address a serious issue: ending the use of fur," McCartney said in a statement. "Whether it is being sold here in the United States, in the United Kingdom, or farmed globally, barbarism knows no borders and this effort is key to my life's mission of bringing a conscience to the fashion industry."
"Stella McCartney has reinvented what sustainable fashion looks like," said Kitty Block, president and CEO of the Humane Society, in a press release. "Finding new ways to create luxury apparel without harming animals or the planet is the best way to apply creativity and talent."
If you feel so inclined, sign the petition here.