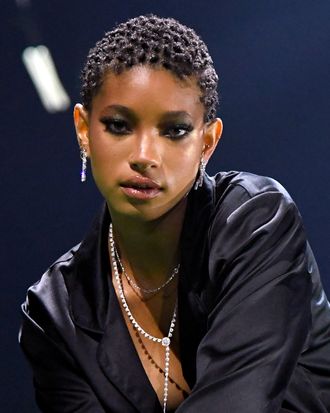 Photo: Getty Images for Savage X Fenty
At 15, I liked to think I was punk — I had dyed my hair magenta with Manic Panic and worn Dickies with a studded belt and low-top turquoise Converse that had AFI lyrics scrawled on them. Though, actually, it wasn't so much that I was punk and more that I had a crush on a hot-pink-haired girl in my English class who gave me a Bikini Kill CD that felt like it had changed the trajectory of my life.
It was The Singles — a compilation album from 1998, right after the Kathleen Hanna–led group disbanded, years before the CD made its way into my hands. At the time, I had been listening to mainly male-led bands like the Ataris that wooed me with lyrics about the girls of their dreams. But listening to The Singles was a sonic experience that I hadn't experienced — they snarled and growled, maniacally strummed their guitars. They sang frankly about sex and queerness, sexual assault and harassment and being a woman in a patriarchal society that does everything to squelch your own narrative out. Simply put, I may not have had the tools at 15 to fully understand the concepts that Hanna and Tobi Vail and Kathi Wilcox put into that record, but emotionally, spiritually, at the core of myself, I felt utterly transformed. Bikini Kill was my gateway drug to Sleater-Kinney, Bratmobile, zines, feminist literature, Michelle Tea — I even tried to play the guitar for a bit, but I wasn't very good at it. The Singles stirred something feral in me that couldn't be turned back off.
Of late, the sounds and spirit of riot grrrl have made their way into mainstream — Olivia Rodrigo's "good 4 u", the multiple references to Hole's Live Through This album cover, and the '90s street style that's all over the place. But when Willow Smith's "transparent soul" featuring Travis Barker dropped in April, and she sing-snarls, "Smile in my face, then put your cig out on my back," I fully floated back to that same prickly feeling I had listening to Bikini Kill for the first time. Smith's album Lately I Feel Everything, out today, captures that sheer power rush. While it has the spirit of riot grrrl, Smith's influences clearly come from all genres —"Fuck You" could easily find a home nestled in between "Rebel Girl" and "DemiRep." Other songs clearly have nu-metal reference (I mean, Jada Pinkett-Smith's iconic band Wicked Wisdom couldn't not have had some sort of grip) or even a string that sounds vaguely surf-rock-y. "Grow" is a pop-punk anthem to accepting oneself for exactly who they are and is perfectly backed with additional vocals by Avril Lavigne.
It's common knowledge at this point that the Smith children are insanely talented at just about everything, but Willow's album feels like it transcends beyond her 20 years (yes, she's only 20!). When Smith was only 10, she released the eternal banger "Whip My Hair," and since then she's continued to play around with genre on four albums and had guest features on older brother Jaden's music, as well as with artists like Kid Cudi. Lately I Feel Everything feels like another natural exploration of the wide range of Smith's endless talent. It's an album where she explores race, romance, anxiety — she's never afraid to have a message, but much like what spoke to me about Bikini Kill as a teenager, it's also fucking fun. It's an album that I'd like to think a 15-year-old somewhere finds and listens to on Spotify, combs through its references to Smith's own influences like Lavigne and Blink-182, and finds their life completely transformed, bathed in the emotional clarity that Smith gives of herself and has folded into these 11 tracks.