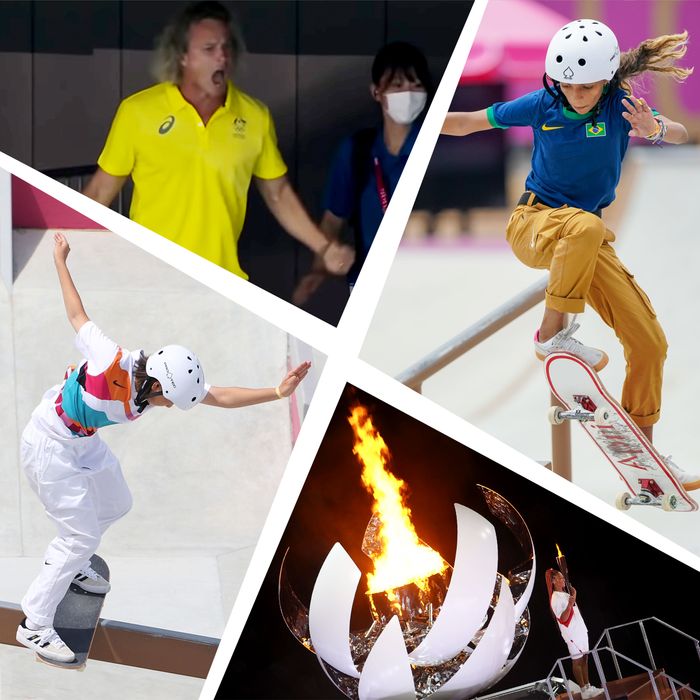 Photo-Illustration: The Cut. Photos: NBC; Getty Images
Defying the odds and also good judgment, the 2020/2021 Olympics are under way in Tokyo. For months, health experts and the public have begged the International Olympic Committee to call off the Games for fear that gathering so many people from all different countries during a global pandemic may well snowball into a superspreader event. (Those fears appear founded given that the Games have spawned at least 127 COVID-19 cases so far.) But ultimately, organizers had a lot of money tied up in this deal, so now we are barreling through 7,000 hours of Olympic programming. Ambivalence about the circumstances aside, it hasn't been all bad — far from it. The opening ceremony alone gave us two well-oiled hunks and the creative chaos that is human pictograms, setting a high entertainment bar. Here, the best things we've seen since.
Is this sailing?
I am looking to participants in the women's regatta to either confirm or deny that their boats are powered by slinky hip gyrations rather than the wind. Is this sailing? I don't know but … get it.
Look at all of Allyson Felix's medals
Ten of them! Track star Allyson Felix now has ten Olympic medals after coming in third in Friday's 400-meter race. The bronze ties her for most decorated woman ever in Olympic track, though Felix could break her own record, as she has another relay to run on Saturday. The achievement comes almost three years after an emergency C-section that threatened both her and her daughter's lives and a difficult pregnancy for which her then-sponsor Nike docked her pay. Huge congrats to Felix! And none for you, Nike.
Quinn makes history
And while we are here, huge congrats also to Canadian soccer player Quinn, who became the first openly transgender and nonbinary athlete to win Olympic gold on Friday, when the Canadian women's soccer team beat Sweden in the final. Heading into the Olympics, Quinn explained in an Instagram post that they "[didn't] know how to feel" about the games. "I feel proud seeing 'Quinn' up on the lineup and on my accreditation," they wrote. "I feel sad knowing there were Olympians before me unable to live their truth because of the world. I feel optimistic for change. …Mostly, I feel aware of the realities. Trans girls being banned from sports. Trans women facing discrimination and bias while trying to pursue their Olympic dreams. The fight isn't close to over…and I'll celebrate when we're all here."
Wrestler Tamyra Mensah-Stock happy-crying
Mensah-Stock became the first Black American woman and the second American woman ever to win gold in wrestling. "I just want to go into a dark room and cry … from joy," she said after securing first place. When asked what her win means for the sport and those watching, she said, "It means that they see someone like themselves on that podium." Excuse me while I, too, cry from joy in a dark room!
Diver Quan Hongchan's gets two perfect 10's
The 14-year-old became the second-youngest Chinese diver ever to take home gold for her country. She also broke the previous record for overall score in the event, scoring not one but two perfect tens. If you need further confirmation of Hongchan's greatness, please enjoy the awestruck commentators in the above clip.
Jazzy little horse dances
And now, it's time for my favorite Olympic event in the "I always forget that exists" category: little horse dances (dressage). This year, I am giving gold to Mopsi, who trotted to a mash-up of bangers during Saturday's individual dressage event. Unfortunately, the judges did not award Mopsi any medals, which is to say, this horse was robbed! A scandal!
Snoop Dogg as Olympic commentator
You know who else loves Little Horse Dances? Snoop Dogg, whom Peacock has enlisted as an Olympics commentator, and who is ready to cast Mopsi in his next music video. Good choice, Snoop Dogg! And good choice, Peacock, although … are we set on Kevin Hart as the co-anchor? Are we open to other suggestions instead?
Raven Saunders takes a stand for "all people who are oppressed"
Team USA shotputter Raven Saunders won silver on Sunday, and used her moment on the podium for a meaningful gesture. Saunders crossed her arms in an X over her head, signifying "the intersection of where all people who are oppressed meet," she subsequently explained. Saunders is openly gay and, like a number of her fellow competitors, has been vocal about her struggles with mental health — including the death of her mother while she was at the Olympics. "My message is to keep fighting, keep pushing, keep finding value in yourself, find value in everything you do," Saunders said after her win, and though the X seemed like a symbol of solidarity, IOC officials were still prepared to investigate it as a violation of the organization's archaic anti-protest policy. Though the IOC previously promised to relax its guidelines, it only dropped the matter upon learning about her mom.
Simone Biles, back on the beam
A week after pulling out of team finals in deference to her mental health, Simone Biles got bronze after double-piking off the balance beam. The win brings her medal count up to seven and ties her for most-decorated female gymnast ever. "My mental and physical health is above all medals that I could ever win," she said afterward. "I wasn't expecting to walk away with the medal. I was just going out there doing this for me." The crowd (which is to say, her fellow gymnasts and other personnel allowed into the building) went wild!
Sunisa Lee has medals in every flavor
Eighteen-year-old gymnast Sunisa Lee is leaving her first Olympics with all three medals: gold for her performance in the all-around, silver for the team competition, and bronze for the uneven bars. "I'm really proud of myself," she reflected. "Not many people can say that they come to the Olympics their first time and bring home three medals." True! Also, the governor of Minnesota declared July 29 Sunisa Lee Day throughout the state, honoring her as the first Hmong American athlete to compete at the Olympics, another feat for the growing list. And! Lee has reportedly decided to delete Twitter — huge congrats to her on all of these achievements.
Athing Mu leaves everyone in the dust
And a huge congrats to Team U.S.A.'s Athing Mu, who set a national record in the women's 800-meter race, which she ran at 1:55.21. Mu, who (by the way) is 19 years old, led from start to finish, beating her closest competitor by more than a second. She is the first U.S. woman to win gold in the event since Madeline Manning-Mims did it in 1968. Please enjoy this live look from a watch party in her hometown of Trenton, New Jersey:
Weight lifter Laurel Hubbard sends a message to transgender athletes
Although New Zealand weightlifter Laurel Hubbard was eliminated from medal competition on Monday, she left the stage with a message of support for transgender athletes and gratitude for fans, holding her hands in the shape of a heart over her chest. "Of course, I'm not entirely unaware of the controversy which surrounds my participation in these Games," Hubbard said afterward, according to the Associated Press. "And, as such, I'd particularly like to thank the IOC, for, I think, really affirming their commitment to the principles of Olympism, and establishing that sport is something for all people. It is inclusive. It is accessible."
A BMX backflip, baby
Great Britain's Charlotte Worthington won gold in the BMX final on Sunday, pulling off a 360-degree backflip and simultaneously making history. (She is the first woman ever to do so in competition.) A backflip? On a bike?? A full aerial rotation sandwiched between other upside-down moves??? What is happening?
Do we give out medals for knitwear?
British diver Tom Daley, repeat medalist and recent winner of Olympic gold, is a multitalented man: On Sunday, he was spotted in the stands working on his knitting while watching one of the diving events. Apparently, he was making a dog sweater, which is endearing all on its own; however, it has come to my attention that his knits are actually very impressive, and I would like to own one. And also that Daley recently auctioned off one of his crocheted sweaters for the U.K.'s Brain Tumour Charity. Anyway, it's all very nice.
A little Olympics kiss
Olympic organizers are heavily discouraging flirty behavior among athletes this year, due to the aforementioned threat of COVID-19 — which is rapidly growing, by the way — potentially throwing cold water on the reliably horny mood in the Olympic Village. But sports fans who tuned in to the men's 50-meter freestyle swim on Sunday got to see A Little Kiss, when Brazil's Bruno Fratus won bronze and ran over to … lovingly embrace his coach? Don't worry, she's also his wife! Thanks to these two for the action, and thanks to whatever cameraperson decided it deserved a 360-degree shot. It did!! We did.
U.S. women's soccer wins against the Netherlands
After playing to a tie, the U.S. women's soccer team beat the Netherlands in a shoot-out, and who doesn't love to see Megan Rapinoe win? Team U.S.A. will play Canada in the semifinals on Monday, August 3, at 4 a.m. ET.
Remember how trampoline is an Olympic sport?
Look at them bounce! How do they get so high? How do they not get nauseous and barf all over the guy holding the safety mat?? These questions remain unanswered, but the sport is a marvel to watch nonetheless.
Suni Lee Supremacy!!!
American gymnast Sunisa Lee took home the gold in the women's individual all-around. The 18-year-old reportedly has the most difficult bar routine in the world, yet she makes it look effortless. Oh, and this is her first time at the Olympics. The reign of Suni Lee begins now.
China, USA, and Australia all break the previous world record in a single race
The U.S. women's swimming 4x200-meter freestyle relay was one for the record books. Not only did China, which took home the gold, set a new record for the fastest time … all three teams that medaled broke the previous world record (the U.S.A. took silver, Australia took bronze). If that isn't reason enough to rewatch the race, I will give you one more: Katie Ledecky.
Simone Biles cheers on her team
On Tuesday, most-decorated-gymnast-of-all-time Simone Biles withdrew from the team finals, citing her desire to protect her mental health and not to "risk the team a medal because they worked way too hard for my screwups." Biles faces incredible pressure to perform and said she "felt like it would be better to take a back seat." Minutes after exiting the mats, she returned to the sidelines in her sweats, cheering on her teammates and chalking their hands. Please clap, dammit! I mean it.
Cute self-driving buses, fun to anthropomorphize
Get a load of this little bus driving its own self and whoever cares to board it around the Olympic Village. It is powered by the sun and reminds me of a cartoon bug. Move over, Pixar-looking mail trucks; tiny autonomous bus is my new favorite car now.
Alaskans go wild for Lydia Jacoby's gold-medal win
Apparently, people used to tease 17-year-old Alaskan swimmer Lydia Jacoby about (allegedly) training with whales and sea lions (what would not be impressive about that?), but who's laughing now that she has a gold medal, hmm??? Probably the crowd packed into the Alaska Railroad Terminal building in Jacoby's hometown of Seward, which went absolutely wild when she beat defending champion Lilly King in the 100-meter breaststroke on Monday. Vicariously very exciting, no?
Mathematician uses math (?) to clinch cycling gold
Anna Kiesenhofer, an independent cyclist from Austria who has no coach and no contracts, won gold in the women's road race, besting both the defending champion and the world title champion. How did she do it?? Math, maybe. (I am also hearing something about a lack of communication because the Olympics ban radios in this event.) The 30-year-old lecturer has a math master's from Cambridge and a Ph.D. in applied mathematics from Barcelona's Polytechnic University of Catalonia. "As a mathematician, you're used to solving problems on your own, so that's the way I approach cycling," she told CNN. "Many cyclists are used to having people that actually do that for them … I mean, they have a trainer, they have a nutritionist, they have the guy that plans the race for them. I just do all these jobs myself." Anyway, Austria hasn't won a cycling medal in 125 years, so … thanks, math.
Who is this scary basketball robot??
And maybe more important, WHY is this scary basketball robot, a six-foot-ten monster with the hands of a frog and the skin of a fly, stalking the courts at these Olympic Games? He showed up at Sunday's men's preliminary-round group-B game between the U.S. and France, sinking three free throws during halftime. I gather that is his whole purpose in life, so congrats to him and apologies to you.
A perfectly executed, no-look pass
Here's Serbia's Ana Dabović executing a perfect reverse pass over her shoulders during Tuesday's women's basketball tournament. No thoughts, just swoosh.
This swim coach is horny for gold
Let's hear it for Australian swimming coach Dean Boxall, who channeled his excitement over champion Ariarne Titmus's gold-medal win — against U.S.A. champ Katie Ledecky in the 400-meter free — through his hips. Reacting to the news, Boxall punched the air and humped the partition with joyful abandon. Happy for him, happy for Titmus, and happy for the rest of us that Boxall was confined to the viewing gallery when the news hit.
Two 13-year-olds have medaled in skateboarding
How do you do, fellow kids — can I get a round of applause for these two 13-year-olds, please? Japan's Momiji Nishiya and Brazil's Rayssa Leal — whom you may recognize as the kid who went viral at the age of 7 for doing heelflips in a fairy costume — took home the gold and silver (respectively) in women's street skateboarding during the first weekend of competition. Post-win, Nishiya, of Japan, told ESPN that she wants two things: "To be famous" and barbecue. I hope she gets both!
Tom Daley's moving win
British diver and multiple Olympic medalist Tom Daley had a message for LGBTQ+ youth after winning gold in the synchronized 10-meter platform event. "I feel incredibly proud to say that I am a gay man and also an Olympic champion," he told the press. "And I feel very empowered by that because when I was younger, I thought I was never going to be anything or achieve anything because of who I was, and to be an Olympic champion now just shows that you can achieve anything."
"I hope that any young LGBT person out there can see that no matter how alone you feel right now, you are not alone," he continued, "and that you can achieve anything, and that there is a whole lot of your chosen family out here ready to support you."
Luciana Alvarado takes a knee in protest
Last year, the IOC doubled down on its dusty anti-protest policy, specifically barring athletes from making "hand gesture[s] or kneeling" in solidarity with the Black Lives Matter movement. But Luciana Alvarado — Costa Rica's first Olympic gymnast — incorporated both into her floor routine on Sunday, telling the Associated Press she did so deliberately. "We're all beautiful and amazing," Alvarado said. The AP reports that she probably won't be punished for the choreography, so although Alvarado did not qualify for the finals, it still feels like an all-around win.
Naomi Osaka lights the cauldron
In a rare twist, organizers tapped tennis star Naomi Osaka to light the Olympic cauldron and officially open the Games. An active athlete hasn't filled this role since the 2000 Sydney Games, and given all the criticism that followed Osaka's recent decision to prioritize her mental health above the press requirements of competition, it's cool to see her home country stand behind her. Unfortunately, Osaka has now been eliminated from competition; good thing she and her fiery box braids (plus color-coordinated match looks!) now live in our brains rent free.
This post has been updated.