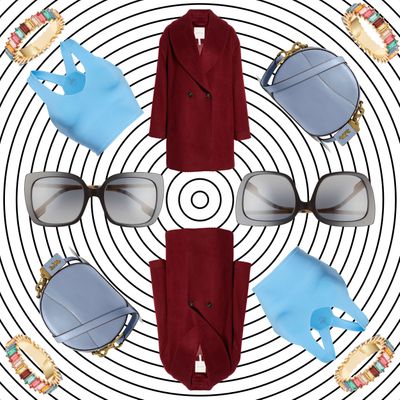 Photo-Illustration: The Cut. Photos: Nordstrom
Nordstrom's annual Anniversary Sale is here, and is now open to all shoppers! Every summer, Nordstrom offers exclusive deals on everything on its site, from designer fashion items to exclusive beauty sets.
One of the best parts of the sale is that it includes new styles that just hit the site, not just products that have already been around awhile, meaning a lot of new items for the upcoming fall fashion season are on sale. So while you may want to score deals on luggage and shorts for the last few weeks of summer, it's also a great time to hop on fall trends and add some cold-weather-friendly pieces to your wardrobe as we get start getting dressed again for going outside. From boots to coats, the event features exclusive deals that only come once a year, so take advantage now.
Photo: Nordstrom
Oversize sunnies have been trending, and these are $100 off, with the classic Burberry print on the stems to top it off.
Photo: Nordstrom
A skirt that works for both an evening look or a back-to-work outfit.
Photo: Nordstrom
The perfect legging for everything from traveling to spin class.
Photo: Nordstrom
Wear it as a sports bra or as a crop top — either way, it has a great hold and a seamlessly comfortable fit.
Photo: Nordstrom
These sneakers were game changers for me after an injury. Whether you're running or walking, you'll feel like you're gliding on air with these lightweight shoes.
Photo: Nordstrom
MCM's signature print is a must-have for any logo lover, and this card case is under $100 during the sale.
Photo: Nordstrom
Add this radiant ring to your jewelry collection for the days you want some color in your look.
Photo: Nordstrom
Good American is notorious for its jeans' comfortable and flattering fit. I hated wearing denim until I discovered theirs.
Photo: Nordstrom
Because you can never have too many midi dresses, especially as the seasons change.
Photo: Nordstrom
For the minimalist who just needs a bag that holds their phone, this leather pouch will save you money and leave you hands-free.
Photo: Nordstrom
End of summer trip planned? This Calpak is my go-to carry on for a quick weekend trip. Not only does it fit everything you could possibly need, it's also smooth sailing to roll in the airport.
Photo: Nordstrom
A perfect winter coat for when it's cold but you still want to look stylish.
Photo: Nordstrom
And one to see you through a polar vortex.
Photo: Nordstrom
I can count on my fedoras to come to my rescue on every one of my bad hair days. A wool one like this tops off almost any outfit.
Photo: Nordstrom
You can never have enough cozy sweaters for the fall, and this is a great layering piece.
Photo: Nordstrom
Polos are in. Ride the trend into the colder weather with this sweater.
Photo: Nordstrom
A shoe that will make you look like you're Gen Z, whether or not that actually the case.
Photo: Nordstrom
It's never too early to buy a fall boot. This one has a block heel for comfort and a leather cap-toe detail. Style it with an LBD or your favorite boyfriend jeans.
Photo: Nordstrom
A blazer pairs well with just about any outfit, but this pinstripe-patterned one will make you feel like a real professional.
Photo: Nordstrom
Ensure you're warm and dry with this water-repellent puffer, and stand out from the crowd.
Shackets aren't going anywhere this fall, and a plaid one is a no-brainer.
Photo: Nordstrom
These are the most comfortable pair of sweatpants I own from Nike. They're oversize with a feminine fit. I'll continue wearing these frequently, even as we go back out into the world.
Photo: Nordstrom
Padded shoulders have been trending and this top is under $15.
Photo: Nordstrom
This dress is perfect for a Labor Day vacation.
Photo: Nordstrom
Because nothing says "welcome, fall" quite like a loafer. And these black Millany shoes look expensive without the hefty price tag.
Photo: Nordstrom
You can never have too many sweatpants, right? Even as the world reopens, we'll still be wearing ours in and out of the house.
Photo: Nordstrom
Unfortunately, purses are becoming a necessity again, but this crossbody bag makes us think it might not be such a bad thing.
Photo: Nordstrom
A denim jacket with shearling. There's a reason it's a classic.