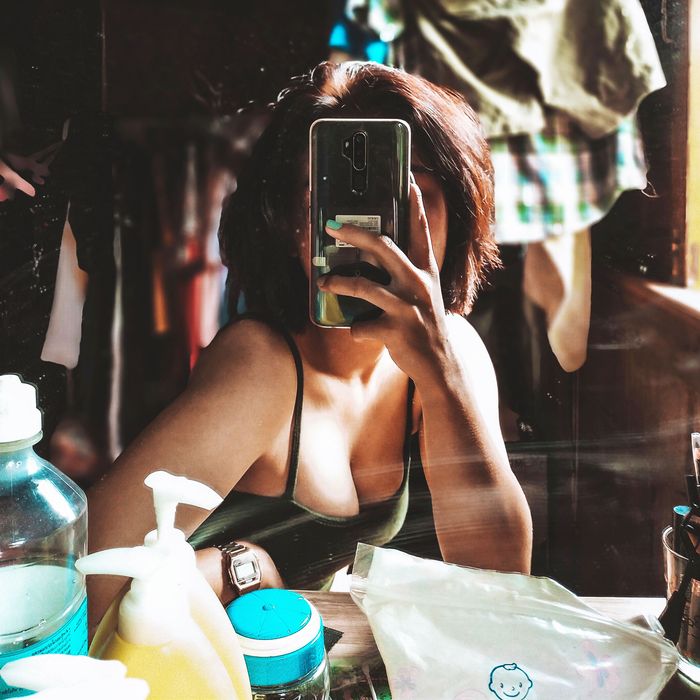 Photo: Na Fn Sophn Xeux Xanwy/EyeEm/Getty Images
The news that OnlyFans plans to ban all sexually explicit content starting in October has left many of the performers who depend on the platform angry and panicked. "We instantly recognize the financial despair and destruction this will cause our community," the Adult Performance Artists Guild said in a statement. "We brace ourselves for the crisis this will likely cause." The London-based site has enabled sex workers to make a living from the safety of their homes, giving them control over the kind of porn they create and how they interact with fans.
And while the company is on track to make more than a billion dollars this year, it has decided to boot the very creators who made it popular in an attempt to satisfy potential investors and financial institutions. OnlyFans said the ban is to "comply with the requests of our banking partners and payout providers," which comes on the heels of MasterCard announcing certain restrictions on adult-content sites (last year, the payment company cut ties with PornHub over claims of child porn). In the now familiar story of online platforms stigmatizing sex work, OnlyFans might end up being the ultimate loser. After all, when Tumblr ditched adult content in 2018, its valuation dropped from $1 billion to $3 million; now it's irrelevant.
In the meantime, the impact of this move could be devastating to creators who rely on it to safely pay their bills. The Cut spoke with five of them about how their livelihoods will be affected and what comes next.
"I'm scared to strip again because I'm not that healthy."—Merrick Deville, 27, Austin
After working as a stripper for six years, I needed a break. A few years ago, I was feeling really sick and dealing with fibromyalgia, a chronic illness. I was burned out. I wanted to see if OnlyFans could be a decent revenue stream, and right as the pandemic started, I stopped going to the club completely. Last fall, my account really blew up and I started making 12 times my initial income. I'd never seen money like that before.
I like the freedom being able to work online provides. If I don't want to be touched or be around people, I don't have to. I don't have to put on a fake personality and constantly sell myself to strangers. There's an element of safety as well, since I can do this from my home. The sex-work industry can be really dangerous. With in-person work, anyone can just touch you. Managers often look the other way since the customer's always right. But when the customer puts his finger inside you, he shouldn't be right.
When I heard about the OnlyFans ban, I was disappointed but not surprised. Sex workers are not exactly a traditionally respected group of people. This platform built its success on us and now we're being completely abandoned and disregarded. On Twitter, a lot of people were celebrating this news, saying we're whores who should get a real job. There's just a lot of vilification.
How many hits can I take before it's impossible to bounce back? I recently got divorced, became sick, and now the platform that I use to make a living is potentially going to cut me out. I don't have a large financial cushion, so I'll probably have to go back to the club. I've been paying my own bills since I was 18, and I also support my boyfriend.
I'm scared to strip again because I'm not that healthy. I have a lot of chronic pain. I was just diagnosed with asthma today, so trying to do aerial stunts is not going to be easy. I'll have to bedazzle my inhaler and take it to work. I don't think I'm going to be able to do eight hours in heels. I'll have to do short shifts. But I don't have the luxury of sitting around to see exactly what OnlyFans is going to do.
"It's very difficult to try and earn money in this industry, because you're constantly worried about which platform will fall next."—Erica Cherry, 27, Las Vegas
OnlyFans has allowed me to take a step back from working with studios or spending all my time on a live-streaming platform. I'm not tied to companies that expect a certain type of performance on set. With trans porn in particular, you're almost always expected to engage in hardcore penetration. OnlyFans allows me to do more varied content, like solo work or just chatting with fans who are sending me DMs. It makes up about a fourth of my income at this point, roughly $2,500 a month.
I was at home getting ready to do some webcamming when I heard the news they'd be banning porn. I felt betrayed. And then I thought, Oh gosh, I need a plan to make up for that loss of income. Yet another platform that is literally built by sex workers and the users they bring in has decided to pull out the rug from under us. It feels like we're not really important, just something to use on their way to financial success.
I'm most mad at companies like MasterCard and Visa, since it seems like payment processors are attempting to crack down on what they think is abusive content. In reality, a major, independent study found PornHub has less than one percent of the child pornography found on Facebook; OnlyFans has some of the strictest standards around age verification and consent of any site I've been on. But nobody's really looking at the facts. It's just this kind of crusade against pornography and sexuality in general, masked behind helping the kids.
Now I've started uploading my backlog of content to another site called JustForFans. My income is going to take a hit from this, just like it did when Visa and Mastercard stopped working with PornHub. I'm undergoing a surgery at the end of August, and I'm not going to be able to devote as much time as I had planned to recovery. Now I have to do things like send mass DMs to my current subscribers and switch out all my OnlyFans links. It's very difficult to try and earn money in this industry, because you're constantly worried about which platform will fall next.
"I felt like something was being yanked from my life." —Angel Carrasco, 22, Los Angeles
I started using OnlyFans in the summer of 2019, while I was working as a security guard in Santa Monica. I had never done sex work or porn before, but one day I promoted a nude shot on Twitter, and my followers blew up. A few months later I was making way more than my security job, so I quit. That decision changed my life.
Now, I make roughly around $11,000 a month, which I use to support myself and my three younger siblings. I've been thinking of starting a line of merch for my fans. So when I saw the tweets about OnlyFans removing sexually explicit stuff from the site, I felt like something was being yanked from my life. It's kind of a shock, and I'm very hurt. The company was so pro sex work and gave us the freedom to post whatever we want has turned their backs on us.
Now I have to change my plans, and I don't know what to do next. Is there another platform? I don't want this same thing to happen again. We need a place that's not going to do a 180 on us. I can't see myself doing in-person sex work — my comfort level is on social media. I might have to go back to my security job in October. I can't make enough money just selling nude photos on OnlyFans. Luckily I'm a big saver, but what about people in more vulnerable situations, like a single mom trying to raise her baby? It could be very dangerous. I'm trying to stay positive, but it's a heavy feeling.
"In the back of my mind I'm always thinking When is the guillotine blade going to fall this time?"—Aella, 29, Seattle
I support myself entirely through OnlyFans, and I'm in the top 0.04 percent of earners on the site. When I'm working regularly, I make about $100,000 a month. I've been doing various forms of sex work for almost a decade and was mostly recently a high-end escort. A lot of my clients were older men, so when COVID-19 hit, I didn't want to put them at risk. I started using OnlyFans instead and made twice as much. I miss having a personal connection with clients through escorting — it really humanizes the person I'm working with. Now I'm thinking much more like a business marketer, trying to optimize click-through rates on my videos, but I like the feeling of working in my pajamas from bed.
When I heard the OnlyFans announcement, I thought, Well, I'm kind of screwed. I didn't feel horror because, as sex workers, we're used to this. We constantly have to change our tactics and figure out new ways of being because people are always trying to stomp us out. I don't even think it's OnlyFans itself that wanted to do this. It's like KFC saying, "We're going to ban chicken." What does that even mean? There's some pressure going on behind the scenes, in this case from financial institutions. That means the problem is going to follow us whatever platform we go on, which feels really hopeless and despairing. In the back of my mind, I'm always thinking, When is the guillotine blade going to fall this time? I wish there was more competition among payment processors so I could move my money to a bank that supports sex workers. But that seems impossible due to regulations. Even with cryptocurrencies, every transaction has to be reported to the IRS. There's a reason why entrepreneurs can't take advantage of that giant cash cow. They're not allowed to.
I'm quite stressed out about my future. I had trouble sleeping last night, thinking, Oh, God, what am I going to do? I haven't figured it out yet, but it's unlikely I'll be able to maintain my same level of income. I know I've made a lot and can take a hit. But I'm saving almost everything I earn for retirement, since I likely won't be able to work after 38. I don't want to keep doing this when my body is less marketable.
"I think the joke is ultimately on OnlyFans."—Christina Brewer, 36, Central Illinois
I run a small business taking care of pets, and I was hit extremely hard during COVID-19. My income dropped from $30,000 a year to $5,000 — people stopped traveling, and I wasn't needed as much. In November, I started an OnlyFans account to help support me and my 11-year-old son. I had worked in the adult industry before, bartending in strip clubs and selling sex toys. I've known sex sells since I was 21.
I don't have a huge fan base, but over the past fews months, I've been making enough to cover utilities and pay for my son's summer activities. It has helped me double my income. Now that my son has gone back to school I've been looking forward to making more content and more money. But then I heard the company's announcement yesterday. I was appalled. I think OnlyFans' claim about not finding investors is bullshit. Why don't they reach out to some adult companies? It feels like they should have thought outside of the mainstream box.
But, honestly, I think the joke is ultimately on OnlyFans. What will the platform be without sex workers? I think this ban has ruined the platform's reputation. I don't look at this as personally discouraging. I'm going to put on my business hat and reevaluate my five-year plan. I still have my pet company that pays my rent. I'll find another platform for my X-rated content, and I know I'll bounce back.