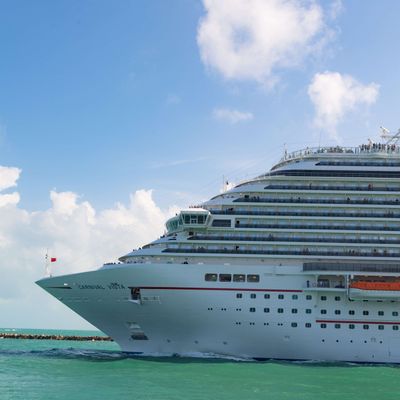 AaaaaaAAAAAAAGH.
Photo: Roberto Machado Noa/LightRocket via Getty Images
Well, the cruises have done it again: They insist on getting back out on the water, then wind up trailing coronavirus outbreaks in their wake. It has been the same story since the pandemic began; indeed, in the earliest days of 2020, cruise ships facilitated viral spread as they pinged between ports all over the world, cycling throngs of international passengers through the same closed spaces. The fiasco sparked multiple class-action lawsuits — complainants included people whose loved ones died after their vacations — but still, the cruise lines keep pushing it. Last August, for example, a Norwegian ship that boldly tried its luck with a little voyage to Svalbard reported a cluster of cases. Last November, the same thing happened on the first passenger vessel to resume pandemic cruising in the Caribbean, which reported a cluster of cases. This past May, there was an outbreak on a brand-new Royal Caribbean ship before any passengers even clambered onboard.
And now, with U.S.–based cruise traffic having resumed in June and the Delta variant surging nationwide, a Carnival ship departing from Galveston, Texas, weathered an outbreak that left one person dead.
According to the New York Times, the Carnival Vista charted 27 infections over a two-week stretch between July and August — among the highest infection rates for any single vessel since the cruises picked back up for the summer. Despite allegedly swift isolation, 77-year-old passenger Marilyn Tackett of Oklahoma had to be placed on a ventilator in Belize, and ultimately died on August 14 after being evacuated to a hospital in Oklahoma. The Washington Post reports that all those infected (entirely crew members, aside from Tackett) were vaccinated. Per the Post, Tackett did not get a COVID-19 test before boarding, though Carnival maintained in a statement to the paper that "she almost certainly did not contract COVID on our ship."
"We have continued to provide support to her family and are not going to add to their sadness by commenting further," it continued.
Though it feels hard to say for sure where Tackett's infection came from, it maybe bears noting that her ship left a Texas county with a high infection rate, in a state with a high infection rate and a governor-ordered ban on mask and vaccination requirements (at least at local businesses; apparently, about 96 percent of Vista passengers were vaccinated). Per the Times, 56 percent of Texas residents remain unvaccinated, just to give some context for Carnival's launch point.
To Carnival's credit, it has implemented new safety protocols in recent days, including indoor masking and pre-departure testing requirements for all passengers, even the vaccinated ones. And as Carnival's chief communications officer, Chris Chiames, noted to the Times, COVID "is everywhere," on land and on sea. Carnival's policy will "flex and adapt," Chiames said, "to mitigate and minimize the threat." But the coronavirus, he continued, "is going to remain everywhere for a long time."
True! And I would wager: maybe particularly if cruise ships keep on cruising? Seven-day data from the Centers for Disease Control and Prevention, submitted Friday, says the agency is investigating or monitoring COVID cases on over 30 ships in U.S. waters. As of last week, the CDC is warning passengers who aren't fully vaccinated and/or are at risk of severe illness to avoid cruises altogether, labeling them a level-three COVID risk. The CDC's system has only four levels, and three is high. Whether cruise companies want to acknowledge it or not, their voyages create a uniquely conducive environment for the spread of disease: Cruises rely on large communal spaces, gathering people from all over the country, even the world, together for days to weeks at a time as they make pit stops in different ports. So, with that in mind: looking at you, CDC.