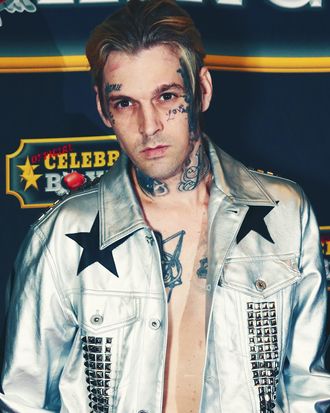 Photo: MediaPunch/Shutterstock
It is not difficult to come by Aaron Carter in the nude. He's got an OnlyFans page. And also treats his Instagram like an OnlyFans page. And now, he's joining Las Vegas's campy musical revue Naked Boys Singing! Love a title that tells you everything you need to know.
"I think the naked body is a beautiful thing," Carter — whose Wikipedia first identifies as an "American rapper"?? — told Variety. "We were all born naked." Very true, Aaron! The show seems like a natural progression from his passion for being naked online. "I love doing OnlyFans," he said. "I've been an OnlyFans model for over a year now, and people are very uplifting. They make you feel attractive and good about yourself. I love that social media platform more than any other platform. It's not about the money. It's about the fans." Well, fans, Carter is giving you more of what you are apparently asking for: him naked.
Upon Googling "Naked Boys Singing" on my work laptop, I have learned much about this musical revue and am now probably on several HR lists. The top of the show's "about" page reads, "ARE THEY REALLY NAKED? YES!" Efficient, informative, right to the point. The show is, in its own words, a celebration of the human form for "gays, straights, and everyone in between!" It features original songs, dancing, and a bunch of naked guys. Although, the site says COVID-19 restrictions will be in place for the show. So, maybe the boys will be naked save for a face mask? Maybe they will be behind a giant plexiglass? If it helps at all, here's a quote on the site from Kelly Ripa: "Three of the greatest words in the English language … NAKED BOYS SINGING!"
Carter is a busy naked boy! He recently started his own cannabis business. In March, he and his fiancée, Melanie Martin, announced that they're expecting a baby. He's got a bustling OnlyFans account and now this upcoming show. Carter starts his 12-week run with the Vegas show on September 8. If he doesn't do a horny rendition of "Aaron's Party (Come Get It)," I will be pressing charges.