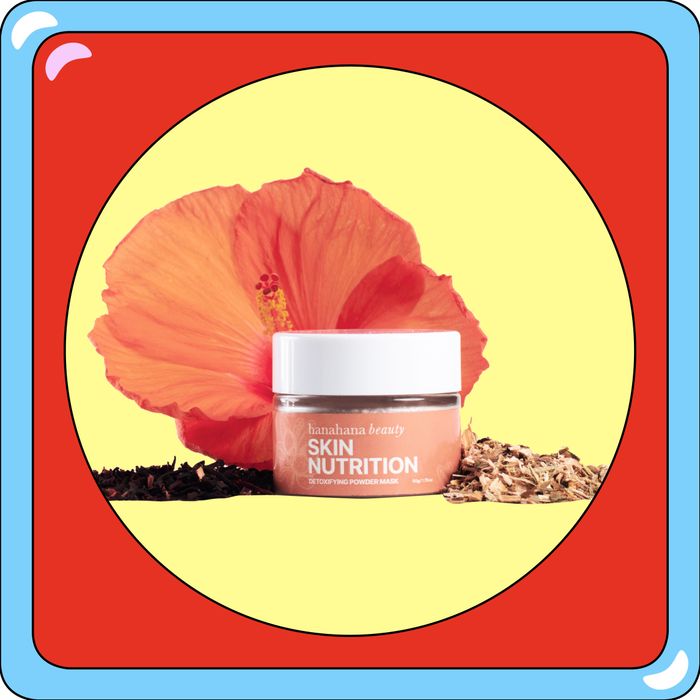 Photo-Illustration: by The Cut; Photo: Retailer
Nine weeks ago, as archived on Instagram stories, Abena Boamah-Acheampong quietly teased Hanahana Beauty's Project Skin. "We have a skincare product launching this summer," the founder wrote, followed by a question box asking, "What do you think it is?" This week, we finally got our answer in the form of Skin Nutrition, the brand's first face mask — and first face-care offering overall.
Boamah-Acheampong wants to address congestion — the build-up from dead cells, sweat, and oil that can eventually result in blackheads, pimples, and dull skin — with Skin Nutrition. "This was actually the first product that I worked with a beauty chemist to formulate," she says. "It was inspired by our customers and my own love for face masks, so I wanted it to have a high-efficacy but also [not] a ton of ingredients; I wanted to make sure we weren't putting in an ingredient just to have it in there." Ultimately the face mask came together with just five, or six if you count each individual type, varieties of clay: willowbank for even skin tone, spirulina for moisture, hibiscus for its anti-inflammatory and antioxidant properties, maca root for cell turnover, and pink and white kaolin clays to clear excess oil.
An added benefit: Skin Nutrition can be personalized. Open the container; pour some of the pink powder into your hand or a small bowl (Boamah-Acheampong recommends half of a teaspoon); mix with your choice of water, rosewater, or honey; and apply the mask evenly across your face. "Your skin won't feel tingly, but you should definitely start to feel a level of tightness as it's drying," says Boamah-Acheampong. If you just add water, the mask will take around ten minutes to dry down, but if you add a humectant or an oil, you should expect to wait for around 20 minutes. And whatever you do, let your face air dry after rinsing it off, the founder advises. "You just did a whole clay mask, so if you pat it dry with a towel, you're gonna be like, 'Wait, my skin is so dry!' So put on either your sunscreen or moisturizer or oil after, and your face will be so soft."
Below, watch Boamah-Acheampong as she shares how she likes to use her Skin Nutrition and some tips to get the most out of the mask. Plus, if you're in New York on August 20 from 1 to 7 p.m., on August 21 from 11 a.m. to 5 p.m., or August 22 from 12 to 6:30 p.m., stop by Ace Hotel New York to shop Hanahana Beauty in person at the brand's pop-up shop.