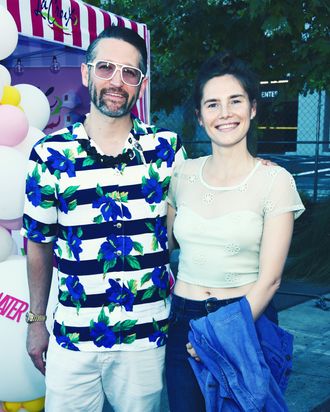 Christopher Robinson and Amanda Knox.
Photo: Gregg DeGuire/ Getty Images
Congrats to true-crime podcaster Amanda Knox, who has just announced her pregnancy. How did she announce it? Via podcast, of course. Was there audio of the moment she watched the little plus sign or whatever materialize on the test? You bet. Would you expect anything else from an audio professional? No, you would not.
Knox and her husband, Christopher Robinson, shared their big news on the most recent episode of Labyrinths, in which they "delve into stories of getting lost and found again through compassionate interviews, philosophical rants, and playful debate with fascinating people," per the Apple Podcasts page. "Oh, thank goodness! Yay, we did it!" Knox can be heard exclaiming as she reviews the pee stick. The couple plans to air more of this kind of content going forward, as they have been documenting the pregnancy "from day one."
Anyway, this is an exciting moment for Knox and Robinson, particularly given their disclosure in a previous episode that Knox's earlier pregnancy ended in a miscarriage. "I did feel incredibly disappointed that that was the story of my first-ever pregnancy," she said. "I thought, like, I knew exactly what I want to do with my first pregnancy, and to have it not come to fruition not through choice felt like a betrayal."
Knox and Robinson met in 2015, not too long after Knox was exonerated from the 2007 murder of her roommate on a study-abroad program in Italy, for which she spent four years in prison before her name was cleared. Robinson orchestrated a space-themed proposal in 2018 — she said yes! — to be followed by a space-themed wedding in 2020, cementing the "Knox–Robinson Coalescence," as they called it. And now they are having a baby, space-themed shower presumably to come!