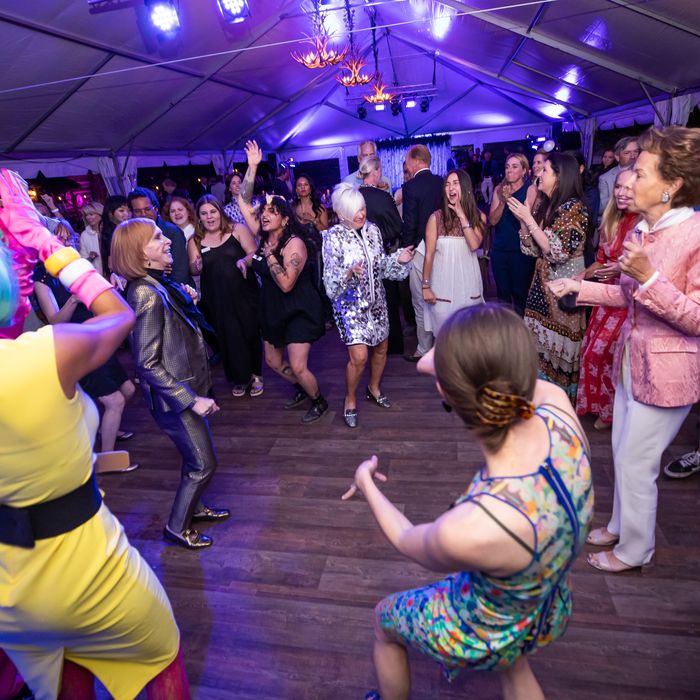 A hot-vaxx-summer scene during Recognition Week at Anderson Ranch Arts Center, one of several events this month marking Aspen as a new center for the art-world elite. In pink: collector Sharon Hoffman.
Photo: Stonehouse Pictures/Courtesy of the Anderson Ranch Arts Center
Though there is some disagreement on how and why this happened and just what the tipping point was, there is a general sense that Aspen has become a center of the art world during this hot vax summer.
Marianne Boesky, who was introduced to the slopes of Colorado's Roaring Fork Valley as a child and opened an offshoot of her eponymous New York gallery here in 2017 (with a show by star artists Larry Bell and Frank Stella), laughed when I ask about this; a relative, who'd been coming to town even longer than she has, had just marveled to her, "This is not the Aspen I know. What's going on?"
Today, this tiny former mining town — best known to the world for its winter sports — is crawling with artists, curators, representatives from the major auction houses, and most especially art collectors.
There are a half dozen pop-up galleries of international stature here for the summer; joining Lehmann Maupin, which was the pioneer in 2020 and now has an extensive showroom with Carpenters Workshop Gallery; there are multinational enterprises like White Cube and Almine Rech, as well as Los Angeles–based Honor Fraser and New York's Mitchell-Innes & Nash. At the center of it all is the Aspen Art Museum, whose newish director, Nicola Lees (announced just as the world was shutting down in March of 2020) is in the throes of a week of programming, dinners, and schmoozing for its aptly named annual Art Crush. And the museum is enjoying lots of attention for its  installation by Nigerian American artist Precious Okoyomon, who won the 2021 Frieze Artist Award  and has been widely touted in T Magazine,  The New Yorker, and right here at The Cut. Plus, the art-and-design fair Intersect Aspen opens this week, too, with 30 exhibitors from 26 cities.
Perhaps most noticeably, Anderson Ranch Arts Center is on fire (not literally, and don't joke about that in these parts). The ranch is also under newish leadership, and its board has grown by a third in the last year, to include more heavy hitters in the art world, like a curator of contemporary art at the Met Museum; the esteemed curator Helen Molesworth is serving in the new role of curator-in-residence, which includes leading a two-day workshop with the Guerrilla Girls; and it just turned its annual fundraising dinner at the Jerome Hotel into a full week of fanfare sited at the five-acre ranch itself, where the honoree is none other than artist Simone Leigh, who will be representing the United States at the next Venice Art Biennale, the first Black woman to do so (Leigh had been quietly working in the ranch's coveted kiln yards prior to the pandemic).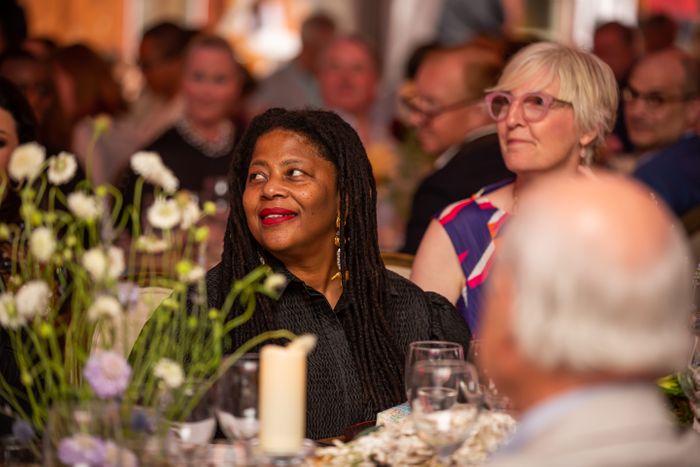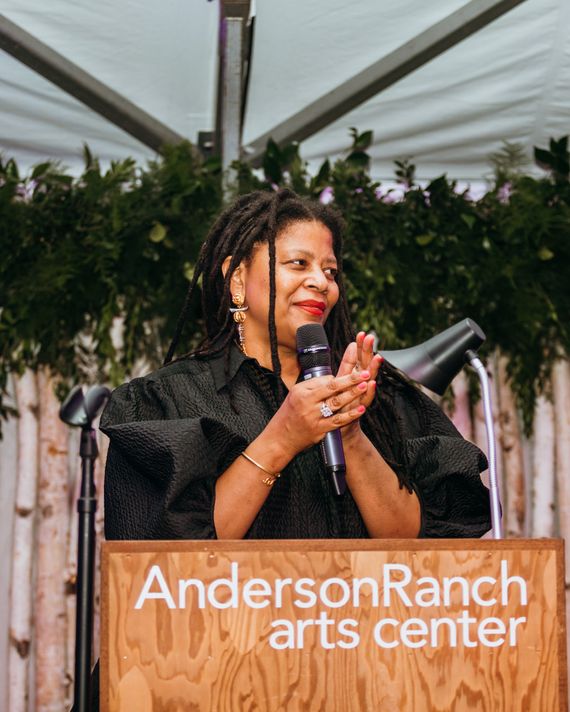 "Almost the entire board of the Whitney, almost the entire national committee of the Whitney, have homes here," collector Jon Lee says, adding that it's become a joke that "you can't be on the national committee unless you have a house here."
He knows this because he himself is on the board of the Whitney Museum of American Art and, locally, of Anderson Ranch, where his wife Barbara has served as well. I meet the Lees in a photography workshop in mid-July, which the ranch invites me to sit in on. They let me interview them on the fly from the backseat of their car when I hitch a ride from the ranch, located in Snowmass, about 15 minutes outside Aspen's historic downtown. Jon adds that it's not just the Whitney: "We've got so many people from the Hammer [Museum in Los Angeles] or even the Guggenheim. Name a museum and they're here."
That's been true when I reported in the region before (this isn't my first rodeo — sorry to beat a dead horse with these Western metaphors — I've been visiting friends and family in Aspen for more than 20 years). But something does feel different this year, art-wise. Both Leigh and Okoyomon's presence here symbolize the merging of what curator Helen Molesworth describes to me as the "craft versus Art divide," a divide that she always found "boring," and whose coming together was long overdue.
Okoyomon's installation also embodies something important for Aspen itself: a new era of collaboration and connection between the museum and the ranch, each previously its own fiefdom, the first for the exhibition of "Artists" (with capital A) and the other a mini mecca for makers (of ceramics, printmaking, furniture, painting, photography, and so on). Their installation (Okoyomon uses gender-neutral pronouns) atop the museum was made in part at the insider-famous kiln yards at the ranch, where the artist has spent five weeks in residence so far and plans to return. "[Aspen Art Museum director] Nicola [Lees] was like, 'Let's go see the ranch,'" Okoyomon recalls,  "And then it just seemed perfect." With far more resources than the artists' studio in New York, "I couldn't have done the sculptural elements without being at the ranch," they say, comparing the creative environment to a really supportive "nest," where "everyone is into building your dream with you."
Their installation on the rooftop is the centerpiece of the museum's programming for an almost unheard of 18-month stretch: Over a carefully cultivated garden bursting with vitality, a larger-than-life sculpture of an angel hovers, gray-black, almost a shadow of itself, against the verdant slopes of Aspen Mountain. Among the foliage, ceramic tiles with pithy bits of Okoyomon's original verse weave their way through the greenery. Aspen-apt themes include pleasure, abundance, and desire.
Okoyomon is excited to return again and again over the next year and half to develop and transform the project that will grow and change with the seasons. In part, that's because, so far, each day starts with a hike and a "roll down the hill" on the golf course behind the ranch, if not also horseback riding, picking flowers, and bird-watching. Their take: Aspen "is like a Superdome bubble," they say, a "beautiful bubble" that operates almost "outside of time … and how the normal world flows."
Like Okoyomon and almost everyone who's ever set foot in Roaring Fork Valley, Simone Leigh finds it "spectacularly beautiful." "One of the things that's really great about Aspen that I haven't experienced outside the Swiss Alps is a culture that's built around being outside in the winter." Leigh also expressed gratitude before nearly 200 guests and the leadership of the ranch for inviting her to make work in some of its most special, insider-famous kilns while her new studio in New York was being constructed. She tells me privately: "What was good for me is it was the first time I was in an old-school ceramic environment [where] … they understood what my needs were as a contemporary artist and I didn't have to be apologetic about it."
Okoyomon and Leigh are in good company with the artists that have spent time at the ranch.
In the last three years alone, those artists have included Ai Weiwei, Alexis Rockman, Catherine Opie, Nick Cave, Sanford Biggers, Tom Sachs, Njideka Akunyili Crosby, Jennifer Guidi, Trevor Paglen, Christina Quarles, the Haas Brothers, Vik Muniz, and Robert Longo. In the years before that, artists like Carrie Mae Weems, Bill Viola, Christo and Jeanne-Claude, Cindy Sherman, Marina Abramovic, and Mickalene Thomas spent time here.
Waanders, who lived locally for two decades before joining the ranch as CEO and president in 2019, agrees that there's something special about the place. "There are a lot of towns with that glitz," he says in his den-like office on the ranch's campus. Waanders jokes that visiting artists become hooked on the ranch, thanks to the ethos of casual hospitality — for example, being beckoned to the cabin of the ranch's artistic director, Andrea Wallace, to sit around a campfire with her and her son and a few other artists. "They come here for the authenticity that's under the glitz."
It's not just campfires and fly-fishing, of course. The ranch offers artists all manner of engagement: residencies of varying lengths, where they make work and learn to explore a medium that might be new to them; workshops where they can teach art making, many to students on scholarship; and platforms to meet and be heard by other artists, collectors, curators, and art-world glitterati through public lectures. (Naturally, artists are also asked to donate work for auction to support ongoing programs.)
As the collector and former ranch board member Sharon Hoffman puts it, there was an impetus "to start bringing these people in for people here to hear." A big push for that came from Sue Hostetler Wrigley, who joined the board in 2012 and will cycle off her three-year stint as its chair this fall. Boesky and others long tied to the community are quick to credit Wrigley for bringing to the ranch what Waanders calls a more "international view of the art world." (Hostetler Wrigley, my friend and longtime editor when she was at the helm of Art Basel magazine, was not interviewed for this story).
Despite a concerted, well-intentioned effort on the part of the cultural institutions in the area, and the people who run them, to support a diversity of artists, there's something obvious and uncomfortable percolating around race and ethnicity and class here: who makes and who collects, who drops whose name, and who invites whom to jet in by private plane.
Interviewed independently, Leigh, Okoyomon, and other artists of color I speak with describe their impressions and stories (some off the record) with adjectives that I can't not hear: "weird," "jarring," "intense," "embarrassing," "sad," all the way to "gross," "extreme," and "unbearable."
"Everybody knows what Aspen is, especially the extreme wealth," but "it's really in your face," Okoyomon says. "It's such a weird place, honestly."
"Jarring" too is "the undercurrent of what keeps this [area] alive," Okoyomon says. By that they mean most immediately the hospitality and service workers, many of whom are of Mexican, or more rarely Indigenous, heritage, who bus or drive in, carving long lines of traffic from what locals refer to as "downvalley," the less expensive neighborhoods with more affordable housing.
Though Okomoyon reported no personal negative experiences, they do say, "The unbearable whiteness was too much."
And as much as Leigh enjoyed her time at the ranch and in the Aspen area, she says, "I was not aligned with the place in some really essential ways." Regarding her multiple visits to the area, she says, "I would definitely title my thoughts in general with 'mixed feelings.'" We speak in the days before she accepted her award from the ranch, when she shares some strongly worded impressions and impactful incidents off the record that she doesn't want made public, and then again after.
For the festivities surrounding Leigh's award, there's a public conversation with and a reading by MacArthur "genius" Saidiya Hartman, with discussions of race, class, unequal structures and feminism, and a Q&A with the ranch's president and CEO Peter Waanders. "And then," Leigh says, with some reluctance in being critical, "at a cocktail party before the gala," she saw that a corporate sponsor of the event had two spokesmodels, including a woman of color, bedecked in jewelry for sale and trying to engage patrons in a way Leigh found appalling.
"They had this Black woman with diamonds selling them off her body," Leigh says. "It was really deep."
"It made me feel that the earlier discussion about what people could do was disingenuous … If you thought this was appropriate, I mean, I don't even have the time…" Leigh says, her voice trailing off.
She genuinely appreciates the significance "that my friends were invited [when] they saw that there would be no Black people there if I came by myself, and that they tried to remedy that," Leigh says, but then seeing "a Black woman selling diamonds off her body just undermined all the other things they tried to do."
There was at least one other spokesmodel who was not Black, but another guest in attendance was similarly aghast at the "hottie cowgirls" on hand to welcome guests, asking, "Do they even know what Simone's work is about? It's about the dignity of women, Black women, and their labor."
"Simone Leigh is a remarkable artist, and the ranch is grateful for the time she shared with us on campus," says Waanders, when asked for comment. "The ranch curated a week of robust programming to honor her, as we continue to advance our collective commitment to supporting a diverse community of artists, as well as art making and critical dialogue."
Hearing these stories, I considered a seemingly innocuous moment I had while at Boesky's Aspen gallery. A staffer was showing a group of us a new series of small portraits of imagined Black female figures by the Black artist Danielle Mckinney. In walked a white collector whom I recognized as among the most respected in Aspen, if not in the nation, for long supporting a diverse array of emerging artists who have gone on to great fame. The collector called out loudly over our group: "How much are these?" Upon being told that Mckinney's canvases were sold out, the collector pouted, and retorted that the family's collection already included the works of another, far more famous, established, and expensive Black portraitist.
That remark, and the offhand way it was delivered, was part of an acquisitive shorthand I have heard more than once (and, to be fair, not just in Aspen) from white collectors who name-drop, often unsolicited, the Black artists whose work they own: "We've got Sanford" [Biggers], "We've got Theaster" [Gates], "We've got Kehinde" [Wiley], "We've got Hank" [Willis Thomas], "We've got Mickalene" [Thomas], "We've got Lynette [Yiadom-Boakye]" and so on.
The use of only first names, the verb conveying possession — is anyone uncomfortable yet?
"I came [to Aspen] because of Anderson Ranch," Sam Harvey recalls. Today the only Black gallerist in Aspen, he came here first as a student of ceramics in 1983, then after several residencies and graduate school elsewhere in Colorado, ultimately returned to teach workshops at the ranch most summers, and then served on the ranch's board starting in 2011 for six years, which he says he "really loved."
"I have a history with this town, and I love this town," he says. The arts here, like the ranch itself, exist "because of the blood, sweat, tears, and financial wherewithal of the early people who thought that the valley needed culture, as well as condos."
I share what my reporting is revealing to me: Even for the artists of color who are truly thrilled to be invited to talk, teach, assist, make, and exhibit work, it's still an incredibly charged atmosphere, one where a person can feel wedged uncomfortably between the generosity of benefactors and a certain cupidity; between a commitment to honoring intersectionality and to a Melvillian whiteness; between incredible kindness and clueless insensitivity.
Harvey reminds me, with a laugh, that Aspen is, in fact, in America, and all this is a "complication of America."
"It's the complication of all of these mixed messages and trying to solve this Rubik's cube of culture," Harvey says. He asks rhetorically: "Is this a welcoming space? Am I wanted here? Do I all of a sudden have to speak for all Black people in the world?"
Another Black artist, having visited Aspen this summer, concurs with Harvey. "This is the structure of art and wealth and race in America," and no one in Aspen should think that just because of "all this natural beauty, this breathtaking landscape, and these mountains, this couldn't be happening."
When I share all of this with the artist Nick Cave, who has spent time in Aspen and received the same honor in 2019 that Leigh did this year, his response is simply, "Truth be told."
I certainly am not the first person to tackle this, but am I really right to, as a white woman and someone who knows some of these collectors and board members through friends and family? Harvey says to me: "I think it is important that you talk about this stuff, because if we talk about it too much, people are like, 'Oh my God, are we still talking about that? Are the Black people still complaining?' And 'We fixed this already.'"
Okoyomon and Leigh have more to say about this, too.
"I think it's a lack of knowing how to connect to the thing," Okoyomon says, the thing being the artwork itself, or what story or preoccupation the artist who has made it aims to explore.
"There's some collectors I've met in Aspen that are very amazing," Okoyomon says, people who have been collecting art for more than 30 years and who befriend, care about, and invest in the careers of artists. "But it takes a lot of work to get to that place."  And, they say, "You also have to actually care [about] more than just the image."
"We're at a really interesting place, especially after the last year," Okoyomon says, including what they refer to as "the social uprising" in response to the murder of George Floyd and so many others by the hands of the police, and "how that's swallowed — especially in white spaces."
"For some people, the last year has been this revelation of like a new consciousness, it's like, 'OMG! Black lives matter!'" Okoyomon says, adding, "But they always already mattered." (As one white gallerist here says, "Because of Black Lives Matter, everybody is trying to turn up the volume on diversity.") "People really want to be a part of this thing, but they don't know how," Okoyomon adds.
I feel Okoyomon is being generous, and so is Simone Leigh.
When people attempt to confront and remedy "their diversity problem," as Leigh calls it, "I think it's really important not to insult people who are trying. I try to support people who are trying."
Anne Pasternak, who attended the festivities for Leigh, adds, "It's wonderful that arts leaders are recognizing, supporting, and celebrating great work by people of color, but we must go further: white staff and trustees have to do the work of learning about our nation's history and looking at their own education, conditioning, and biases, before we can lead meaningful change. That work is deep, hard, and essential."
Pasternak, who has very publicly addressed meaningful diversity in her role as director of the Brooklyn Museum of Art, adds, "Without it, we will create pain for others, undermine calls for equity and justice, and fail to be the cultural leaders we must become."
In sharing their experiences and observations with me and responding with candor to my own, the artists and the nearly 20 others I talked to for this story are hoping to contribute to a transformation that is already under way in much of the art world. The hope is that the cultural leadership of Aspen — and perhaps its brethren in other places with extreme privilege and not much racial diversity, like Palm Beach, the Hamptons, etc. — will exhibit an openness and forthrightness in taking this all in.
Here's what Marianne Boesky has decided to do, both at her gallery in Aspen and in New York: the math. When she crunched the numbers, she was surprised to discover that her gallery program and the economic engine it's a part of did not have the level of meaningful representation she thought it did. Boesky, who serves the board of the ranch and the Aspen Music Festival, says, "This has been an awakening for me." She wants to do more than just "talk the talk of the liberal." As part of her commitment to meaningful representation of and engagement with people of color, she is changing the gallery's approach to seeking out vendors and subcontractors as well as employees and artists: "We're searching differently."
And debuting this week at Boesky's Aspen gallery is a new series of paintings by the Los Angeles–based Black artist Forrest Kirk, whose practice is described as examining the "anxieties that result from underlying power structures." The paintings are rooted in Kirk's research on a man named Hannibal Brown, Aspen's only Black man on record for decades, beginning in 1893, during a period of economic hardship and population loss in the valley. The paintings contend with the psychological impact of such isolation.
On the ranch's side, to better serve the families and artists who live "downvalley," it has added some more "diverse views and perspectives" to the board. Anthony Mavunga, who serves as finance director for the Target Corporation, is a Black resident of Minneapolis, a place that has seen racial strife writ large. Also now on the board is Alex Sánchez, who, as Waanders explains, "has spent his whole career building community in the mid- and downvalley areas with the Latino community." An effort for more bilingual programs and more extensive outreach is also planned.
When the ranch invited Simone Leigh to be honored during its Recognition Week last month, she accepted on the condition that the ranch invite a handful of other artists, all mentees of hers or artists she admires deeply, to accompany her, and to do residencies of varying lengths as well. "They said, 'Who do you recommend?'" she recalls. Seven people joined her, and three have accepted invitations to do longer residencies in the future. All are people of color. "I really appreciate that," Leigh says "I'm happy that they're doing that."
In the same vein, Okoyomon plans to take advantage of the year and a half their work will be on view here to bring artists, poets, musicians, theorists, filmmakers, and performers they admire to town, as part of the additional programming around their installation.
Artists talk a lot about making space. Okoyomon, says that, with Aspen, "That space is still going to be that space," but "I'm really focused on the idea of bringing all these people that I love and admire who wouldn't come to Aspen, to bring them into this environment and try and cultivate a space for them." The artist pauses, adding, "That's kind of my ultimate goal."
On a recent Gallery Night, when nearly a dozen pop-up and local galleries stayed open later than usual, a late-afternoon rainstorm — much welcomed, to temper the smoke from the wildfires further West — had just passed.
I walked from the museum with its director Nicola Lees toward Boesky's gallery to see who was out and about. Just emerging from the exhibitions by Danielle Mckinney and Simphiwe Mbunyuza were two of the Black artists Leigh had seeded into the ranch's program: Autumn Knight and Deborah Anzinger, who'd both come to town to take part in the festivities honoring Leigh and to plan out their own upcoming residencies.
I'd hung out a bit with Knight, a winner of this year's Rome Prize, earlier in the week at a printmaking workshop that the Guerrilla Girls conducted at the ranch. With the Guerrilla Girls looking over our shoulders, Knight and I were tasked with creating a protest poster about something worth standing up for. And as our working group struggled to find the right message, Knight threw out an idea that, simply put, was "the right to complain." Thinking of the news-making athletes Simone Biles, Sha'Carri Richardson, and Naomi Osaka, our discussion turned to people's right to to ask for what they need, and to critique and change the culture and institutions that are supposedly meant to foster their success in the first place.
I thought about all that as I wrote this story. Surely no one would argue that artists, with their own needs and sensibilities, are any less deserving than athletes of the right to challenge the benefactors and places that purport to lift them up?
Back on the sidewalk, amid a steady stream of gallery hoppers, I introduced Knight and Anzinger to Lees, who, understanding why they were here, begged off touring the galleries with me and instead doubled back with them to the museum to tour Okomoyon's rooftop work, wet with rain.
Later, as I was finishing my rounds — interviewing or eavesdropping on a dozen collectors and gallerists as I went — I ran into the two artists again, this time just outside Sam Harvey's gallery.
The artists waved and smiled. We all looked up, where Harvey was visible through the lighted window.
They began to climb the stairs: "We're going up!"