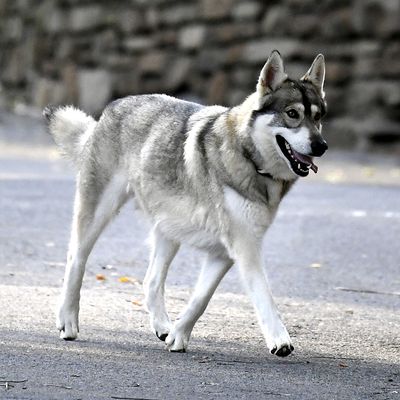 Captain, the allegedly abandoned boy.
Photo: Jessica Hill/AP/Shutterstock
Soon-to-be-former New York governor Andrew Cuomo has recently given the public many things to be mad about. To name a few: sexually harassing a bunch of women who worked for him, according to the state attorney general; creating a toxic environment of intimidation and retaliation in the executive chamber, again, per the AG; allegedly underreporting nursing-home deaths early on in the coronavirus pandemic, in a crisis of his own creation; martyring himself in his non-apology of a resignation address. And now, according to report by the Albany Times Union, moving out of the governor's mansion and just … leaving behind his seemingly beloved dog?
The paper alleges that Cuomo abandoned his boy, "a high-strung mix of shepherd, Siberian, and malamute" named Captain, after trying and failing to get multiple staff members to take him. Times Union sources (two people with the state police) say that one mansion employee took the dog home for a few days but ultimately "decided he was too much." Apparently, Captain has "nipped" at "several state police members" and staffers since Cuomo adopted him three years ago, and that "the governor would just laugh" at this behavior. As of Saturday, one source told the Times Union, Captain remained at the mansion, though Cuomo relocated to a sister's house last week.
Cuomo's camp vociferously denies the allegation, with senior adviser and spokesperson Rich Azzopardi insisting Cuomo had only been seeking someone to look after Captain while he went on a post-resignation vacation. Azzopardi initially called the paper's sources "crazy," and said Cuomo "didn't ask to give away the dog."
"I can't believe this is what I'm dealing with right now, when I'm dealing with a major storm," Azzopardi told the Times Union, referring to Tropical Storm Henri, which brought flooding and record rainfall to New York over the weekend. In a follow-up statement on Saturday, Azzopardi added: "Captain is part of the governor's family and for your nameless ill-informed source to imply they've been trying to give him away is untrue. Someone offered to watch him for a few days while the transition was ongoing but for that to be weaponized and morph from a game of telephone into the pages of your paper is absurd."
Obligated to put out yet another fire on his way out the door, Cuomo tweeted on Monday night that Captain "is part of our family and that's the way it always will be." He allegedly accompanied the governor to Westchester yesterday.
"Some people just can't get the facts straight," Cuomo wrote alongside a photo of himself, his three daughters, and the dog, which (based on light Instagram sleuthing) appears to have been taken in June. "Yes, I was downstate monitoring storm response for a few days, but Captain and I are a man and his dog." Hmmm! Just hmmm.
This story has been updated.