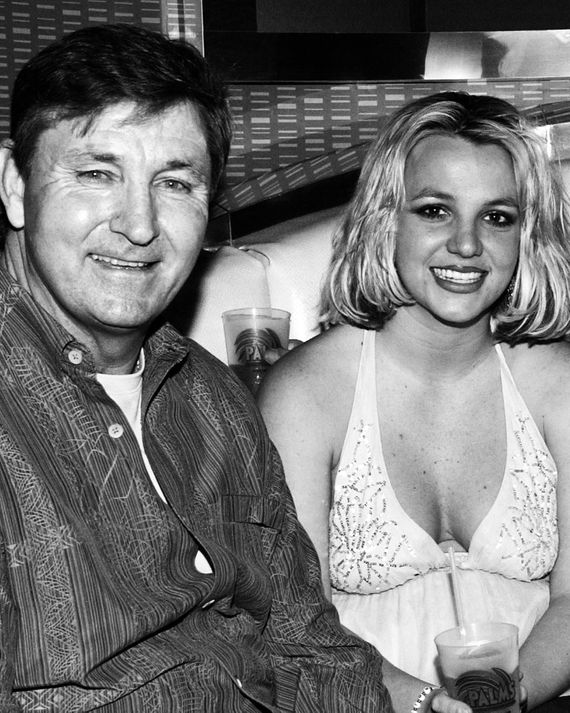 Jamie Spears and Britney Spears
Photo: Chris Farina/Corbis via Getty Images
The term "gaslighting" feels tired. As a shorthand, it is so often used to describe a broad range of questionable-to-dishonest behavior — particularly by politicians who are often just lying — that it borders on meaningless. But last week, watching two high-profile men attempt to shirk scandal by publicly martyring themselves, gaslighting is the word that sprung to mind.
First came New York Governor Andrew Cuomo, calling up the specter of accountability in last Tuesday's surprise resignation address. Cuomo thanked the 11 women who came forward to credibly accuse him of sexual harassment and apologized, before turning around and denying their experiences: They misunderstood his intentions, and now he becomes the casualty of a political smear. Then, on Thursday evening, news that Britney Spears's father, Jamie, agreed to step down from her conservatorship via court filings. And though the development felt, initially, like a win for the pop-star, who has reportedly been working to remove him from the arrangement for years, it actually ceded very little ground. Jamie would only resign "when the time is right," after the terms for an "orderly transition" had been hammered out, and he would not admit any wrongdoing. Exactly the opposite, in fact:
If the public knew all the facts of Ms. Spears' personal life, not only her highs but also her lows, all of the addiction and the mental health issues she has struggled with, and all of the challenges of the Conservatorship, they would praise Mr. Spears for the job he has done, not vilify him. But the public does not know all the facts, and they have no right to know, so there will be no public redemption for Mr. Spears. That is fine with Mr. Spears so long as the Court acts, based not on the opinions of those pandering to the public and social media, but on substantiated facts and all of the highly confidential information the Court has in its possession to make decisions that are in Ms. Spears' best interests.
The longer you look at his language, the more backhanded it becomes. Not even a week before this latest filing, Jamie suggested his "mentally sick" daughter may need to be placed under renewed psychiatric hold. He based his assessment on concerns Jodi Montgomery, conservator of Britney's person, allegedly made to him in a phone call, but Montgomery insists she said no such thing, and called on Jamie to "stop the attacks." Now, he appears to be pratfalling onto his sword, making a grand show of stepping aside while staying put; casting himself as the wronged party suffering in silence. Don't look a gift horse in the mouth and all that, but the decision to court praise from fetal position feels especially enraging here. He paints himself as the victim, even though he, like Cuomo, is said to have maintained exacting control through verbal abuse. Repackaging bullying as love strains credulity way past the point of breaking. And yet it's the same line we hear almost every time a person revealed to have abused their power is publicly called upon to resign.
In his quasi-resignation, Jamie implicated a whole cast of supposedly unreliable narrators, saying they muddied public perceptions of the contentious guardianship he architected 13 years ago. The media; Montgomery; Lynne Spears, Britney's mom; and Britney herself — everyone was telling stories riddled with "inaccuracies," at Jamie's expense. For his part, he never attempted to assert "absolutely microscopic control" (as Lynne recently put it) over the conservatorship, and has instead "tried to do everything in his power to accommodate Ms. Spears' wishes, whether regarding her personal life, family, or career, while fulfilling his duties and obligations as Conservator, protecting her from others seeking to take advantage of her, and ultimately, looking out for Ms. Spears' best interests." He "saved Ms. Spears from disaster, supported her when she needed it the most, protected her and her reputation from harm, and facilitated the restoration of her career," the filing says, and "continues to serve dutifully." Emphasizing that "there are, in fact, no actual grounds for suspending or removing Mr. Spears as the Conservator of the Estate" — and that doing so may run counter to Britney's "best interests"— his attorneys agreed that he would "work with the Court," and step aside at some unspecified point in the future, after his conditions are satisfied. How selfless.
Realistically, this defense isn't all that different from the one Jamie has offered since Britney started speaking publicly on the conservatorship in June. "He is sorry to see his daughter suffering and in so much pain," is all his attorney could muster after the scathing, 24-minute statement in which the singer asserted that Jamie should be in jail for what he's done to her. Given his utter lack of relevant credentials, and how badly Britney wants him gone — court documents from November petitioned for his removal on grounds that Britney is "afraid of her father" — it becomes increasingly hard to understand why a man who purports to care so much about his adult kid would not simply trust the professionals. But then, his actions suggest that taking care of Britney long ago ceased to be the sole goal of her conservatorship. For 13 years, Jamie retained a tight grip over his daughter's financial (and sometimes also personal) affairs, to the tune of at least $5 million. People who know him have painted him as an absent father who involved himself in Britney's life only when it seemed lucrative to do so: "The only thing Jamie ever said to me was, 'My daughter's gonna be so rich, she's gonna buy me a boat.' That's all I'm gonna say about Jamie," is how a Jive Records executive remembered him in an interview for the documentary Framing Britney Spears. Or consider the family friend who recalled Jamie "bellowing 'I am Britney Spears!'" during an early conservatorship meeting, while Lynne has said, in court filings, that he once described their daughter as "a racehorse who has to be handled like one."
For years, Jamie collected millions of dollars from a conservatorship contingent upon his daughter's continued incapacity; that he plays such a pivotal role in deciding whether or not the arrangement continues smells off all on its own. But when he trots out Britney's past mental-health challenges to paint her as untrustworthy, that's gaslighting, flat-out. It's look what you made me do dressed up as concern. And it's not far off from the rhetoric Cuomo deployed in his last-resort bid to avoid an impeachment trial in the state assembly.
Faced with a report from the attorney general's office, corroborating sexual-harassment and misconduct complaints from 11 women, Cuomo did apologize — not for behaving in ways that broke both state and federal laws, but for offending his marks with his excess of friendliness. He acknowledged that he had been inappropriate — not because kissing an employee on the mouth inherently and obviously oversteps a professional boundary, but because younger generations have redrawn the lines of propriety, leaving him standing unwittingly in the wrong. Still, he insisted, "there is a difference between alleged improper conduct and concluding sexual harassment." In Cuomo's case, investigators wholeheartedly disagreed, yet the governor stressed that this latest controversy had nothing to do with "the facts" and "the truth." He continued:
I truly believe it is politically motivated. I believe it is unfair and it is untruthful, and I believe that it demonizes behavior that is unsustainable for society. If I could communicate the facts through the frenzy, New Yorkers would understand. I believe that, but when I took my oath as governor, then it changed. I became a fighter, but I became a fighter for you, and it is your best interests that I must serve. This situation by its current trajectory will generate months of political and legal controversy. That is what is going to happen. That is how the political wind is blowing. It will consume government. It will cost taxpayers millions of dollars. It will brutalize people.




[…]




I love New York, and I love you. And everything I have ever done has been motivated by that love. And I would never want to be unhelpful in any way. And I think that given the circumstances, the best way I can help now is if I step aside and let government get back to governing. And, therefore, that's what I'll do because I work for you, and doing the right thing is doing the right thing for you. Because as we say, "It's not about me. It's about we."
Everything about this statement — its self-congratulation, its finger-pointing disguised as accountability, and maybe most of all, its timing — is about Cuomo. Resigning before the New York State Assembly could remove him preserves his ability to run for office again in the future, and in using words — "I want to thank the women who came forward with sincere complaints," "she was right" — that ostensibly acknowledge his mistakes, he may keep his currency with future voters. But a conditional apology will never be fully sincere, and Cuomo never meant it to be. Immediately after the A.G.'s report came out, Cuomo's attorney released an 85-page rejoinder, attempting to poke holes in each of his accuser's accounts. That same day, he apologized to former aide Charlotte Bennett by name, quickly undercutting the whole thing with a big but: She "heard things that I just didn't say." In other words: If people misinterpreted my actions, that's on them. Listening to her ex-boss's resignation address (which came directly after a power point by his attorneys, outlining the report's purported errors) Bennett told The New Yorker: "He couldn't resign without first being the victim and blaming all of us."
There simply is no world in which touching an employee's lower back, or stroking her stomach, scans as regular, platonic workplace behavior. To acknowledge in one breath that you probably did do that and insist in another that this allegation of harassment (like all those lodged by ten other women) just isn't what she thought it was, that's deliberately skewing reality to suit your interests. Giving his notice last week, Cuomo suggested that, in deference to the greater good, he overrode his "instinct … to fight through this controversy," as if fighting weren't exactly what he were doing. In making a show of personal sacrifice, he heads off state lawmakers who might end his political career for good and reclaims the narrative reins. A performative bow to public opinion can be strategic, too.
In one sense, the fact of these resignations — even if one remains a hypothetical for now — feels like a win, no matter how they try to spin it: Here are two men called to account for offensive behavior, facing consequences for their actions. Neither would have given up their position voluntarily, and ultimately, people who abuse their power shouldn't get to keep it. But the scramble to control the message still grates. A lack of real accountability reflects a refusal to understand where they went wrong: Andrew Cuomo and Jamie Spears both seem to believe that they did their jobs well and that other people were the problem — and what reason is there to believe that they will behave differently going forward? How do we change a mind that has fixed itself on being "the unremitting target of unjustified attacks"? Maybe two ousters in a single week should feel like cause for celebration, a sign of progress, but for me the explanations felt more frustrating because they came one right after the other: Rapid-fire reminders that even as things change, some people stay resolutely the same.