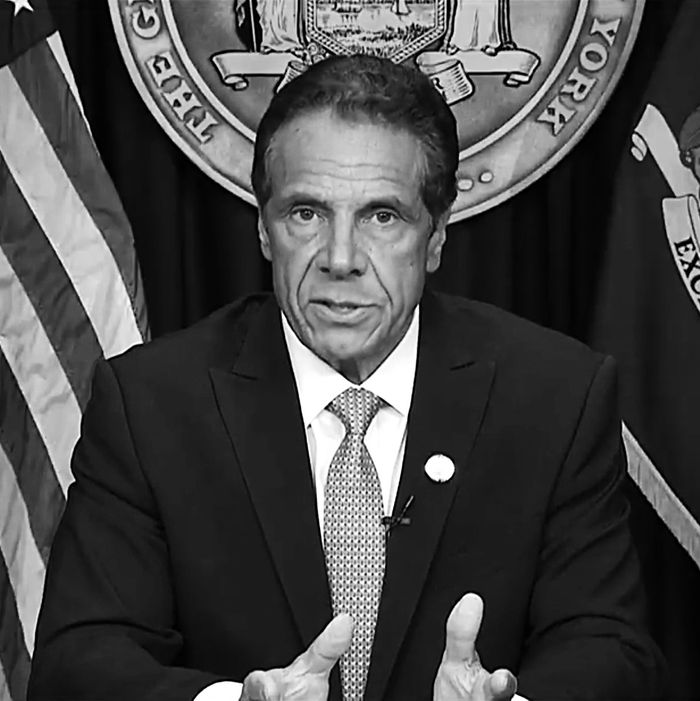 Bye!
Photo: Office of Governor Cuomo
In a move maybe no one saw coming, New York governor Andrew Cuomo announced on Tuesday that he would "step aside and let government get back to government," apparently hoping to avoid a weeks-to-months-long impeachment proceeding in the State Assembly. Cuomo's resignation will take effect in 14 days, at which point Lieutenant Governor Kathy Hochul will take over.
Throughout his 22-minute resignation address, Cuomo repeatedly framed his decision as a personal sacrifice for the good of the people, rather than the cumulative consequence of overlapping political crises he can no longer avoid.
"This is one of the most challenging times in a generation," Cuomo said, nodding to the coronavirus crisis and the rapidly spreading Delta variant. "Government really needs to function today. Government needs to perform. It is a matter of life-and-death government operations. Wasting money is the last thing government should be doing, and I could not be the cause of that."
"New York tough means New York loving," he added, evoking the tagline he appended to his administration's response to the early pandemic. "I love New York, and I love you, and everything I have ever done has been motivated by that love."
It's a baffling claim to make considering the things Cuomo has recently been accused of doing. Last week, New York attorney general Letitia James announced the findings of an investigation her office launched in March as a wave of sexual-misconduct allegations against the governor began to crest. In a 165-page report, investigators detailed sexual-harassment allegations from 11 women, including one incident in which Cuomo had allegedly grabbed his assistant's breast. The findings implicated members of his inner circle, too, accusing top officials — senior advisers Rich Azzopardi and Melissa DeRosa, who announced her resignation on Sunday — of helping Cuomo intimidate and smear women who threatened his reputation. The response has been decisive: Four district attorneys began probing Cuomo's conduct, and politicians ranging from the State Assembly to the Oval Office have called on him to step down. The first of his former employees to go public with her allegations, Lindsey Boylan, plans to sue, while Brittany Commisso, the aide who says Cuomo aggressively groped her, told CBS This Morning, "What he did to me was a crime. He broke the law." Commisso filed a criminal complaint against him last week. The State Assembly is set to wrap up its investigation imminently.
Throughout the past six months, Cuomo has consistently denied any and all improper conduct, reiterating on Tuesday that "there is a difference between alleged improper conduct and concluding sexual harassment." But this time around, he took a more conciliatory tone. "This is not to say that there are not 11 women whom I truly offended," he said, having spent a few minutes casting doubt on the report's conclusions. "There are. And for that, I deeply, deeply apologize." He went on:
I have been too familiar with people. My sense of humor can be insensitive and off-putting. I do hug and kiss people casually, women and men. I have done it all my life. It's who I've been since I can remember. In my mind, I've never crossed the line with anyone, but I didn't realize the extent to which the line had been redrawn. There are generational and cultural shifts that I just didn't fully appreciate, and I should have. No excuses.
And yet the bulk of what followed did sound like excuses — and threadbare, I'm-sorry-if-you-were-offended excuses at that. In what world is a little pat on the stomach a reasonable stand-in for verbally thanking a person who holds the door for you, a practice Cuomo characterized as commonplace? Who would not read sexual connotations into a finger trailed down their neck and spine? His expression of gratitude to "the women who came forward with sincere complaints" for teaching him "an important lesson" — that "personal boundaries must be expanded," rather than, say, simply respected — felt clunky and self-serving alongside his characterization of the controversy as "politically motivated … unfair and untruthful."
Ultimately, though, Cuomo stressed that his gubernatorial duty compelled him to do right by his constituents. "It's not me, it's we," he said. Never mind the federal investigation into his alleged cover-up of nursing-home deaths at the beginning of the pandemic; never mind the looming possibility that impeachment hearings could dredge up old allegations of corruption and the possibility that Cuomo might have obstructed justice to keep them hidden. Never mind that his resignation allows Cuomo to avoid involuntary removal from office and that martyring himself — touting his own accountability, however hollow, and exiting on a tour of his administration's accomplishments — may preserve an eventual path back to it. New York tough, out. At least for now.