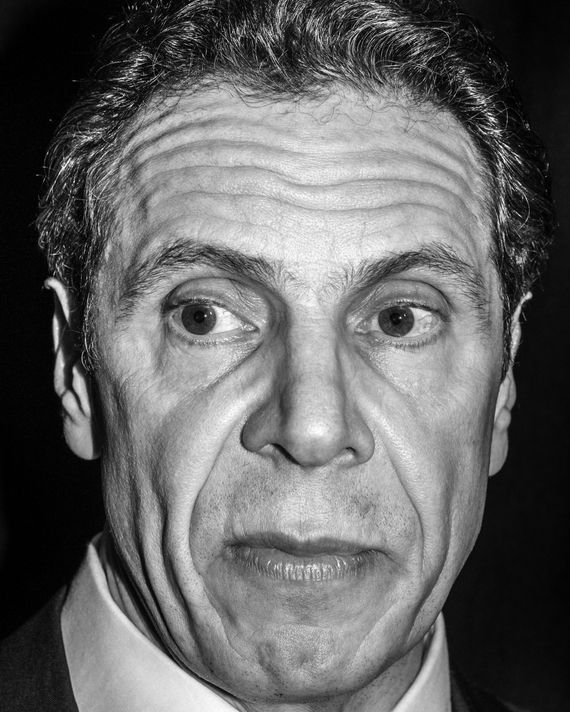 Photo: Mark Peterson/Redux
Today, after a months-long investigation by the office of New York State attorney general Letitia James, Governor Andrew Cuomo was found to have sexually harassed multiple women staffers in violation of state and federal law.
As a former staffer, I cannot begin to articulate the rage I felt while watching Cuomo's remarks this morning — I watched live as his prerecorded response named his accusers, quoted them out of context, and tried to emotionally manipulate viewers into believing he was the victim. But as I read the report, I was more enraged by the description of a complex system of enablers who I know, from personal experience, willingly protected him from accountability and regularly violated the safety and confidence of young women in service of Cuomo's agenda.
The report details multiple scenarios in which Executive Chamber leadership knowingly mismanaged accusations of abuse in violation of its own code of conduct and in many cases worked to intimidate and displace accusers. "The main focus of this team of current and former senior staff members and other trusted confidantes was not on determining the truth of [accuser Lindsey] Boylan's assertions or whether there may be a pattern of inappropriate conduct by the Governor that could be emerging," the report notes, "but on protecting the Governor."
It's time to wrap it up. It's time for everybody to go. And if they won't step down and Cuomo won't resign, the Assembly should move to impeach the governor of New York State.
This isn't cancel culture. This isn't a moment. This is social evolution. We are facing a reckoning of power, and if we resist the implication of this moment, the consequences will continue to be painful and disruptive.
What we become as a society is contingent on who we have been and who we can no longer stand to be. It is who we must become to survive whatever time we have left on this spinning rock. We change because we must. We change because the social systems that preceded us no longer protect our collective interests and advance our social capabilities.
And if we're lucky, today we may have the opportunity to evolve into a society that is ready to reckon with the way hegemonic political structures have for centuries allowed white men and their inner circles to abuse their power in order to serve their egos.
This isn't a rodeo. No one bought tickets to the takedown sideshow. Frankly, no one has time for this mess: not the people relying on our state government to function to their benefit and not the people working within it who genuinely want to advance justice on behalf of their constituents. No one has time for an impeachment. No one has time to waste on a disruptive transfer of power after an abrupt resignation. But if it matches the call of this moment, it's what must be done. The state legislature and power holders at the federal level need to level up and help us finish this. The circus can proceed only if there's an audience.
But beyond the civil and procedural ramifications of the NYSAG's findings, this mandate is also deeply personal.
For those who enter this work to be public servants, who are lucky enough to end up at the center of these power structures but choose to uphold abusive behavior, who protect abuses of power in order to uphold their own access to power — you are complicit, and this is an evolution you have to go through too. As a young person in politics, especially during my time in the chamber, I met Black, brown, and female political operatives who chose to outfit themselves in the power of their superiors as a way to carve out their sense of dominance. They warned me that my approach to service might be futile, that ultimately I'd get in my own way by not conceding to the power dynamic and accepting corruption and harm as a fundamental truth of governing.
The women, people of color, and queer-identified folk who see abuses happen, who in the face of abject power become sycophants instead of skeptics, who create and empower the environments that make it possible for these abuses to be silenced and hidden, who protect abusers from accountability — you are guilty too.
I am not ignorant to political history or the function of power. For many of my predecessors, ascending to power was a way of survival in a political apparatus that desperately needed our voices and contributions to advocate for the communities most acutely ignored by those very structures. But I felt the futility of that approach the minute I stepped into politics.
It doesn't work anymore. And it shouldn't. Because no one wins when we promote and enable corruption for the sake of maintaining power structures. Our communities suffer; our collective futures suffer.
Amid a national eviction crisis, an imminent recession, and a deadly pandemic — what has our commitment to abusive power gotten us for our people? Has our loyalty to power created more resources, is it keeping people off the street, is it getting vaccines into medical deserts?
We've been doing it all wrong.
Because while power is useful and functional, it is also conditional and inherently limited.
In politics, power is a matter of proximity, so it can take you only so far. No matter how this ends — whether Cuomo chooses to resign or is ousted in an impeachment or a primary and his legacy remains so tarnished that any political capital formerly attached to his name will fade — how will you serve? When the person who gives you power is deemed powerless and ineffective, what are you? What is your service? Who are you in service to? Blind loyalty is a single-edged sword. It hurts only the person silly enough to think it goes both ways.