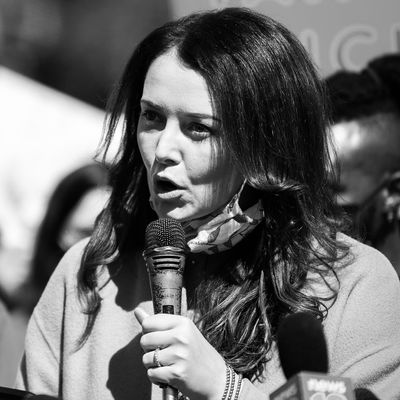 Lindsey Boylan, the first woman to publicly accuse Andrew Cuomo of sexual harassment.
Photo: AlexiRosenfeld/Shutterstock
New York got some big and unexpected news yesterday, an acquiescence totally out of character for the person delivering it. Rather than flatten another controversy by force, Governor Andrew Cuomo gave his two weeks' notice in the midst of a sexual-misconduct probe, saying he would "step aside and let government get back to government." The state will now get its first female governor, Kathy Hochul, but only because Cuomo finally had to answer for (allegedly) harassing at least 11 women. In his resignation address, Cuomo did apologize — not for any misconduct (he continues to deny that) but for having "offended" people with his excessive familiarity.
The governor framed his exit as a self-sacrifice for the good of the state he loves. Impeachment proceedings could take weeks to months, he explained, eating up attention and resources that should be spent on the coronavirus pandemic. Impeachment proceedings could also culminate in his removal from office, barring him from seeking election in the future, though Cuomo made no mention of that possibility. But even if the terms of his departure feel typically self-serving, he is still on his way out, thanks to the women who publicly held him to account for inappropriate touches, unasked-for kisses, abrupt groping, and intimidation. Maybe you are wondering: How are they feeling right now?
Lindsey Boylan
The first of Cuomo's accusers to come forward, Lindsey Boylan — formerly one of the governor's senior advisers — said in a Twitter thread on Tuesday that she stands "in awe of the strength of the other women who risked everything to come forward."
"My hope always has been that this will make it safer for other women to report their own harassment and abuse," she said. "I will continue the fight to make that happen."
Boylan first accused Cuomo of misconduct in December 2020, alluding to her experience in a Twitter thread. She did not elaborate until February, writing in a Medium post that in Cuomo's orbit, "sexual harassment and bullying is so pervasive that it is not only condoned but expected." She accused the governor of touching her on the lower back and legs, inviting her to play strip poker with him, and, on one occasion, cornering her and kissing her on the mouth. Cuomo denied all of this, with his then-press secretary calling the allegations "untrue," but Boylan plans to sue the governor and some of his top aides for harassment and retaliation.
Charlotte Bennett
Inspired by Boylan's decision to step forward, Charlotte Bennett — who worked as an executive assistant to Cuomo in 2019 — told the New York Times that Cuomo pestered her continually about her personal life. He developed a fixation with the fact that she'd been sexually assaulted, Bennett said, and seemed like he was trying to groom her for a relationship with an older man. "I understood that the governor wanted to sleep with me, and felt horribly uncomfortable and scared," she recalled. "And was wondering how I was going to get out of it and assumed it was the end of my job."
Cuomo has apologized to Bennett while also insisting she "heard things that [he] just didn't say," a contention that sounds an awful lot like gaslighting. Though she has yet to comment on his resignation directly, Bennett shared a statement from her attorney, Debra S. Katz, on Twitter.
"The Governor's decision to resign is a testament to the growing power of women's voices since the beginning of the #MeToo movement," Katz wrote. "We are humbled by Charlotte's and other complainants' remarkable courage in coming forward. They made that extraordinary personal and professional sacrifice because they knew what it was like to have careers derailed and relationships destroyed by a single powerful individual." Katz observed that Cuomo only resigned because "he had no choice," adding that while "it is not the end of our reckoning with sexual harassment … it is an important step in the right direction."
Alyssa McGrath and Virginia Limmiatis
According to the official investigation report detailing allegations from 11 women, executive assistant Alyssa McGrath dealt with Cuomo making sexually suggestive comments about her appearance, staring down her blouse, and being asked probing personal questions about her relationship. Virginia Limmiatis, meanwhile, did not work for the governor; investigators say she attended an event where Cuomo gave a speech in 2017, and that he touched her chest under the auspices of a photo op.
McGrath and Limmiatis share an attorney, Mariann Wang, who had the following to say about the resignation: "Ms. McGrath and Ms. Limmiatis remain grateful that their voices and experiences were heard and substantiated by the AG's investigators, and feel solidarity with all women who continue to be abused by men in power. At least today, one of them has faced some consequences." According to Wang, the women "feel both vindicated and relieved that Cuomo will no longer be in a position of power over anyone."
State Trooper No. 1
The woman the report refers to as "State Trooper #1" has not come forward publicly, though she alleges the governor singled her out for service on the basis of her appearance, and touched her inappropriately — stroking her stomach as she held a door for him; trailing his finger from her neck down her spine in an elevator — in addition to making remarks about her looks. Cuomo apologized to her in his resignation address, while also claiming he has no memory of the actions she described. The trooper's attorney, Gloria Allred, said Tuesday that her client "feels that the governor did the right thing in deciding to resign."
Karen Hinton
A press aide for Cuomo when he ran the U.S. Department of Housing and Urban Development, Karen Hinton made a prediction about Cuomo's press conference about 20 minutes before it started. She turned out to be pretty spot-on: "He will say he did no wrong but he must resign because he's treated unfairly." Hinton alleges that, at a HUD conference in 2000, Cuomo summoned her to his hotel room and commenced to ask her overly personal questions. Hinton says that when she decided to leave, he pulled her into a hug that felt "very long, too long, too tight, too intimate."
Cuomo's former communications director denied the encounter ever happened, calling Hinton "a known antagonist of the governor's" who was monopolizing the situation for clout. On Tuesday, Hinton tweeted: "I'm not celebrating Gov's resignation but I do celebrate power of women who came forward. Like a Greek tragedy where a hero's downfall is due 2 his own fatal flaws, Gov soared to dizzying heights & accomplished a great deal for NY-his fall was entirely of his own making. Sad day."
She went on to welcome Cuomo's successor into office, adding: "If Lt Gov Kathy Hochul runs New York with a good heart, sound judgment and no drama, then the rest will take care of itself. I have every expectation she will be a great Governor and a welcomed relief from the testosterone in the executive chamber."