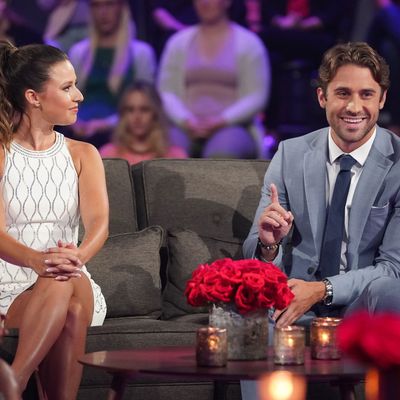 Photo: Eric McCandless/ABC
Last night's season finale of The Bachelorette was perhaps the longest episode of television ever aired in history. From the top, we pretty much knew what was going to happen: Katie was going to pick, oh God, Blake, and then she was going to angrily confront Greg, who left during last week's episode. It took three hours to reach this disappointing conclusion.
At the beginning of the interminable finale, co-hosts and former Bachelorettes Tayshia and Kaitlyn teased the Katie-Greg confrontation. For those who missed last week, the conflict, in brief: season-long front-runner Greg, a 27-year-old marketing sales rep and secret acting student, left the show after Katie declined to break Bachelorette protocol to tell him he was the one. Based on her Instagram activity, it seemed clear that Katie still had a lot to say to Greg about the breakup. But we did not get to find out what exactly that would be for a long time.
Before we could witness Katie call Greg an actor and a liar, we had to watch her go on several dates with Blake, a 30-year-old Canadian "wildlife manager" who previously appeared on Tayshia and Clare's season of The Bachelorette. Here are the many scenes we had to witness before the promised Katie-Greg fight:
Blake and Katie's Fantasy Suite date, which involved a paint war, a hot tub, Blake telling Katie he loves her, and Katie deciding, Fuck it, I'll say it back. Blake and Katie eating pancakes in bed the next morning. A long shot of Katie's strapless bra lying on the floor. Katie breaking up with Justin, a 26-year-old investment sales consultant who, sadly, was still hanging out at the Hyatt Regency Tamaya Resort & Spa, waiting for a date that was never going to happen. A 45-second montage of Justin's funny facial expressions. Blake finally admitting that his season-long job chyron — "wildlife manager" — was incorrect. He's unemployed. Katie's aunt Lindsey calling Blake out for "flunking out" of the last season of The Bachelorette. (I actually liked that part.) Blake and Katie going on ANOTHER DATE — WHY?? — with an ENERGY HEALER. Blake and Katie sharing their fears and then burning them with a 30-foot replica of the Zozobra (a rare inclusion of New Mexican culture). Blake looking at Neil Lane™ engagement rings with his ex-girlfriend, Bachelorette co-host Tayshia. Blake taking a quick, dramatic second to pretend he was unsure about proposing to Katie on national television. Katie wearing a green sequined dress in a kind of sad way. Blake's proposal speech, which was approximately 40 years long.
We had to endure all this in order to finally pick up the only interesting thread from this season: front-runner Greg leaving the show. After hyping the encounter at almost every commercial break, co-hosts Tayshia and Kaitlyn finally brought out Greg so that Katie could confront him. Was the actual fight worth the wait? It's hard to say. Katie, at least, seemed to relish the opportunity to define "gaslighting" for Greg in person.
Wearing a white sequined bridal minidress, Katie told floppy-haired Greg that she knew he never wanted to get engaged in the first place, that he was "acting" the whole time on the show, and that he doesn't know the meaning of true love. Greg said some version of "I'm sorry you feel that way" several times, while staring off into the middle distance. After a commercial break, the two said their good-byes and stiffly agreed that they wished each other the best. (Greg has not said anymore about his experience since.)
Then it was time for Blake to come out and greet his new fiancée. They seemed to be happy to see each other, which, great. And then Katie revealed she hadn't even told her family yet that she was engaged, and that they were finding out in real time by watching the show. Oh dear. I wish them the best. And, more importantly, I wish for a more ruthless editor on the next season of The Bachelorette.