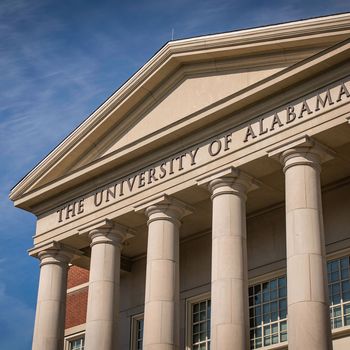 Do you wish to live vicariously through upper-middle-class opulence? Do you want to feel like you just went on a suburban-mall shopping spree with your college besties? Are you in search of something to satiate your desire for a little yeehaw? Then, allow me to introduce you to Bama Rush TikTok. These videos of University of Alabama students showing off their outfits during sorority rush week have taken over the For You page, and I'm sure you — a person with probably zero connection to Alabama, its university, and its sororities — have questions. Let's discuss.
What is this "Bama Rush" of which you speak?
Bama, short of the University of Alabama, is known for its sororities. Last year, over 2,100 people participated in the school's virtual rush, vying for bids to join one of its 24 sororities. My experience with sorority recruitment, rush week, and the like is limited to The House Bunny and this video of a horde of women chanting and clapping in an open door. However, @parkerwbohn on TikTok has a helpful multipart explainer on the intricacies of rush week and its many outfits and themes, should you wish to fully immerse yourself in this alternate universe. All you really need to know is people are rushing sororities and have to wear a bunch of different outfits throughout the week.
A few vocab words and phrases you should also know:
PNM: an acronym for Potential New Members
Roll Tide: a call to summon other Bama students
Michael Kors, Steve Madden, Shein: the Holy Trinity of rush week outfits
And the Bama Rush TikToks? What are they?
They're essentially outfit-of-the-day videos (OOTD) where PNMs talk through what they're wearing and where they got each item. It's worth noting that not all the rush videos are from University of Alabama students. Among the most popular videos — one that appeared to ignite the trend — is from someone rushing at Georgia State University. Regardless, the slight southern drawl paired with an energy best described as "summer camp meets beauty pageant" makes for, in my opinion, a bizarrely mesmerizing experience.
They have, of course, inspired parody videos where people talk through their outfits ("My dress is on backwards … shoes are none.") These are equally mesmerizing, if not more so.
Speaking of … my shirt is from my bedroom floor. Hair is unwashed. My shorts are half of a Target pajama set, and my personality is from Shein.
Okay, but why are they all over my For You page?
Because! They're like a mini-reality show we get to experience in real time. Will Hanna Lynn get the bid for Kappa Delta? Will MyKenna Lee get Chi Omega? The suspense is palpable! For some, the videos are nostalgic. For others, they're a look into a world we didn't really even know existed. There is, of course, a much darker, more insidious side to Greek life. From TikTok alone, it's hard not to notice just how white these sororities are. Plus, being exclusionary (and straight-up racist) is deeply embedded into the dogma of many of these groups. Still, it's hard to look away from these videos, if only because they feel like the sparkly, cheery surface of something far more hellish. (Tell me this recruitment video isn't a few white tunics away from a cult.)
Regardless, TikTok feeds you more of whatever you spend time watching. So the only one to blame for these videos taking over your feed is yourself :)