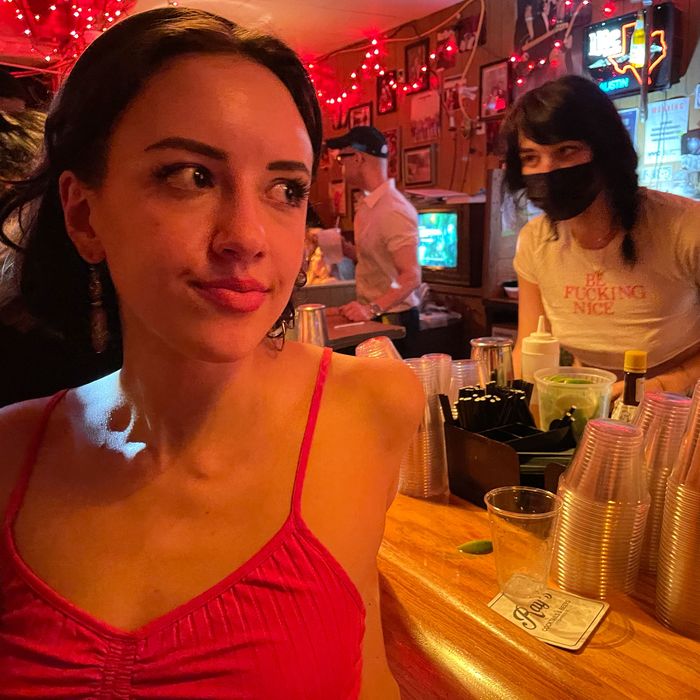 Serena Shahidi, a.k.a. @glamdemon2004, at Ray's.
Photo: Courtesy of Brock Colyar
"That's a good school," Serena Shahidi, who might be my favorite New York TikToker, tells me when we meet at a bar and she asks me where I went to college. "And I only know that because guys who went there always show up on my Hinge, and my algorithm knows I'm a gold digger." She's kidding, but also playing a role, and also, well, maybe not? Shahidi is 21, gorgeous, ironic, poised, very thin, and hilariously bitchy. A self-identified "unreliable narrator" of her own life, she has over 400,000 followers and nearly 25 million likes on TikTok, where she is known as @glamdemon2004 and has become something of a Gen-Z cultural critic — making cutting jokes about girl bosses, dating, and other millennial tropes and adopting a droll, gimlet-eyed persona complete with a strong mid-Atlantic accent (Shahidi grew up in North Carolina) that makes her sound like an Old Hollywood starlet. All of her "content" is filtered through this fine-tuned, sultry sexpot character, making me wonder what she would be like away from her ring light. It turns out, there doesn't seem to be a difference.
The daughter of two New Yorkers who moved down South, Serena came to the city three years ago to study fashion design and business at F.I.T. Like others, her online fame was a product of lockdown-boredom-bred creativity, and by late quarantine, she dropped out of school to spend more time "being Serena Shahidi," which meant making TikToks and a podcast. Earlier this summer, she even found herself in the midst of a "cancellation" after making a video essentially saying people should quit caring about image and read a book. At the time, when asked how genuine she really is online, she said, "I think we are all putting on personas even in real life, so I might as well be putting on a show."
This weekend, I was a guest star on that show. We went out with her friend Mel, a TikToking "less bald wannabe Larry David" with a black cat's-eye, whom she met online. In person, Serena was more sexually audacious and foul-mouthed than I had expected. "In, like, Midtown East? Fuck no. Never. But any day I'm going downtown, I'm going to get recognized," she told me, as we set off on a Saturday-night bar crawl downtown.
10 p.m. | We begin at Botanica Bar, a once-hip hipster hub on the northern edge of Nolita. It's full of bland-looking 30-somethings pounding draft beers, so I spot Serena immediately, perched daintily on a bar stool with her short Natalie Portman cut, slurping a frozen paloma with Mel. To match her dramatically enunciated elocution, Serena is wearing a very Mad Men–esque outfit: bright-red lips, a black headband, and a short plaid skirt with three-inch, square-toed, patent-leather heels. We get right into it, gabbing: "Can you trust men without a social-media presence?" Serena nods in the affirmative, saying, "I like old men so yessss. My ideal social-media situation for a man is three posts, a private account, 50 followers. He posts a picture in Mexico, and it's blurry, and he just writes #mexico." She says she has no height preference, but age is important — 35 is ideal. "The only number that matters is net worth," she adds, but it's not really clear if she means this or if she's just playing the role of someone who would say such a thing.
10:15 p.m. | After Mel and I share a few romantic horror stories, Serena tells us about a Hinge date she went on five days earlier who said his interests were "cooking and meditating." Red flag. "He was so boring, but he wasn't self-aware boring," she says, comparing him to the finance bros she's dated, who, she argues, are the right kind of boring: "They're like, 'Oh, all I do is go to Equinox and do coke.' But then those dudes do acid one too many times, and they think they're some guru, and it's like, 'No, you're the same as your fucking co-workers.'"
10:30 p.m. | The conversation turns from the normies we settle for to the celebrities we'd prefer. All three of us admit our attraction to the Succession actor Nicholas Braun, and Mel opens her Instagram to DM him, something she's done before, to no avail (so has Serena). "Have the self-respect to unsend the previous messages before you send a new one," Serena tells her, before recalling how she drunkenly DM'd a certain (not-single) SNL star last year. "I was like, 'We should get drinks,' and he was like, 'Oh yeah, what would that lead to?'" she says, before admitting, "I wasn't slutty enough. Otherwise I'm sure I would have."
10:43 p.m. | For our next stop, Mel leads us to KGB Bar, a stalwart dive with a dusty Marxist-Leninist theme and vaguely literary hang-out reputation that Caroline Calloway, a friend of Serena's, has been raving about on Instagram. "This is supposed to be a communist bar, so I assume it means all the drinks are free and every guy will be annoying," Mel jokes, walking up the bar's steep front steps. The crowd is very DSA white boy, so we decide to head somewhere else.
10:50 p.m. | On the street, Serena's walk is just as confident as her one-liner delivery, swinging her arms and outpacing the rest of us, even though she's in the highest heels. Crossing Houston, a man in aviators stops her, getting in her face and asking, "What's your name? You're amazing." When he catches my glare, he barks, "You're judging me from afar," and fucks off.
10:55 p.m. | We go to Ray's because, well, it's co-owned by our collective love interest Nicholas Braun. Inside, it smells like sweat and well liquor. Serena storms the bar, batting her eyelashes and pushing her hair back flirtatiously. From several feet away, I watch an Ecuadorian man tap her on the shoulder and introduce himself. I say to Mel that all of the male attention must be tiring, but she says, with a little too much enthusiasm, "Oh no, she loves it," and it makes me wonder just how Mel feels about all the attention Serena gets. The guy walks off, and we order another round of frozen sugary drinks. Suddenly, that creep from the street drops down on the barstool beside us, asking Serena for a piece of gum. She (politely) brushes him off. We're drinking rum punch, and it reminds Serena of the time she went on a four-day vacation to St. Thomas with a guy she barely knew. She'd met him on Hinge, and he brought his 15-year-old daughter along on the trip. Serena was rum-drunk the whole time, and didn't even have to play the part of "friend" around the daughter, who, Serena admits, may end up discussing the experience in therapy. Across the bar, Mel spots something … special: "There's a rattail. In the Laker's Shirt. He has a rattail. Do you see that? You never see rattails in real life." "I actually might cry," says Serena.
11:23 p.m. | A curly-haired girl compliments the fan Mel is using to cool off in the hot bar, but then it becomes clear that she's only entered the conversation to talk to Serena. "It's going to get a little sketchy here right now. I took inventory of your whole group, and then I saw you," she says to Serena. "Weird! Like internet to in-person! Because, like, organically, we just met!" she screams, incomprehensibly. The girl is not only desperate but long-winded: "Don't let me monopolize the conversation. My toxic trait is being an empath and an extrovert at the same time." But then she tells us that the last time she was at Ray's she ran into Nicholas Braun. "I would be rock hard," Serena says at the prospect, making a joke about using his saliva as a shot chaser. Mel gets back on Instagram and sends Braun a video. "That guy's cute," Serena says, pointing at a man in a periwinkle button-up and tortoise-shell glasses, before sauntering on over to him.
11:41 p.m. | Serena meets another fan, a girl in high-rise jeans who can't be much older than 21. "Are you glamdemon2004? I'm obsessed with you. What are you drinking? I need to know."
Midnight | Another fan. This time, a panting girl in a pink halter top: "I fucking love you so much I could cry. What's new? What's new? Just vibing?"
12:10 a.m. | Mel also meets an admirer, a tatted Southern Californian in white overalls, shirtless underneath. "It's not everyday I meet an Instagram crush so, hahahaha, that's cool!" he tells me when Mel is out of earshot, before buying me a drink. He's here with his friends, though it took them a while to find the place with all of the Ray's Pizzas on Google Maps. I report his crush back to the girls, but they suspect, despite the flirting, that he's probably gay. "What was his explanation for being straight, honestly?" Serena asks.
12:23 a.m. | We take our drinks outside, where Serena is recognized again, this time by a lesbian couple with actually cool looks: "We love your work. That's all we wanted to say." When they walk away, Mel says, "Those were the first two non-basic white people to notice you. Your reach!" I ask Serena if she grew up a fan of Samantha from Sex and the City, what with the accent and the open sexuality. "I feel like I have the same attitude as Samantha, but in terms of actual sex, I'm a prude," she says. "We need to be like, Why are we allowing men access to us, sexually, when most of them are terrible?" She may play a Samantha, but she sounds more like Andrea Dworkin. "No woman has had satisfying casual sex. I don't ever want to do anything out of desperation, and I think most casual sex is out of desperation, just to have male attention. Because with the orgasm gap and all that, what is the reward for women?" But in practice she's more like a happy housewife who has decided to lean in — she's surprisingly conventional and gender-normative, her ideal partner being someone older who has money and a separate social life. He'd foot the bills and help her with her career, and she'd help him "be more creative" and "live life." All in all, expectations which could come out of a rom-com. "That is the traditional straight relationship model: The woman is young and beautiful, and the man is older and rich," she says. "I don't think there's anything crazy about not wanting to marry someone poor. Especially women who make less than men." Whose mother wouldn't approve?
1:02 a.m. | Leaving Ray's, a guy in a car whoops at the girls, and Serena quips, with a cheeky wink, "I made a new friend." Heading further into the Lower East Side, we decide to go to the Flower Shop. Serena had told me earlier that she's a certified fag hag — "If I have another poppers headache, I'll kill myself" — and, waiting in line outside, we discover she knows a boy who ghosted me. She tells me, "Apparently his dick is so big it has caused a legitimate medical experience," which isn't very nice, really.
1:21 a.m. |  Like all the other bars, the Flower Shop is very sweaty and full of good-looking straight people. We do a round of tequila shots and spend a few too many minutes watching a gentle makeout a few feet away. "I get such a thrill watching," Mel says, while Serena gets recognized again, and then turns around to flirt with a white boy in white tennis shoes. "This is praxis," Mel says. Pulling away from tennis shoes, Serena tells us, "We're going to do a walkthrough to see if there's anyone sexy." I set off to follow her, strutting through the bar, led by her long, swinging arms, but Mel tells me this is something she does alone. A few minutes later, Serena comes back to retrieve us: "C'mon! I made some straight male friends." One of them shares a tale about a French girl, some "nihilistic fashion kid," whom he dated off a Red Scare subreddit. His friend explains the meaning of his white ball cap that says FINANCE. He's a Republican.
2:20 a.m. | The straight boys are heading to Nurse Bettie, another LES bar decorated with '50s pinup models, but we decide to stop for a slice of pizza first. En route, Serena tells us about a CNN reporter who supposedly liked her. "He was on the ground for a fascist coup. I should give him some pussy to pay for it," she says, before scarfing down a slice of white pizza because, as she observes, "White pizza doesn't even try to incorporate a vegetable."
2:52 a.m. | At Nurse Bettie, the night continues as it has for the last five hours. We have a drink. Serena talks to a boy. And all of us sway drunkenly to the music, which is flopping back and forth between Bruno Mars and Paula Abdul and Joan Jett. In line for the bathroom, the guy in the FINANCE hat lets me in on a secret: "Between you and me, I'm not a conservative. It's just because of the hat." In her taxi home, Serena texts me to say she was joined by a boy who didn't have cash to pay for the ride. If you're to believe her, the cab driver said, "If they don't have money, they shouldn't get to see the pussy."