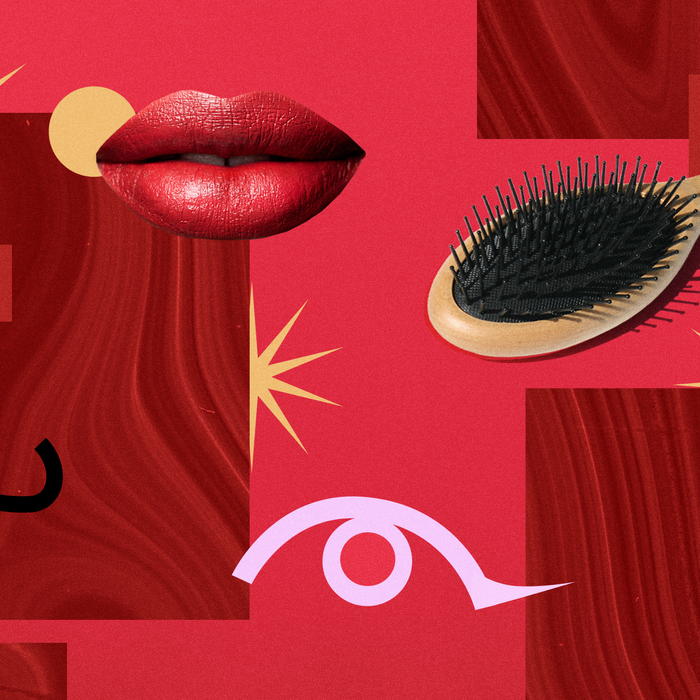 Photo-Illustration: Lauren O'Connell
For ages, groundbreaking inventions and trends conceived by Black people went unnoticed, unacknowledged, and undermined — and the U.S. has been no exception. The Laserphaco Probe (a device that refined laser cataract surgery), present-day blood banks, and even the home security system (come on, who doesn't like creeping on the intercom for incoming packages?) are just a few of the inventions that have revolutionized society. But still, we don't often celebrate that spirit of innovation beyond Black History Month.
Just a few years ago within the makeup world, Rihanna launched Fenty Beauty because of the lack of available shades compatible with dark skin on the market. In 2017. With her 40 foundation shades — the darkest of which sold out almost immediately — she proved that there was still a considerable inclusivity gap in the beauty world. Today, Black culture remains the foundation of some of our favorite looks, moments, and tools — from the current state of the lip-enhancing industry to modern hair tools to exaggerated eyeliner. But, to truly appreciate that creativity, we need to talk about how it all began. Here are just a few of the beauty innovations that we wouldn't have without Black culture and creators.
Full lips weren't always a "choice"
There's a reason social media has coined the phrase "Instagram Face," and it goes beyond being obsessed with filters. We're living in the age of the lip job, with perfectly puffy pouts that look somewhat natural and somewhat excessive. Full lips are taking over the scene, just like thin '90s brows, hair highlights, and deep tans did previously. But how in the world did altered, injected lips become more "acceptable" than the full lips that some Black women have naturally?
Not too long ago, fuller lips were represented in anti-Black imagery as distasteful, overly-exaggerated caricatures for ridicule: often showcased for the purpose of mocking someone. No one seemed to want large lips, until certain celebrities came around. Plumping one's lips with a syringe became as routine as laser hair removal and eyebrow threading, with the global lip-augmentation market expected to grow at a compound annual growth rate of 9.5 percent from 2020 to 2027.
You might recall one episode of a particularly popular reality TV show when one sister (finally) revealed she'd had lip fillers. Google searches for lip fillers peaked globally as a result. The problem with this, and beauty standards in general, is that it treats facial features as a trend. For people without full lips, they can just stop getting injections. For the myriad of Black individuals who have them from birth, that option doesn't exist. A Black teen dedicated her social media page to learning how to love her big lips, while a Black model was discriminated against (and ridiculed publicly on social media) for having a larger pout. Having big lips is a choice for many, but not for the Black women who were born with them — and these beautiful features should never be considered a "trend."
This hair tool was designed to be more inclusive
With high-tech hair dryers, curling wands, and ceramic straighteners that look more like a futuristic tool than a hair device available at the click of a simple button, it's easy to overlook one of the most foundational products in our entire hair care rotation: the classic hairbrush. Whether you enjoy smoothing your hair or blow-drying your curls, the hairbrush as we know it today didn't always exist.
Most hairbrushes made in the U.S. in the late 1800s weren't designed with Black women in mind. They were made using animal hair, but the material was way too soft to effectively tackle the thicker nature of Black coils, kinks, and textures. But, born in Ohio sometime between 1865 and 1885, Lyda Newman, a Black female inventor, paved the way for many innovations in the haircare world. Using her experience as a hairdresser, she aimed to make brushing hair easier for Black women — so she used synthetic fibers with evenly spaced bristles and open slots to create a new type of hairbrush, one that worked for every kind of kink. Newman acquired a patent for her invention in 1898.
Now, variations of Newman's ventilated design are bathroom staples across the globe, whether in the form of a blow-dryer brush or a standalone brush — and they're a must for every hair type. Today, the hair care industry is showing resilience, even amid the COVID-19 pandemic, with millennial-focused brands (pastel colors optional) all the plenty. The global market is expected to grow from about $77 billion in 2021 to nearly $113 billion in 2028, with shoppers snapping up products for hair protection, nourishment, conditioning, and cleansing. Could we have gotten here without that well-designed brush?
Exaggerated eyeliner was first born in Africa
Sharp cat-eyes, subtle wings, and fishtail liner, oh my. Eyeliner has come a long way from its first emergence on Egyptian men and women. In ancient times, Egyptian people adorned themselves with eyeliner made from kohl (which might have been used for its antibacterial properties and for religious reasons, in addition to its cosmetic benefits).
The excavation of ancient Egyptian artifacts in the early 20th century inspired people to adopt the practice of lining their eyes with makeup once again. Entertainers like Josephine Baker and Aretha Franklin popularized the types of cat-eye styles that we use to this day during their exhilarating performances, with the glitz and glamour to match.
Liquid eyeliner is one of the easiest ways to create the perfect flick, and that's apparent because the global eyeliner market is estimated to reach more than $9 million in U.S. currency by the end of 2028. Today, renowned makeup artists such as Pat McGrath have redefined eyeliner silhouettes for the modern person. However, the cat-eye shape is still one of the most sought-after, classic styles for every beauty aficionado. And despite the media's use of white actresses playing Cleopatra, it stemmed from Egyptians, centuries ago.
This advertising content was produced in collaboration between Vox Creative and our sponsor, without involvement from Vox Media editorial staff.