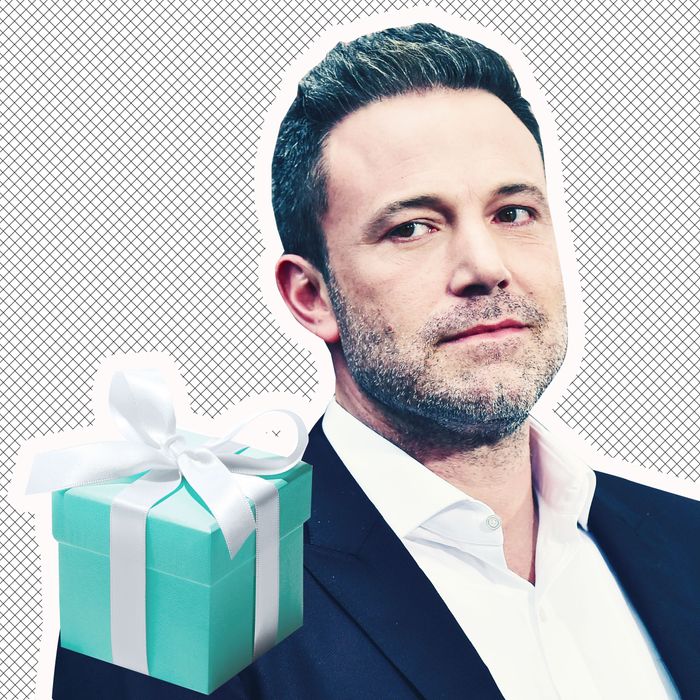 Photo-Illustration: Shutterstock
Tiffany is having a big week. First, the brand announced Beyoncé and Jay-Z as the faces of their latest campaign. The ad featured a 128.54-karat diamond and a never-before-seen Basquiat, which drew criticism, as the late artist was known for work that commented on wealth and poverty. (Suddenly, we are all art historians!) Then Ben Affleck was spotted at Tiffany & Co. in Century City, California, where he appeared to be perusing engagement rings. A gorgeous display of performance art if I've ever seen one!
According to "Page Six," Affleck, his mom, and his son Samuel were seen at the luxury jewelry shop, each with a pen and paper in hand, looking at what sure looked like the engagement ring section. Were they taking notes? Did J.Lo give Ben a list of must-haves for her next engagement ring? Were they assuring Affleck that, yeah, sure, it's fine and cool to be looking at engagement rings after rekindling his romance with Lopez three-ish months ago? Inquiring minds want to know!
An alternative explanation, according to a source who spoke to E! News, is that Affleck wasn't looking for a ring at all but was actually participating in a high-stakes scavenger hunt with his son, one that apparently involved … scouting the engagement-ring counter at Tiffany's? Okay! On the other hand, I guess that would explain the pen and paper.
The first (?) time Affleck proposed to Lopez back in November 2002, he gave her a 6.1-karat pink-diamond ring from Harry Winston that cost a reported $2.5 million. She went on to receive other massive rings from ex-husband Marc Anthony and recent ex-fiancé Alex Rodriguez, who gave Lopez a truly bonkers 16-Karat ring. The ring was so big it looked like a miniature mirror on J.Lo's finger.
A source tells Us Weekly that the couple is "seriously talking about getting married," so it may well be that a Bennifer proposal is on the horizon. As they say, first comes love. Then comes trips to Montana, moving to the same city, kissing with masks on at Hamilton …
This story has been updated.