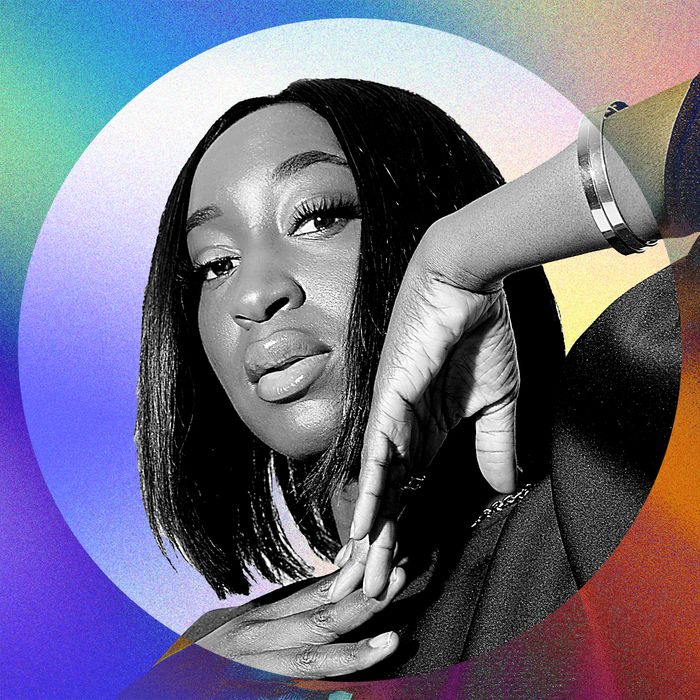 Besidone Amoruwa.
Photo: Courtesy of Besidone Amoruwa
While we're all beating our personal screen-time records scrolling and swiping through Instagram, Besidone Amoruwa is meeting with beauty creators face-to-face to spur new dialogue around Blackness and beauty on the platform. As a manager of strategic, content, and creator partnerships at Instagram, Amoruwa is the woman responsible for helping your favorite Black beauty creators, like @jackieaina, @monicastylemuse, @kahhspence, @ivycoco23, and @flvmeprincess, tell their own stories through Reels, Lives, and the feed posts we're seeing in the palm of our hand.
The Cut caught up with the exec to talk morning routines, emerging Black beauty trends, and how others can help empower, spotlight, and amplify Black voices on Instagram.
Do you think of beauty as self-care? Why or why not?
I absolutely think of beauty as self-care because I've always believed that the definition of beauty is how you feel yourself and how you put yourself out into the world. I think that taking care of your temple, your spirit, your soul is going to be a reflection of you outwardly — not just your appearance but your presentation of how you show up in the world. It's a reflection of how you feel about yourself. So products are only maybe a little less than half of the direct experience when it comes to beauty. Over time, I've been so happy to see stereotypes smashed and the norms and standards of beauty change so people can actually think about beauty as who they are, how good they feel, what they like about themselves. So often I feel like beauty is about What do you want to change about yourself? Versus, now, it's more What do you love, and how do you want to enhance it? How do you want to style your body, and How do you want to feel about yourself? So it's absolutely self-care.
Has the way you think about beauty changed during the pandemic?
I feel like this is almost like a trick question because, no. I have always felt beauty wasn't something that is just reflected on the outside, and I've been so happy to see other people embrace that. Not going out, not having the opportunity to see other people besides themselves, people had to really sit with themselves and look at who they really were in the mirror and come to love that because that was what you were seeing every day! Even if you're in sweatpants. I think the pandemic actually affirmed how much I do love myself, no matter what the world says. It affirmed that I do want to take care of who I am holistically, and I have the time and space to do that. I want to continue that practice post–us being inside.
What is a day in your life like behind the scenes at Instagram?
Another fun trick question. A typical day in my life is really waking up and realizing that no day is gonna be the same. I wake up at 5 a.m. and get into my spiritual practices, where I am praying and reading and writing and going on a run. I've always been an early bird because it is the time and space that I get to give to myself and just completely be in my own element and honor where my brain is. Sometimes I don't get a moment to think because I'm in constant contact with talent all the time, so I adopted that space for myself. I've even thought about getting up earlier. I'm like, Do we need to do 4:30 a.m.? Do I need an extra 30 minutes? [Laughs]
Then I'm answering text messages from creators who are trying to find me or want to strategize with me, or I'm meeting creators outside now that we can have some face time, and really supporting them on their dreams and their goals. So much of my job is understanding the lives of these creators and what their dreams and their aspirations are. In order to really establish good creator relationships, you have to be able to be a part of the culture of these different communities, whether it's the beauty community or the lifestyle community. It's really about understanding and being present.
What do you wish more people understood about what you do?
I wish more people understood that what I do is more personal than technical and that it is very important to create meaningful relationships. It's important that I understand the people I'm working with, their needs, and how I can help them translate that into sharing their artistry on social media.
What was the biggest "no" you heard in your career, and what did you learn from it?
Oh, I've gotten nos and then their nos turn into my "I told you so's." The biggest no that I heard was "Kids don't go to Coachella," and boy, were they wrong. [Laughs] And I was right, and it was one of the coolest activations that we've done with our L.A. partnerships team — just bringing the lifestyle of being out and about and meeting new people, like you do on Instagram, to Coachella with content. This was in 2018 when I was told kids don't go to Coachella, and I literally almost fainted and knew I was supposed to be here to change culture and show just how much culture impacts Instagram. And I think I've done that. It was the year that kid with blond hair went viral because he was on his dad's shoulders mouthing the entire Migos discography when they performed. It was one of the biggest memes that year, and this kid is clearly under 13.
What are the biggest barriers facing Black beauty creators? How can brands and users help?
I think the biggest struggle Black beauty creators specifically face is visibility and access because beauty standards are still vanilla. People are still not fully immersed in different cultures, and Black beauty has so much range that the world needs to see. Giving creators, specifically Black beauty creators, opportunities to not just work with brands but tell their stories and be the faces of platforms would make a difference, especially when they are the creators that build the platforms. Think of the challenges that span across social media, that start with makeup and the women wearing it. Look at the Don't Rush Challenge. It was literally about passing the makeup from woman to woman, and you think, How do Black beauty creators get the credit for this? They're the ones debunking products; we've had to only rely on each other as Black women to educate about which products actually work for our skin.
It's about getting this visibility with our concerns regarding makeup being for us. We now get to have a Fenty Skin or an Ami Colé that is for us. It's about education about the different nuances and different subcultures when it comes to beauty. And it's not just about makeup but style as well. When you look at a Black woman, you look at her style, and that style is replicated all across Instagram when it comes to her nose, her lips, her eyebrows, her nails — even her butt. Everything is kind of ripped from the Black woman when it comes to Black beauty, so why is it that Black women aren't given visibility for who they naturally are? It doesn't make sense. I would say what people can do is give them visibility. Give them a platform to tell their stories, give them a space to exist without breaking them down. Allow them to be just as important as any other woman that's been given the consistent pedestal that has looked the same for the last however many years.
Where would you like to see the beauty industry go from here?
I would like to see the beauty industry innovate. I would like to see the beauty industry accept that they haven't been providing beauty that's inclusive. I'd like the industry to acknowledge that beauty is actually for all types of women and that there's not one archetype for what a beautiful woman looks like, that there are many different types of beautiful women. And I'd like the industry to continue to put these stories in the light. Change the standard so that it changes, film, TV, streaming. Make them more visible. What does beauty look like in other countries, and why do we just make it so synonymous with western culture?
What, in your opinion, is the best affordable beauty product or products?
Honestly, I feel like the homemade shea butters are. I love them. Everyone's like, "You can make shea butter on your own!" But why do I need to? [Laughs] It's such a handy thing that I keep in my bag to moisturize my hands. I love the one my friend makes; it has a nice, warm, light scent, so if I were to shake someone's hand, they'll have this nice aroma. It also keeps my skin brown and beautiful, glossy and moisturized.
Fill in the blank: Unfortunately, _______ is worth it.
Unfortunately, my wigs are worth it. [Laughs] I have so many, and it's so notorious for me to show up with friends or work, it doesn't matter who they are, and they're like, "You look different. Every time I see you, you look different." I love to change my look. Do I want to do a Naomi-length hairstyle or a short bob or a mid-length bob? Do I want to do my hair wavy or curly? So many wigs, so much time.
Are eye creams worth it? And which one is your favorite?
I mean, have you seen dark circles? Of course they are. But I think what's worth even more, is the PRP [platelet-rich plasma] technique. I really think the plasma facials are incredibly worth it, and I've seen it do wonders. So I would say yes, and I have a favorite eye treatment: the PRP, which is making sure my full face gets plumped up with the love it's been missing, and that definitely works under the eyes.
What emerging beauty trends on Instagram are you most excited about?
I think the pandemic really pushed a lot of Black women to nurture their hair, so I've been loving seeing all the different natural hairstyles and the different stylists that have popped up. I love seeing people like Kahh Spence, Vernon François, and Arnell Armon cultivate a community around hair, and show women how to take care of their hair. I also love the emphasis on natural beauty and real skin, like the hype around Ami Colé. Diarrha [N'Diaye]'s line allows Black women to just wear their skin as it is and really feel like themselves. My lips look bomb whenever I use the lip oil. It just has this natural, glossy look. I also love the trend that beauty is now a lifestyle. It's not just about how I look, but how I look wherever I'm going while being me. Being me. It's not about trying to one up another person. It's about people honing in on their own natural beauty and sharing that within their lifestyle. Less is more now.