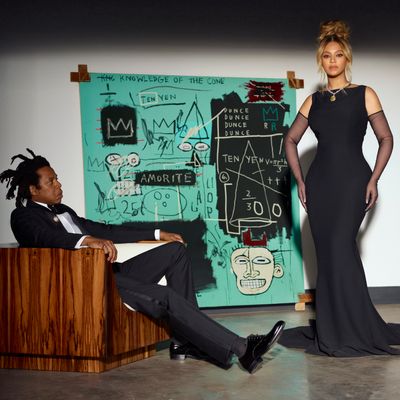 Tiffany & Co.'s latest campaign "About Love" dropped yesterday, and it was simply too much! Which is why you're reading this story today, the next day. I needed exactly 24 hours to process. I mean, it's the first time the Carters, a.k.a. Beyoncé and Jay-Z, a.k.a. Mom and Dad, have appeared in a campaign together. It's the first time the iconic Tiffany Yellow Diamond (a rare 128 carat gem formerly worn by Lady Gaga and, before that, Audrey Hepburn, and before that, me, in my dreams) has been worn in a campaign. And it's the first time that many of us are seeing Jean-Michel Basquiat's 1982 painting, Equals Pi. 
The rarely-seen-before painting — which just so happens to be a shade quite similar to Tiffany Blue — was previously a part of another jewelry house's private collection, belonging to the Sabbadini family. The painting appeared in a 2018 W Magazine story featuring the family at their home in Milan, and was apparently recently purchased by Tiffany, which plans to hang it in its NYC flagship. If you'd like to join the Important Art History Discourse about Basquiat and whether or not he'd shop at Tiffany's or whatever is happening right now, please head on over to Twitter. If you'd like to bask in the glory that is Beyoncé, sparkly things, and Black love, join me at the printer, where I'm making copies of this for my vision board.
In a press release, Tiffany & Co. also noted that the partnership with the Carters "reflects [its] continued support of underrepresented communities," and that it is pledging $2 million toward scholarship and internship programs for historically Black colleges and universities.
"About Love" launches globally on September 2 and the accompanying film(!) directed by Emmanuel Adjei will launch on Tiffany's website on September 15.