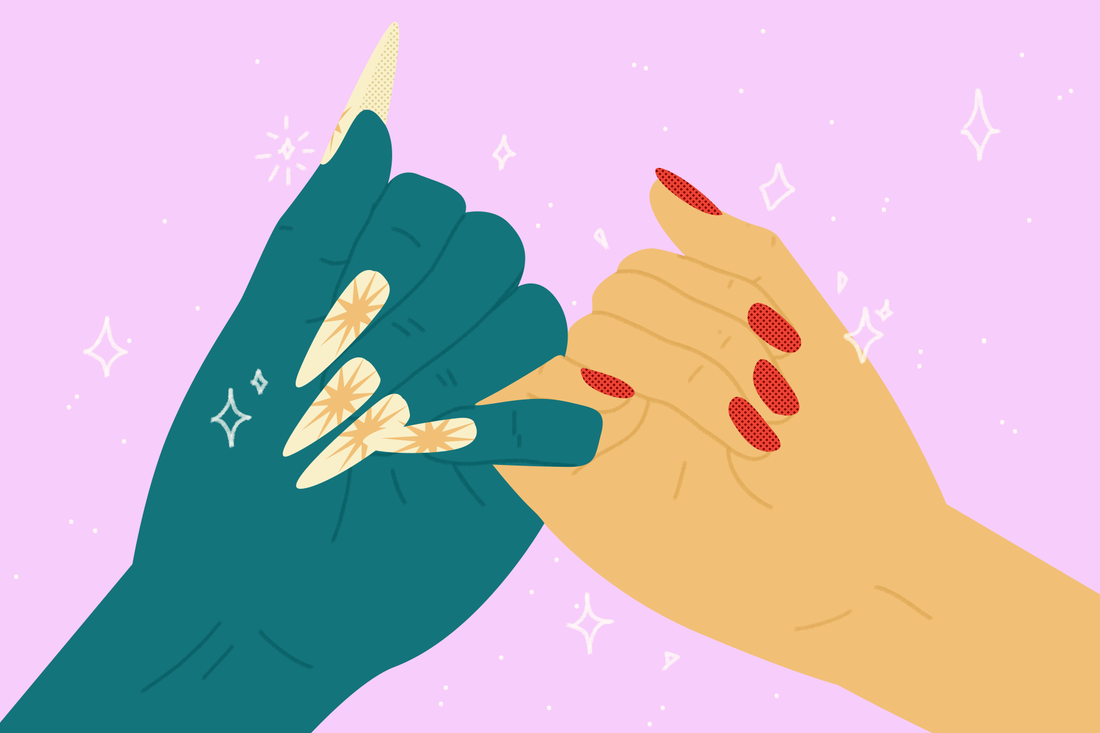 Illustration: Ashlie Juarbe
You're scrolling through social media, already dressed for the day. You have plans coming up this weekend — maybe you're going to an extravagant party or just grabbing late-night bites at your favorite restaurant. As your finger scrolls through, you bookmark four different acrylic nail-design combos for that appointment coming up with your go-to manicurist. Your choices are a blend between downtown cool-girl and modern beauty. Perfect.
Of course, it feels like everyone's getting acrylics these days — but few stop to think about the non-Black hands showing off the latest crystal embellishments and intricate designs. But for Black beauty-lovers, watching young celebrities with pointy, sculpted nails — it's significant. What was once deemed unprofessional and tacky on Black hands has now been normalized and elevated to trend status. (Depending on your industry, accentuated nails might even be considered work-friendly.) For those unfamiliar with the trend's origins, read on for the whitewashing, if you will, of acrylic nails.
From ancient Egypt to the cover of magazines
Acrylics, as we recognize them today, weren't exclusively a Black invention — but Black women have unquestionably played an ongoing role in the cultural celebration of artificial nails and high-end designs. Excavations have revealed that Ancient Egyptian mummies wore nails embellished with gold, a practice dating back to 5,000 BCE. Cleopatra and Nefertiti were celebrated in the 14th century for wearing their nails red as a sign of royalty and status.
Then, in 1954, acrylics came onto the scene, with a more practical, less glamorous turn. As the story goes, while working in a dental lab, Dr. Fred Slack Jr. cut his thumbnail. To stem the bleeding, he applied aluminum foil and dental acrylic, creating a tiny platform to fix his nail. The acrylic was born.
That sensation kicked off during the Disco Era, thanks to stars like Donyale Luna, the first Black woman ever to grace the cover of British Vogue. And when mega-stars like Diana Ross and Donna Summer burst onto the scene, they brought with them unapologetically bold nails featuring more extended, pronounced tips.
From backlash to billions
American track and field athlete Florence Griffith Joyner, also known as Flo-Jo, wasn't only regarded for her fast dashes. Even posthumously, she faces racist criticism for her nails. (It didn't matter that she was the fastest woman in the world.) Flo-Jo's unapologetic embrace of the Black aesthetic choices may have made her a target for allegations of cheating, though she never failed a drug test.
The criticism that she received is a far cry from the art world's (eventual) acceptance of acrylic nails. In 1993, Lil' Kim had her nails done on set, in what became known as her famous "money manicure." It was created by celebrity manicurist Bernadette Thompson and eventually featured at MoMA. (Thompson also created show-stopping nails for the likes of Mary J. Blige, Missy Elliott, and Lauryn Hill.)
Lil' Kim might've been the one to show off the money manicure, but manicures are serious money today — with artistic, accentuated styles often becoming a signal that someone has great beauty sense. By 2024, the global artificial-nails market is expected to grow to $1.2 billion. So why are these very nails still being mocked when worn by Black women — and why aren't Black creators and trendsetters the ones getting the credit for the trend in the first place?
Just look at what happened in 2016 at a journalism conference. An older white reporter asked a Black staff writer if she would be "leaving early to get her nails done," after already (unfairly) questioning her employment. That exchange was just five years ago.
From salons to social media
Now that there's more money behind the artificial nail industry, it's become a cool style to wear, for people of all races and backgrounds. In 2018, approximately $8.36 billion U.S. dollars were spent on nail salon services across the country. In 2019, artificial nails and accessories saw a 17.5-percent sales spike, making them among the fastest-growing categories within nail salons.
Social media, from TikTok to YouTube, features thousands of nail designs and acrylic styles. But, take a look while you're scrolling through your social feed, and you'll notice there still aren't enough brands showcasing Black hands in their images and videos. The story of acrylics is the story of the mainstreaming of hip-hop culture, bleeding down into celebrity culture, which then made its way to suburbia and eventually back again to rich celebrities — as current trends often do. Unfortunately, non-Black women often reap the benefits of adapting the trend while enduring less criticism than Black women face. (Writer's note: I personally have a Black friend who was told she should "tone down" her nails for her fashion office job. That was in 2019.)
Whether you call it recognition or appropriation, we should all know the history and acknowledge the bravery Black women boasted to express themselves creatively in a world that wanted us to be silent. Let's give credit where credit is certainly due.
This advertising content was produced in collaboration between Vox Creative and our sponsor, without involvement from Vox Media editorial staff.