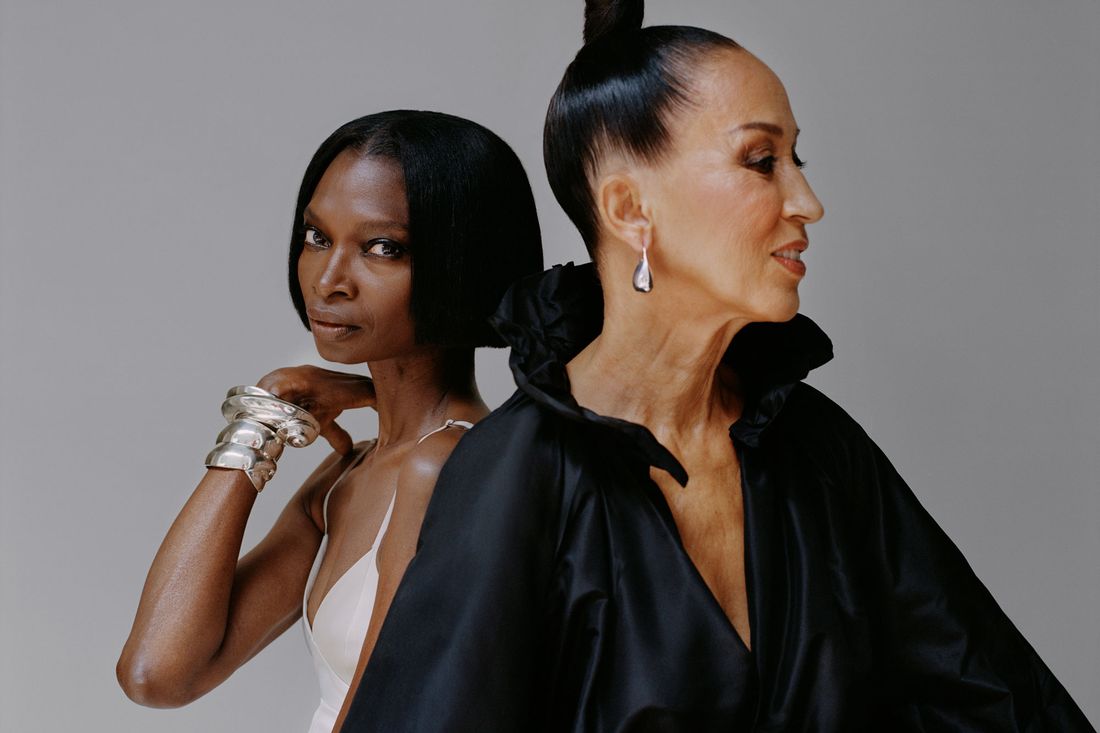 Debra Shaw and Pat Cleveland.
Photo: Rahim Fortune
The only way to start this story — any story, really, about the American Supermodel — is with the Battle of Versailles. The one in 1973. On one side were the French, of course: designers Hubert de Givenchy, Yves Saint Laurent, Pierre Cardin, Emanuel Ungaro, and Marc Bohan for Christian Dior. The other, American: Stephen Burrows, Oscar de la Renta, Bill Blass, Halston, Anne Klein. Each country's fashion royalty at the time. In theory, it was all for charity, to raise funds to restore the crumbling Versailles Palace. In reality, it was all ego.
Rehearsals and personality clashes took place in vast, unheated palace rooms. The French constructed a pumpkin carriage and a sequined Bugatti set and booked Josephine Baker and Rudolf Nureyev to perform. The Americans had Liza Minnelli, who gave the models a pep talk after Kay Thompson, the choreographer, stormed off. (The American stage designer measured everything in inches rather than centimeters and ended up without enough décor to fill the stage.)
But that's not why we're here. We're here because of ten American models — specifically, the ten Black models, out of 36 Americans total — including Bethann Hardison, Alva Chinn, and Pat Cleveland, who, spinning in layers of chiffon for Halston, owned the night. Those ten women delivered attitude, something no one had been delivering in traditionally stuffy and snoozy fashion presentations. The audience — the European beau monde — stomped their feet, threw their programs in the air, and leapt out of their seats to cheer. American models weren't just taken seriously after that night; they were suddenly sought after.
For the next several years, Black American models dominated European runways. Sandi Bass, having been told she was too skinny to work in the U.S., in 1978 found herself personally invited to become the muse of Givenchy. By her account, Black girls also ruled the runways in Milan for prêt-à-porter and in Rome for Alta Moda.
"They loved the way we walked because … we had a kind of pizzazz in our walk. We brought a certain vibrancy to the shows," says Cleveland, recalling the stride and rhythm of the Black American models, a complete departure from the robotic white models of the 1950s and '60s. Cleveland was a member of YSL's exclusive cabine (fashionspeak for a group of models who work almost exclusively with a single designer) and walked for Karl Lagerfeld, Valentino, and Thierry Mugler, building her brand by ramping up the theatrics and the sass.
The models had a whole choreography that they worked on together behind the scenes. They had a special kind of rhythm to their walks and made conscious decisions together. "When we hear this beat, we're going to do this turn," Cleveland recalls. "This is what the designers in France and Italy loved about us Black American girls," Bass says. "We had a throwaway spirit that they had never seen before. We were lively. We were colorful. We spoke, we gave our opinions."
The women who ruled Versailles shoved open the fashion industry's front door for fellow Black models who, up until then, had to fight to just barely squeeze through. Unsurprisingly, not everyone was thrilled or willing to welcome them, with many fashion brands, modeling agencies, photographers, and others happy to maintain the status quo of exclusion and exoticism. Still, some opportunities that had once been exclusively reserved for white models did arrive — as when Beverly Johnson became Vogue's first-ever Black cover model in 1974, one of what would become more than 500 and counting magazine covers in her decades-long career. It was what the next generation of Black models did with these opportunities that defined the power and influence of the American Supermodel.
By the mid-to-late-'80s, Black models had proved they could be just as profitable as white girls like Cindy Crawford, Christy Turlington, and Elle Macpherson if afforded the chance. In 1984, Versailles veteran Hardison even founded her own agency, Bethann Management, to create those chances for clients like Veronica Webb, an early discovery of hers. With the odds stacked against them, the women in these pages were the first Black models to translate runway and editorial bookings into big-money advertisement deals, capitalizing on their images to create mainstream commercial success — a tenet of supermodeldom — in an industry historically unwilling to do the same. Like Webb, a favorite of Marc Jacobs, Gianni Versace, Lagerfeld, and Azzedine Alaïa, who became the first exclusive Black spokesmodel for an unheard-of three-year, $2.2 million Revlon contract in 1992. Or Lana Ogilvie, who, that same year, scored her contract for CoverGirl, which made a surprise move (for the time) by running her campaign across all magazines, not just Black ones. The next year, Tyra Banks landed her own CoverGirl contract and went on to become the first Black model to cover the Sports Illustrated swimsuit issue in 1996 and a Victoria's Secret Angel in 1997.
Karen Alexander, nicknamed "Black Barbie" at the height of her career in the late '80s to early '90s, starred in over a decade of Ralph Lauren campaigns, while Kara Young landed the iconic Revlon "Most Unforgettable Women" campaign after a 1988 Vogue cover shoot by Richard Avedon catapulted her career.
These women also became indispensable to the era's greatest designers, something that would have been considered an impossibility before the Versailles girls forced designers and consumers to see models as actual human beings with star power. In the early-to-mid-'90s, Beverly Peele became the go-to booking for Versace, Lagerfeld, and Todd Oldham. Debra Shaw walked in fashion's most theatrical '90s-era shows like McQueen for Givenchy's "Search for the Golden Fleece" collection and John Galliano's debut collection for Dior. And Kimora Lee Simmons was 13 years old when she landed on the Chanel runway in Paris in 1989 and went on to walk every season for Chanel, Dior, Ungaro, Valentino, Fendi, Kenzo, Moschino, and Yves Saint Laurent as well as Geoffrey Beene and Anna Sui in New York.
There is, of course, a glaringly obvious reason not all of these women are household names today. And a glaringly obvious reason why there aren't more of them. As much as their legacies endure — and some have present-day modeling careers that are stronger than ever — so does fashion's history of exclusion and exploitation. And while Banks and Simmons found megafame through reality TV and their own fashion and lifestyle brands, for many of them, their impact outweighs their name recognition.
In order of appearance:
On Debra Shaw ➼ Peter Do Technical Satin Twill Night Dress, available soon at Moda Operandi. Patricia Von Musulin Sterling-Silver Ram's Head Cuff and Wave Cuff, at Bergdorf Goodman, 754 Fifth Avenue. On Pat Cleveland ➼ Carolina Hererra Full Ruffle Puff-Sleeve Blouse, at carolinaherrera.com and 954 Madison Avenue. Khiry Jug Drop Earrings in Sterling Silver, at khiry.com.
On Pat Cleveland ➼ Peter Do Silk Trench Blouse and Wool Viscose Signature Belted Tailored Pant, available soon at bergdorfgoodman.com, and Ostrich-and-Chicken-Feather Corsage, available soon at select retailers. Mateo Half-Moon Floating Pearl Hoop Earrings, at mateonewyork.com.
On Tyra Banks ➼ Lapointe One-Shoulder Long-Sleeve Midi-Dress, at shopbop.com. Cartier Love Necklace, at Cartier boutiques nationwide.
On Beverly Johnson ➼ Peter Do Cotton Cloud Trench, available soon at select retailers. Khiry Isha Hoops With Tiger's-Eye Earrings, at khiry.com. On Tyra Banks ➼ Peter Do Embossed Velvet and Nappa-Leather Cloud Trench, available soon at select retailers. Khiry Khartoum Hoops Embellished Earrings in Gold Vermeil, at khiry.com.
On Beverly Johnson ➼ Brandon Maxwell Taffeta Off the Shoulder Dress with Zip Front, at brandonmaxwellonline.com. Prounis Granulated Boat-Shaped Hoop Earrings and Trade Ring I, at prounisjewelry.com.
On Beverly Peele ➼ Jason Wu Collection Navy Taffeta Off-Shoulder Gown, at net-a-porter.com.
On Beverly Peele & Veronica Webb ➼ Sergio Hudson Alpaca Knitted Sweater Dress, at sergiohudson.com.
On Veronica Webb ➼ Khaite The Sloan Dress, at khaite.com. Manolo Blahnik Maysli Nappa Leather Buckle Slingback Pumps, at manoloblahnik.com. Almasika Universum Hoops with Center Diamond, at almasika.com.
On Debra Shaw ➼ Marc Jacobs Swirly Stripe Jersey Dress at bergdorfgoodman.com. Cartier Juste un Clou Earrings, at Cartier boutiques nationwide.
On Kara Young ➼ Sergio Hudson Signature Dress, at sergiohudson.com. Khaite The Bella Belt, at khaite.com.
On Lana Ogilvie ➼ Christopher John Rogers Puff-Sleeve Zip-Front Maxi Dress, at net-a-porter.com.
On Kimora Lee Simmons ➼ Michael Costello Dress, from the Michael Costello Archives.
On Karen Alexander➼ Harbison Triangle Slip Dress, at harbison.studio. Manolo Blahnik White Satin Slingback Pumps, at manoloblahnik.com.
On Karen Alexander➼ Sergio Hudson One-Button Single-Breasted Tuxedo Jacket and Tuxedo Pants, at Elyse Walker. Spanx Suit Yourself Fancy Strapless Cupped Panty Bodysuit, at spanx.com. Manolo Blahnik Raqui Black Snakeskin Strappy Sandals, at manoloblahnik.com.
More From Fall Fashion 2021
See All