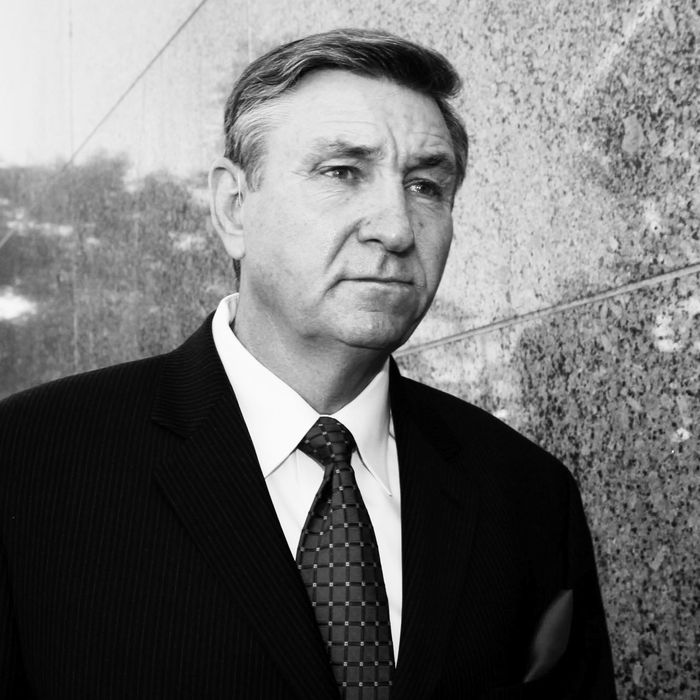 Jamie Spears
Photo: Nick Ut/AP/Shutterstock
In what could be a huge win for Britney Spears, the pop star's father — Jamie Spears — has said he intends to resign from her conservatorship, "when the time is right." That's according to legal filings Jamie Spears's attorney has reportedly prepared, which read in part:
There are, in fact, no actual grounds for suspending or removing Mr. Spears as the Conservator of the Estate under Probate Code section 2650. And it is highly debatable whether a change in conservator at this time would be in Ms. Spears' best interests.




Nevertheless, even as Mr. Spears is the unremitting target of unjustified attacks, he does not believe that a public battle with his daughter over his continuing service as her conservator would be in her best interests. So, even though he must contest this unjustified Petition for his removal, Mr. Spears intends to work with the Court and his daughter's new attorney to prepare for an orderly transition to a new conservator.
According to the New York Times, the filings come with a proviso: "The transition needs to be orderly and include a resolution of matters pending before the Court." Jamie's attorneys argued that their client "saved Ms. Spears from disaster, supported her when she needed it the most, protected her and her reputation from harm, and facilitated the restoration of her career," and said he "continues to serve dutifully, and … should not be suspended or removed, and certainly not based on false allegations."
Jamie has presided over some aspect of the guardianship since he had it enacted in 2008. Originally, the conservatorship was supposed to be temporary; a means of seeing Britney through mental-health episodes triggered by relentless scrutiny and pressure. From then until 2019, her father served as conservator of her finances and her person, meaning that he retained control over how she spent her money, who she saw and when, what her career would look like — basically, every aspect of her life. Two years ago, he stepped down as conservator of her person, and for months (or even years, according to a New York Times report from June) Britney has been working to have him removed from the arrangement entirely. In November, her then-attorney, Samuel D. Ingham III, filed a petition to oust Jamie, saying explicitly that his client was "afraid of her father" and would not perform while he remained on-board.
That petition was ultimately denied, but not before Britney had her say in court. "I just want my life back," she told California Superior Court Judge Brenda Penny in June, making her first-ever public statement on the conservatorship. "All I want is to own my money, for this to end, and my boyfriend to drive me in his fucking car. And I would honestly like to sue my family." Britney pulled no punches in describing the way her father made her miserable, and in a July hearing, she doubled down, informing the court: "I want to get rid of my dad and charge him for conservatorship abuse. I want an investigation on my dad. I'm here to press charges … I'm angry, and I will go there."
She appears to be on her way: Last month, Judge Penny approved Britney's request to appoint her own counsel, giving former federal prosecutor Mathew Rosengart the greenlight to replace Ingham. Rosengart made his first order of business Jamie's removal, calling on him to voluntarily step aside. Jamie has consistently declined to do this, alleging in court filings as recently as last week that Britney is "mentally sick" and needs to be placed back under psychiatric hold.
Meanwhile, it seems as though everyone else involved in the conservatorship — including Britney's mother, Lynne, and Britney's personal conservator, Jodi Montgomery — wants Jamie gone. And indeed, his lack of relevant professional credentials do make his continued involvement a perplexing thing, particularly given how adamantly Britney has demanded his ouster. But according to a raft of recent media reports, he has always maintained a tight grip on the power the arrangement affords him, allegedly criticizing his daughter's weight, height, appearance, and sanity while he profited from her career.
"We are pleased that Mr. Spears and his lawyer have today conceded in a filing that he must be removed. It is vindication for Britney. We are disappointed, however, by their ongoing shameful and reprehensible attacks on Ms. Spears and others," Rosengart said in a statement to Variety. "We look forward to continuing our vigorous investigation into the conduct of Mr. Spears, and others, over the past 13 years, while he reaped millions of dollars from his daughter's estate, and I look forward to taking Mr. Spears's sworn deposition in the near future."