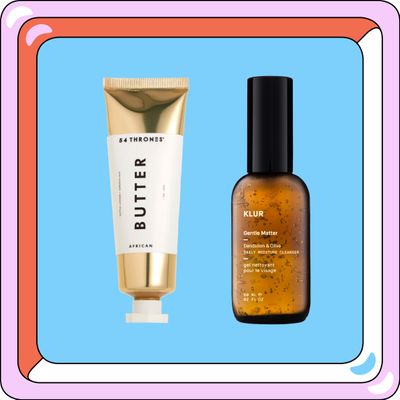 Photo-Illustration: by The Cut; Photos: Retailers
Although she's a Black beauty founder herself, Nyakio Grieco learned about the sheer volume of undersung Black-owned beauty companies after 2020's racial reckoning. "Last summer, I found myself and my brand, Nyakio Beauty, showing up on all of the '10 Top Black-Owned Brands to Shop' and '20 Black-Founded Brands' lists. I was excited to see my sales go up at Target, but it was built on the precipice of this heartbreaking time. So by taking my pain and turning it into purpose, I started shopping the lists myself," the founder remembers. "I couldn't believe how many Black-owned brands there were that I had never heard of. They were beautiful brands with rich stories working with incredible ingredients."
Many of the people reaching out to Grieco wanted to support Black beauty but asked if they could still use the products despite not being Black themselves. The answer was a resounding "YES!" Skin care is highly personal, but a founder's race is not a determinant in whether a line will work for them. Grieco took the question as "another opportunity to also further educate the consumer and to help change this narrative in the media industry."
To show that it's perfectly possible and easy to shop Black-owned beauty, even with specific skin types and needs, the Cut asked three beauty insiders, including Grieco, about their own skin-care routines.
Nyakio Grieco, founder of Nyakio Beauty and Thirteen Lune
In addition to Nyakio Beauty, Grieco is also the mind behind Thirteen Lune, an online retailer where she curates some of the best brands owned by Black and brown founders. The impetus for its creation was simple: "When shopping last year, I was thinking, 'Why not have a retailer where 90 percent of the brands carried are owned by people of color?'" Today, Thirteen Lune carries brands from Ranavat to UnSun Cosmetics to Ami Colé. The other 10 percent is made up of "allyship because beauty is universal and so we have to come together to help to increase generational wealth."
For her own vanity, Grieco looks for hydrating products to treat her "extremely" dry skin. She's also concerned with hyperpigmentation, redness, and eczema. Products are a great aid, but she also advises looking for a dermatologist that's specifically attuned to your skin's needs. "I didn't develop eczema until after I had my second child, and I went to my dermatologist, who is not a dermatologist of color, and they said, 'Maybe it's a fungus.' They gave me heavy-duty steroids, and everything I was using to treat it was only making it worse and really thinning my skin. Then I began seeing a dermatologist of color who instantly diagnosed it and informed me that eczema is a skin condition that's actually mostly seen in people of color."
The Double Cleanse
"Many women in my generation thought that once our skin was stripped of all of its natural oils, it was clean, and it's the opposite. You want to make sure that you're maintaining that hydration. As the first step in my routine, I use a balm before I move into a traditional cleanser. I have extremely sensitive skin — I love to test all the products, but I have to be very, very careful about what I'm applying because I'm prone to breakouts — and this balm is super-duper gentle. It turns into an oil, and melts everything off your face, even sunscreen. The key ingredient is sweet almonds that come from Spain, and they're packed with antioxidants."
"I don't like anything that dries out the skin, and this Gloryscent cleanser helps to maintain the skin's balance, but it still thoroughly removes any remaining makeup or impurities."
The Exfoliant
"I only like to exfoliate once or twice a week depending on what's been happening with my skin or if I've been traveling. Remember: Exfoliators aren't meant to hurt; if you use an exfoliator and your face looks like you've just beaten it, it's not doing its job. They're just meant to help remove dead, dry skin cells. Skot's Enzyme Exfoliant smooths, refines, and brightens all in one. It helps to clean your clogged pores — I live in L.A., so even though we aren't venturing out as much in these times, it's still a heavily polluted area. Plus, the exfoliator also has aloe vera, which helps to soothe and calm."
The Mist
"Hydrating mists became my favorite thing during COVID. When I was sitting on Zoom after Zoom, I would keep a mist right next to my desk for a refreshing feeling. This one is really, really good. It helps to repair the skin's natural barrier, it combats dryness, and it helps to correct hyperpigmentation. My hyperpigmentation actually shows up as white spots. Wearing sunscreen every single day prevents them from getting bigger, but I've noticed that when I use my Epara mist consistently, my spots start to turn to brown and look more like my natural skin color and eventually fade."
The Eye Treatment
"The skin under our eyes is very delicate so you have to be especially careful about adding hydration to that area. A lot of creams tend to sit within the creases of your eyes and then if you apply concealer, throughout the day your makeup starts to slip. What I love about this serum is that it gives such deep hydration and anything that I apply after still stays on. I usually apply about two drops. I start patting it around my inner eye and move out if I have more product. Don't drag your eyes!"
The Serum
"I love oil-based serums because our skin is made up of oils, and as we age, we lose those oils. Dehiya's serum is gentle but really effective with hyperpigmentation and it helps to even out the skin tone. It's kind of a canvas for whatever I'm going to add next, whether it's nighttime or daytime, whether it's a moisturizer or a sunscreen."
The Moisturizer
"This cream has got a pillow-light texture. When you apply it to the skin, it's kind of like a silk veil. It's great after you apply any serum to help seal in moisture. At night, I like to massage it into my skin to relax before I go to bed. It's a ritual, a self-love moment."
The Face Oil
"Part of my skin's redness comes from my hyperpigmentation and my eczema, and this oil is naturally colored green so it helps to soothe redness — when you add green to red, it helps to neutralize the color. It's got maracuja, which we source from Brazil, and yangu, which comes from the 'beautiful tree' in South Africa. Both of those ingredients, in conjunction with the other oils in the formula, help to soothe and give an evenness to the skin. I also use it on my cuticles, hands, heels, elbows, really any areas with dry skin before I go to bed, because skin care is not just from the neck up."
Chloe Hall, digital beauty director at Elle magazine
Chloe Hall, Elle magazine's digital beauty director, is 26 weeks pregnant. Before her pregnancy, she was dealing with some "annoying, but not terrible" hormonal jaw breakouts that had a tendency to become dark spots. Since being pregnant, "I've never been sicker in my life, but I've never had clearer skin," she says. "I actually made a joke about the Cut recently. Like, why is my skin so good? It'll only last nine months." [Laughs.]
Hall's concern right now is making sure that all of her products are pregnancy-safe, which means there's no room for retinol or harsh acids anywhere in her routine. Luckily, a lot of Black-owned products are rooted in natural and "clean" ingredients. "I was on a panel with Christina Funke Tegbe, the founder of 54 Thrones, recently, and we were talking about how when you think of wellness, you don't picture communities of color. Wellness has been rebranded into this yoga-pants-wearing, green-juice-toting person, but it was people of color who really invented wellness — it's grandmas with herbal, natural remedies," she says.
The Double Cleanse
"I haven't really been wearing makeup because of the pandemic, but when I do wear makeup, I always remove it with micellar water. It's the easiest go-to. I used to use the Bioderma one a lot, but in curating this routine, I saw on the internet that everyone is obsessed with BLK + GRN's Cleansing Water. Normally, I have to go over my skin with four cotton pads, but with this water, I only need two soft pads. I've literally used it to remove a whole beat, including mascara."
"I feel like it was two years ago — and you can date me on this — that everyone became obsessed with the brown jars from Klur; I saw them on everyone's Insta pages. Their cleanser is really good. I am one of the weird people who doesn't like foaming products. I don't know what it is, but I almost feel dirtier with cleansers that foam so I love Gentle Matter because it's a gel cleanser. It has dandelion extract and green tea, both of which are super moisturizing and great for sensitive skin."
The Vitamin C
"Hyper Skin is actually a recommendation from my co-worker. Vitamin C is pregnancy-safe — my dermatologist recommended I include it in my morning skin-care routine. It's been super brightening and helped clear up some leftover dark spots on my skin. And not that the packaging matters, but the bottle is really cute and orange and summery, and I kind of fell in love with it."
The Face Mask
"The founders of the brand, Olamide Olowe and Claudia Teng, are super young, and they got a huge investment for their brand — queens, icons, legends. Then talk about great packaging! The hydrating mask is super effective, and the main ingredient is colloidal oatmeal so it's pregnancy-safe. It smells like oatmeal to me actually, and that's been my No. 1 pregnancy craving — it doesn't make me sick and most things make me sick these days."
The Lip Mask
"I guess I keep talking about packaging, but KNC's packaging is really cheeky. I used to use the KNC Eye Masks, but they have retinol in them, and like I said, I'm really paranoid about everything for baby boy. The lip masks are collagen-based so they're safe. They're hydrating, and they look super cute — when you're a pregnant lady in the dead of summer, anything that makes you feel and look cute, you'll take it."
The Sunscreens
"I went on Instagram Live with Venus Williams for EleVen last year, and it was a dream. She is so nice and so funny and watches all of the same crap TV that we all watch — a relatable queen! She sent me a bunch of products from her brand after, and I loved her sunscreen. It doesn't leave a cast, it goes on super easily, and then this is such a silly thing, but I'm like, 'A professional tennis player is wearing this sunscreen! I can walk to the mailbox and back with it.' [Laughs]."
"I also love the Black Girl Sunscreen. It's a clear, oil-based gel, and again, it goes on super, super light with no cast."
The Body Bar
"I would die for Hanahana Beauty. Abena Boamah-Acheampong, the founder, sources all of the brand's ingredients in Ghana, and they're all-natural. I used to be obsessed with this scrubee from Lush, but then Hanahana sent me a two-in-one body bar, and it's both exfoliating and moisturizing. Pregnancy is the most poppin' time in your life [laughs], so I like to take multiple showers a day, and I love this bar so much."
The Body Butter
"I love this body butter. It comes in a lot of scents, and I've been very freaky with fragrances — most of the products on this list are fragrance-free because smell has just been killing me — but this butter comes in a lavender that I find super relaxing. Cam, my partner, always jokes that I'm on this Mad Max quest to have the softest skin in America, and I am. [Laughs.] Ever since I was 6 years old, I get out of the shower, and I'm like, 'Slather me in lotion!' I take such a weird pride in always having hydrated skin. I remember in high school, I had a crush on this kid. During sophomore year, he was like, 'Hey, soft skin,' and I was like, 'I've made it. My work here is done.' I'll never forget that."
Desiree Verdejo, founder of Hyper Skin
In her past life, Desiree Verdejo owned Vivrant Beauty, a Harlem-based beauty boutique that catered to and featured products by people of color. "It's always been in my DNA to hunt for well-made skin care," she says. "At the time, there weren't many POC-owned brands on the shelves of major retailers." Through daily interactions with customers, she noticed there was a real need for a clinically minded brand that addressed conditions like hyperpigmentation, one of her own skin concerns.
"Everything was super 'natural.' You know, everything was in jars with white labels and black writing. Everything was very small batch, but women of color have real, clinical needs," says Verdejo. "We have acne. We have hyperpigmentation. We have razor burns, and I wanted a line that speaks to that, a line that's more active." She resolved to make her own.
The result was Hyper Skin, whose hero — and currently only — product is the Brightening Clearing Vitamin C Serum that's made with fruit enzymes, turmeric, kojic acid, and 3-0-ethyl ascorbic acid (vitamin C) to fight dark spots and brighten and even out skin. It's packaged in a cheerful, orange bottle.
Verdejo explains, "My own philosophy is to keep it simple and then use effective treatments, like a special serum or a face mask, when necessary. My collection reflects that."
The Double Cleanse
"I haven't gotten back to wearing a full face of makeup on a daily basis but when I do, I like to double cleanse with the Ode to Self Bask Cleansing Balm. I don't typically use oils in my routine because I have very congested skin, but I saw that Ode to Self has a balm and the brand has really beautiful packaging — sometimes I'll buy things just because I'm excited about them. I was a bit wary about the balm at first, but because it has salicylic acid to target breakouts, my skin likes it."
"I go back and forth between active cleansers with gentle exfoliants and simple, easy cleansers. On the days when I use the Ode to Self Bask Cleansing Balm [above], I like to follow it up with the latter, and Klur's Gentle Matter fits the bill. It's so lightweight and doesn't strip your skin."
The Serum
"The most important part of my skincare regimen is my Hyper Skin Brightening Clearing Vitamin C Serum. It clears up old acne scars, and I even notice that my newer scars aren't as dark. The serum is packed with anti-inflammatory ingredients like turmeric and willowbark, which help to smooth any texture on the skin. I use it once a day, usually in the morning, but some people like to use it at night."
The Moisturizer
"I'm friendly with She'Neil Johnson Spence, the founder of Base Butter, because she used to live in Harlem. Her face jelly is really thoughtful of acne. Even though it's lightweight, it does have a very unique texture, where it's not quite balmy but not necessarily creamy. It's more in the oil realm. If you have acne-prone skin, you might be wary of it, but it doesn't clog pores."
The Sunscreen
"I just ordered a handful of allegedly sheer mineral SPFs and wasn't truly impressed with the way any of them looked on my skin tone, so I am hitting 'Add to Cart' on EleVen by Venus William SPF 30 next because I've heard from enough people that it actually lives up to its sheer-on-all-skin-tones claims."