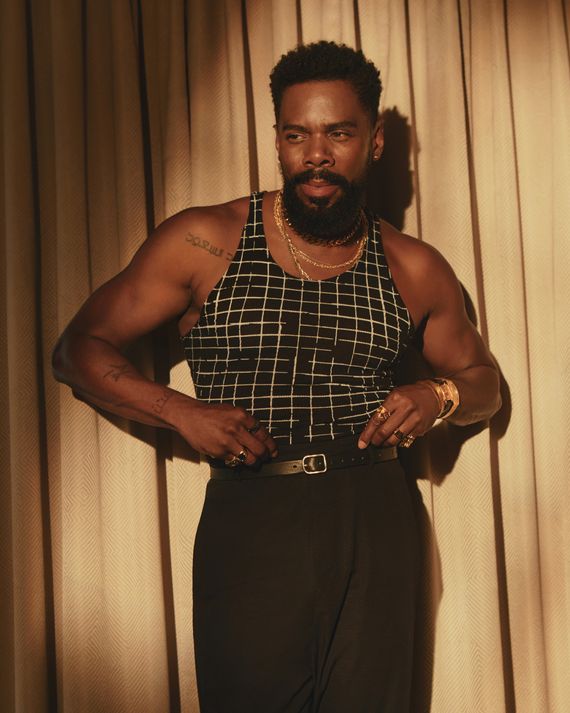 Even over Zoom, wearing a casual black T-shirt and a backward cap, Colman Domingo exudes movie-star charisma, the kind most of today's celebrities never seem to have bothered to cultivate. His energy fills the screen; when he speaks, he gesticulates wildly, using his whole body to tell his stories. It's capital-P presence.
Originally, we were supposed to meet over breakfast in Los Angeles, but his busy schedule took him back to Texas overnight, where he's currently filming the seventh season of AMC's Fear The Walking Dead, in which he has been playing Victor Strand since its inception in 2015. After we work through our technical difficulties, he greets me warmly through the screen, generously complimenting the bright and meticulous décor of my bedroom behind me — a pandemic-era home office — and laughing boisterously when I tell him I plan to file his kind words away as a pick-me-up for a rainy day.
The deep, trembling bass of his voice alternates between booming power and studied quietude as our conversation continues. The tight coil of his softer-spoken moments springs free every time his own exuberance catches him off guard. Domingo is immediately congenial, a fact that surprises me given his latest run of exhausting, nonstop press. He laughs often and easily, as though I am an old friend. It's a quality that fully exposes the veteran playwright and director's natural artistic skill, and makes his recent run of high-profile releases so easy to believe. It's a long-deserved critical glow-up.
In 2020, he starred opposite the late Chadwick Boseman in the Oscar-nominated Netflix vehicle Ma Rainey's Black Bottom, earning him a string of critics guild nominations of his own. And less than two weeks later, he took center stage opposite Zendaya in a special bottle episode of Euphoria released well ahead of its second season debut. He also began hosting his own talk show — Bottomless Brunch At Colman's for AMC. Now, in 2021, fresh off the long-awaited release of the buzzy Sundance hit Zola, and the debut of The God Committee, Domingo is right back at it for Nia DaCosta's Candyman, in theaters now.
Originally scheduled for June 2020, Candyman — like most other films last year — was delayed again and again in hopes of a proper theatrical release. The gamble paid off. Candyman debuted to a $22 million opening weekend, making its director Nia DaCosta the first Black woman to open a film at No. 1.
A direct sequel to the 1992 film of the same name, the movie follows the now-adult Anthony McCoy (Yahya Abdul-Mateen II) as he rediscovers the story of the mythic Candyman. This version places Domingo in a strategic narrative position. He plays William Burke, a resident of Cabrini-Greene who acts as a kind of griot for the Candyman legend. The role gives him the room to flex his genre muscles in a part producer Jordan Peele wrote specifically for him.
Domingo leans into the screen, making sure I understand: "Jordan is one of those people who can truly get a sense of a human being and also give you things to challenge you," he  says. "It made me very happy. It's like when someone sees you as a human and is able to write towards you. It's an incredible thing."
Domingo tells me he has a similar relationship with Euphoria creator Sam Levinson, who also wrote the character, Ali, for him."Everything [Levinson] writes, he writes it for me. He tailor makes it, knowing how I can handle language. He knows that's the base of my work, and I can help make the language sing."
And the results are evident. In Euphoria's special episode, Domingo delivers soliloquies on the nature of addiction and the human soul in a diner, without ever reading as didactic or preachy to his scene partner Zendaya. If you ever needed someone to make sense of Shakespeare's iambic pentameter, he'd be the one to call.
He has lots of experience working with auteurs, and in addition to Nia DaCosta, Domingo seems to have developed a habit of working with up-and-coming Black female industry creatives. He's collaborated with several in quick succession. Zola was director Janicza Bravo's second feature film. Zendaya is an executive producer on Euphoria. And Domingo adds directors Ava DuVernay, Victoria Mahoney and Regina King to the list.
"As we know, especially Black women in this industry, when they get to the door, and they're ready, they've gotta be beyond prepared," he tells me. "They have done the work, and they need to stand in that work and that confidence [and] their sensitivity and their joy. I feel very blessed that they've invited me to the table because they're not leading with ego, they're leading with work ethic. They've come in with more than the talent, and they recognize that in me, so we see each other."
It's a creative exchange Domingo is grateful for, especially in light of how long it often takes Black actors to be recognized for their prodigious talents and finally get their breakthroughs. The bass in his voice returns as he tells me almost conspiratorially: "All I can say is I used to sit and wonder why. I would say well why am I not on the cover? Why am I not recognized for that? But then I think, let me just get back to work. Work is where I find my peace and my joy. If somebody doesn't want to amplify my work I have nothing to do with that."
He thinks part of his renewed success is that his peers finally understand what he is capable of. From the menace of Zola's X, to the quiet wisdom of Euphoria's Ali, he feels he's finally getting material that matches his talent. And it certainly seems that he's right. Domingo's picked up at least nine nominations in 2021 alone and is especially favored in critics' circles.
"I hope this doesn't sound egotistical but I didn't have the material before. I told my showrunners [on Fear The Walking Dead], you gotta throw me the ball. If I'm on the bench the entire time, you'll never see what I can do."
But when I ask if he feels like he's finally arrived, his exuberant laughter returns. "Well, when you put it like that I guess so!"
He continues, seemingly wistful, as though his newfound star power has only just occurred to him. "I've always been on the journey, and I never knew what arriving would feel like. I started in the theaters and I always just wanted to be respected as a craftsman. I feel like people recognize that now."
And as they say: if you stay ready, you don't have to get ready. Thankfully, Domingo is, well, ready. A dandy for the modern age, Domingo enjoys great clothing and fine things — a quality he shares with his character on Fear the Walking Dead. My questions about his taste in fashion make him visibly more animated. The newly-minted style star has been putting veteran A-listers to shame in his now-signature '70s inspired fits. On a Zola red carpet, Domingo vamped in matching yellows with actress Jodie Turner-Smith. The stunning photos went viral, because how could they not? Where other male stars wear traditional black suits from the usual suspects, Domingo gravitates to bolder hues and more daring, stylish looks. Who but he could make a peach Grayscale suit look chic, or steal the show in a fuschia-pink tone-on-tone Atelier Versace number?
"If anyone ever looked they would notice that I'm very conscious of telling a story with every single outfit. Every single one. It's all storytelling to me," he says with a telltale twinkle in his eye.
The infamous pink tuxedo was a showstopper at the 2021 Oscars and the last option in a line of more traditional suits available from Versace. Domingo says it was the tailor at his fitting who convinced him that people needed fun, inspiration and light after a difficult year inside their homes.
"It felt like Prince. It felt like Luthor Vandross. It felt like the Temptations. My clothing style is mid-'70s. Maybe because my dad dressed like that and that was what was cool. But I think [fashion] is an opportunity to tell your story. And I like to tell my story before anyone can tell me what it is."
Knowing the importance of telling his own story is also part of why Domingo partnered with Vineyard Theatre in New York to create the Colman Domingo Award — presented annually to promising African American men in the theater to help provide "support and resources to create new work." Domingo hand-picks the recipients, and they each receive a cash stipend, personal mentorship and access to studio space in which to create. It's a logical undertaking given Domingo's two-decade-long career in the theatre. (He wrote the book for Donna: The Donna Summer Musical, and is currently working on a musical based on the movie Tangerine.)
Stealth Broadway veterans are a delightful fascination of mine, so I ask if we'll see him sing in the next big studio musical, now that they seem to be making a comeback. "I hope so! I realize it's time for me to do a musical in some way because I miss it. I mean any singer will tell you, it's just in you and it's GOTTA COME OUT!" That last part he sings joyfully, hand outstretched as though before an audience of millions. As they say, all the world's a stage.
But Domingo does have more specific ambitions too: a ten-part series on James Baldwin. "If someone wrote me a blank check, that's what it would be [for]," he says. "I want to play my heroes. Extraordinary, ordinary men. Personally, those are the superheroes to me."