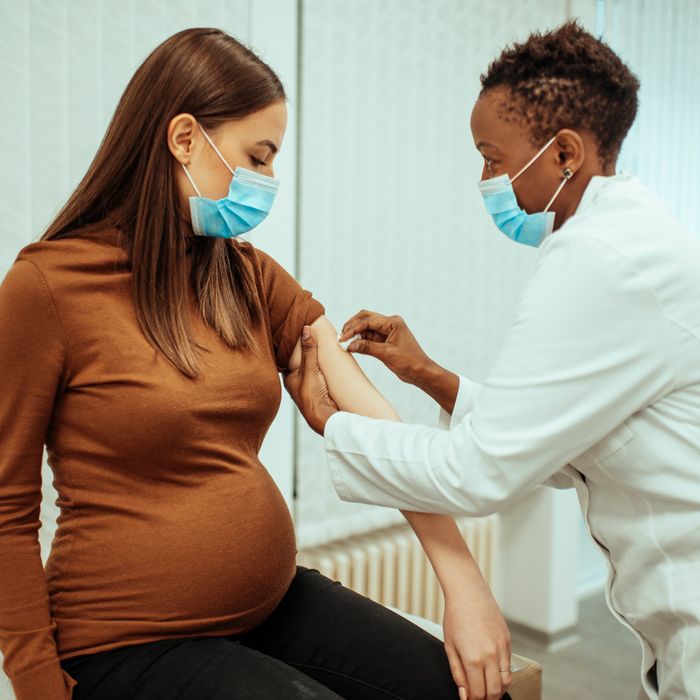 Get the shot!!!
Photo: Getty Images
The outcomes of severe coronavirus infections in pregnant people can be devastating for parent and baby alike, from escalated risk of hospitalization, intubation, and death to preeclampsia, premature birth, and even stillbirth. Though the Centers for Disease Control and Prevention began recommending the COVID vaccines for pregnant and lactating people beginning in April, its data shows that only 23 percent of this group has received even one shot. With the hypercontagious Delta variant surging all across the country, the CDC is urging pregnant people to please get vaccinated. As are the American College of Obstetricians and Gynecologists and the Society for Maternal-Fetal Medicine, for that matter!
"The benefits of vaccination, and the known risks of COVID during pregnancy and the high rates of transmission right now, outweigh any theoretical risks of the vaccine," epidemiologist Sascha R. Ellington, team lead for the emergency preparedness response team in the CDC's division of reproductive health, told the New York Times.
As it stands, case counts are — and have been — spiking across the country, with high rates of community transmission engulfing almost every state. This is unequivocally a problem of opting out of inoculation: The Delta variant is blazing through unvaccinated communities, hiking hospitalization and death rates way up. Though vaccinated people may still get infected, their outcomes have been overwhelmingly more positive. The CDC estimates that fully vaccinated people account for less than 3 percent of all hospitalizations in the United States and under one percent of deaths, meaning the vaccine is doing exactly what it was always intended to do. Given the stunningly low vaccination rates among pregnant people, however, doctors have seen cases rise among those patients in recent weeks.
For some of the holdouts, hesitation stems from the apparent speed with which the vaccines were developed — though mRNA technology has been successfully tested for decades, otherwise it would have taken a much longer time to deliver all these options within a year. Yet among pregnant people, anxiety about putting a "new" medicine in their bodies seem to have had a chilling effect. The available data does not bear out these concerns: A study of over 2,400 pregnant, fully vaccinated participants — who received either Moderna, Pfizer, or BioNTech during their first 20 weeks — found miscarriage rates remained the same as for the general population, affirming previous research on people vaccinated in later trimesters. Similarly, a study of 827 vaccinated, pregnant patients suggested that immunization against COVID does not raise the risk of adverse outcomes before, during, or after birth — neither for the parent nor the infant.
Meanwhile, the data seems clear that people who are pregnant face a 70 percent higher risk of dying from COVID compared to people who are not. So please, the CDC is begging: Everybody who can get vaccinated should get vaccinated.