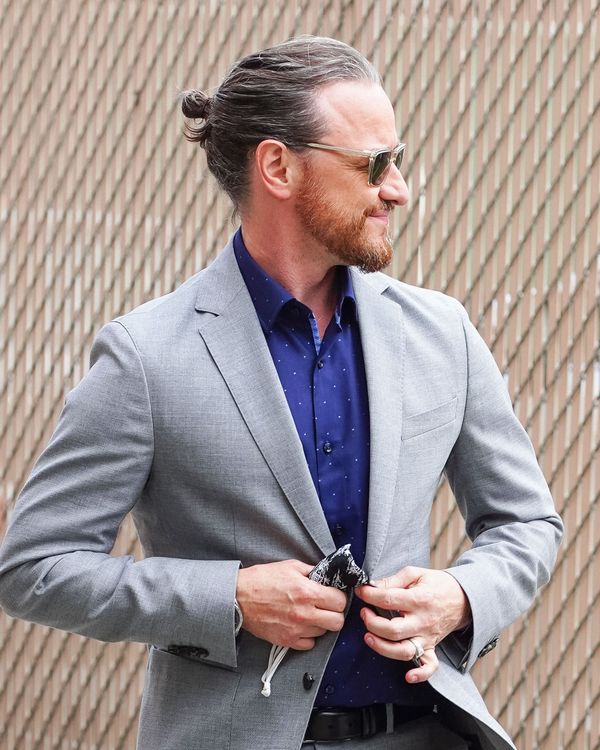 A man and his little bun.
Photo: JOCE/Bauer-Griffin/GC Images
Welcome to today's edition of "Celebrity Hair," a series that will begin and end with this post dedicated to James McAvoy's teeny, tiny, little bun. McAvoy and his itty-bitty bun made an appearance on a recent episode of Jimmy Kimmel Live. Like guest host Sarah Silverman, I could not take my eyes off it.
It is so small! So humble! A suggestion of a bun rather than a bun itself. Let's discuss.
Is it a man bun?
Sure, in that James McAvoy is a man and his hair is in a bun. However, he prefers to just call it a bun. Or a "bun bun," as he refers to it on Jimmy Kimmel.
Why a bun?
For a movie, of course! In McAvoy's new movie, Together, we follow a couple — he and the incomparable Sharon Horgan — throughout their experience of quarantining together. (Surprise! They hate it.) "I decided to grow my 'bun bun' because we just needed to show some passage of time … I didn't want to wear a wig, so I was like, 'Maybe we can do something. I'll grow my hair, and I'll have it long but then I'll do a man bun,'" he told Silverman. Ah, so it's a business bun!
Is the bun … serious?
No! It's a comedy bun! "There's just something slightly comedic about it and funny about it, right?" McAvoy said. Then he pointed to the bun, and the audience laughed and laughed. "See?" he said. "I just had to point to it, and you laughed." After filming, he just decided to keep the bun. "Now I'm just wandering through life being mildly comedic for nothing more than my bun bun."
Anything else James and his li'l bun had to say for themselves?
He made a joke about the COVID precautions he took while on a plane recently, saying, "I wore a mask and a visor, a hazmat suit … and covered myself in K-Y Jelly." He also talked about giving himself a COVID test and shoving the swab so far down his throat that he barfed in front of his wife. "I am what is referred to as a keeper," he said.
So as you can see, the comedy bun is working. Congratulations to this beautiful man and his gorgeous little comedic bun.