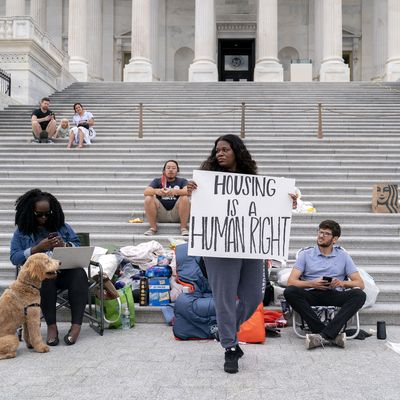 Photo: Stefani Reynolds/Bloomberg via Getty Images
Thanks in large part to Representative Cori Bush, millions of people nationwide will be able to stay in their homes despite the expiration of the CDC's moratorium on evictions. The Missouri representative slept on the Capitol steps for four nights, staging a sit-in that lasted through Tuesday, when President Joe Biden finally announced a 60-day extension — three days after the original policy expired. Had it not been for Bush forcing the issue, it seems likely that the administration would have let the clock run out, leaving as many as 11 million Americans saddled with staggering sums in backrent, or out on the street.
"This is why this happened," Bush said after Biden's announcement. "Being unapologetic. Being unafraid to stand up."
Last year, faced with a pandemic that slashed jobs across every industry, the Centers for Disease Control and Prevention put a hold on evictions. The agency reasoned that kicking people out of their homes would force them into shelters and other overcrowded living situations, escalating the coronavirus's spread. Though Congress allocated $47 billion in rent relief to state and local governments, the distribution of those funds proved spotty and confusing in many cases — and way too slow for broad swathes of renters: Only about $3 billion in federal aid made its way to the people who needed it. Still, in a June 29 ruling, the Supreme Court only narrowly voted to uphold the moratorium, warning the White House not to extend the policy beyond its planned expiration on July 31. Biden then punted the problem to Congress to extend the moratorium, a job Congressional leadership seemed to think the White House would tackle. The last-minute scramble among Democratic lawmakers failed in the 11th hour.
Enter Representative Bush. Decades before her election to the House in November, Bush — a nurse, pastor, and an activist in the St. Louis area — experienced eviction firsthand. In 2001, an illness during her pregnancy forced Bush to quit her job, leaving her and her then-husband unable to make rent. For roughly three months, the couple and their two young children lived in their Ford Explorer. "I don't want anyone else to have to go through what I went through, ever," Bush told the Associated Press. "As long as I am a sitting U.S. congressperson, I will not keep my mouth shut about it."
Rather than returning home when Congress went into recess on Friday, Bush set up camp on the Capitol steps, calling for action first from Congress, then from the administration. "We have a deeply rooted misconception in this country that unhoused people have done something to deserve their conditions — when the reality is that unhoused people are living the consequences of our government's failure to secure the basic necessities people need to survive," she wrote in a letter to her colleagues on Friday. "If Congress does not act now, the fallout of the eviction crisis will undoubtedly set us backwards as the COVID-19 pandemic continues to ravish our communities — needlessly contributing to more death and suffering."
Over the course of the weekend and into Monday, Bush received help and visits from other progressives: Representatives Ayanna Pressley, Alexandria Ocasio-Cortez, Ilhan Omar, Jamaal Bowman, Jimmy Gomez, and Mondaire Jones all showed up, as did Senators Bernie Sanders and Elizabeth Warren. Her protest gained support among some members of the Congressional Black Caucus, including chair Joyce Beatty, who joined the vigil. Senate Majority Leader Chuck Schumer gave his support, too, reportedly hugging Bush and Ocasio-Cortez after news of the extension broke, telling them: "You did this."
The CDC's extension will last for 60 days, and applies only to renters in parts of the country where COVID cases have been surging. Biden estimated that it would cover about 90 percent of renters nationwide, but it also buys time — for Congress to provide the legal framework to uphold the moratorium, and, crucially, for the millions of renters who stood to lose their homes.