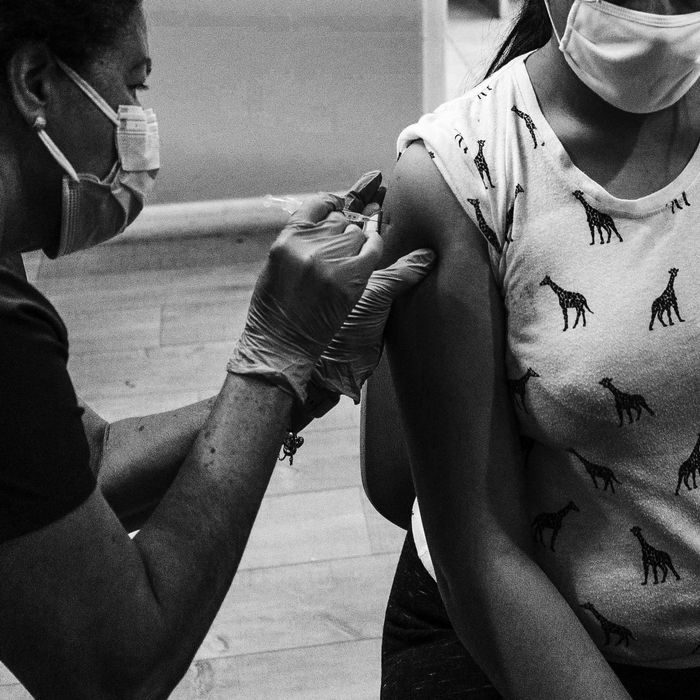 Photo: Saul Martinez/Bloomberg via Getty Images
Last week, the Biden administration announced that the White House would begin to roll out COVID-19 vaccine booster shots for all Americans starting on September 20. The announcement came a week after the FDA approved third doses of the vaccine for immunocompromised people, who often have an inadequate immune response to two shots. But there's still debate over whether boosters for everyone are necessary, whether they're the best use of resources, and when the right time to get them is. Here's what we know so far.
Will I need a booster shot?
The FDA has already authorized booster shots for immunocompromised people, which was immediately followed by a CDC recommendation to distribute them to those most at risk. Neither agency has yet approved or recommended third doses for the general public, though according to last week's briefing, the White House is examining data that suggests third doses will be required to keep everyone safe. But the plan is still subject to FDA review.
The move is mostly preemptive and based on concerns that the efficacy of the vaccines may wear off over time. So far, we know their ability to protect you from getting COVID-19 does fade. The booster shot will re-up on the vaccines' protection against infection (a big concern given the highly contagious Delta variant) and ensure that, should you become infected, you won't experience life-threatening symptoms.
The first round of booster doses is intended for Pfizer and Moderna vaccines. Johnson & Johnson has reported that a second shot of its vaccine will also boost COVID-19 immunity and plans to submit data to the FDA in the hopes of distributing those boosters alongside the third-shot ones next month.
When should I get one?
Americans will be eligible eight months after receiving their second dose, a timeline that the Surgeon General indicated is an approximate guess based on advice from experts. The administration expects the earliest recipients — health-care workers and seniors — will qualify by September 20, and after that, eligibility will mirror the vaccine rollout as various high-priority groups hit their eight-month mark.
Does this mean we have distributed enough first and second doses?
Nope. A lot of scientists don't support the decision to offer third doses to all Americans, emphasizing that the most important priority should be distributing the vaccine both within the U.S. and globally. The W.H.O. has even started asking that wealthy countries hold off on giving out booster shots until at least October in an attempt to boost vaccination rates in other countries. In some places, this rate remains under 10 percent. Since vaccines are still keeping recipients out of hospitals in the U.S., some experts believe those third shots would be better used as first shots in countries struggling to distribute enough doses.
Will the booster shots have any side effects?
Probably not. The FDA is still determining whether adding a booster poses any risk to the already vaccinated and will not approve the White House plan if it finds anything of note. The most likely case is that the shots may cause some mild COVID-19 symptoms, much like what recipients experienced after their first two doses.
Will we need booster shots forever?
No one knows! It's possible the COVID-19 vaccine could become something like a flu shot, administered once a year — and maybe even be different each time depending on which variant health experts expect to see.