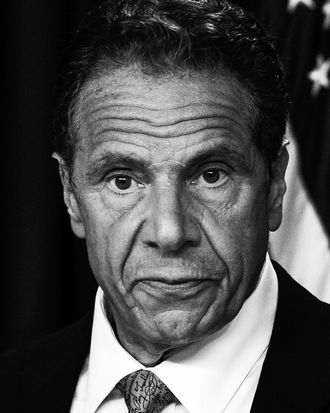 Andrew Cuomo
Photo: Getty Images
The Albany County sheriff's office has received a criminal complaint against Andrew Cuomo, the first time someone has reported his alleged misconduct to law enforcement. Sheriff Craig Apple told the New York Post that "the end result could either be it sounds substantiated and an arrest is made and it would be up to the DA to prosecute the arrest."
The woman who filed the complaint says the governor reached inside her shirt and groped her breast at the executive mansion last year, and is identified as "Executive Assistant #1" in a report New York Attorney General Letitia James released on Tuesday. That document outlines the findings from a months-long investigation, detailing allegations from 11 women who say Cuomo sexually harassed them. James believes the governor violated state and federal law but left legal action up to individual complainants. One of Cuomo's accusers, Lindsey Boylan, announced her intention to file a civil suit against her ex-boss yesterday, but Friday's complaint could result in criminal charges. The Albany County district attorney David Soares is already investigating the incidents that allegedly occurred locally, telling reporters on Tuesday: "It's pretty clear that we have an obligation here."
Speaking with investigators, "Executive Assistant #1" said that Cuomo routinely made suggestive comments about her personal life, such as asking her if she ever "fooled around" with anyone outside of her marriage. She says he touched her in ways that made her uncomfortable — holding her in tight, lingering hugs; rubbing her lower back and her butt; kissing her unexpectedly on the lips — and that, in late 2020, his behavior escalated. The woman says Cuomo summoned her to the executive mansion and, once they were alone, reached his hand inside her shirt to cup her breast over her bra. She says she pulled away and told him, "You're crazy." In the weeks that followed, she recalled Cuomo cautioning her against mentioning the encounter to anyone else. She added that she planned to "take this to the grave" before the other allegations came out. But in March, she says she wound up confiding in two co-workers who noticed her emotional response to a press conference in which the governor denied ever touching anyone inappropriately.
Cuomo, meanwhile, also denied the allegations to investigators, saying: "To touch a woman's breast who I hardly know, in the Mansion, with ten staff around, with my family in the Mansion, to say 'I don't care who sees us.' … I would have to lose my mind to do such a thing." After James released the report, he reiterated the same denial he's stuck to all year. "I never touched anyone inappropriately or made inappropriate sexual advances," he said, while in the same statement admitting that he regularly grabs and kisses acquaintances without notice.
Asked to comment on the complaint, a spokesperson for Cuomo told the Cut that the state notified local police and provided contact info for the woman's attorney in March. "As we said previously," Rich Azzopardi stated, "we proactively made a referral nearly four months ago in accordance with state policies." (The Cut has contacted the sheriff for confirmation.) While Cuomo's attorney, Rita Glavin, had not responded by time of publication, she has already responded to (and refuted) each of the allegations at length. With respect to the groping accusation, she said, "This simply did not happen." Meanwhile, the New York State Assembly is reportedly wrapping its impeachment investigation, while three other district attorneys — in Manhattan, Nassau County, and Westchester County — are looking into the allegations.