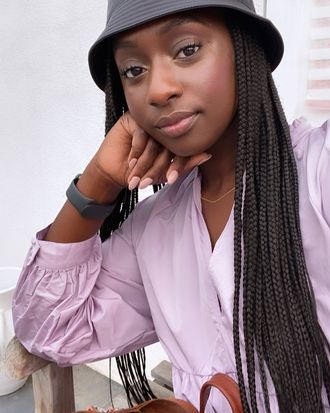 Photo: Courtesy of Diarrha N'Diaye-Mbaye
Want more skin care? Join the Beauty Group on Facebook.
When she looks back at her skin-care routine from a decade ago, Diarrha N'Diaye-Mbaye wishes she could give her younger self two tips. First and foremost: Read the ingredient labels. "Fresh out of college, I was very about marketing and sometimes even about just the packaging versus asking, How does this product work with the rest of my routine? What is it actually doing to my skin?" N'Diaye-Mbaye, a former social-media strategist and former Glossier product developer, learned the hard way: When some brands talk about "brightening" the skin, what they really mean is "bleaching." A label doesn't offer every single piece of pertinent information — it doesn't disclose the exact percentages of each ingredient in the product, for example — but it's a good starting point to identifying certain ingredients like hydroquinone, a common skin-lightening agent that N'Diaye-Mbaye avoids.
She's still a beauty junkie at heart, but it took a pandemic to slow everything down for N'Diaye-Mbaye to realize that she also needed to pare down her maximalist routine, which often resulted in atopic dermatitis. "When I stopped being so fussy with my skin in the morning, I was able to focus on my skin's language, to listen to what it really needs," she says. "Now we're in summertime and the ACs are blasting, I'm realizing that my skin's a bit dehydrated, so I'm really focused on hydration."
N'Diaye-Mbaye's "less is more" approach is at the core of her new makeup brand Ami Colé, which was made specifically for and with melanin-rich skin in mind. At the center of the collection is the Skin-Enhancing Tint, a lightweight, satin-finish fluid that adds a sheer hint of color and a glow but doesn't hide the skin. "I realized that so many of my friends and my family were hacking their makeup by using a foundation mixed with an oil or a moisturizer," N'Diaye-Mbaye says. "Iman Cosmetics used to make a very beautiful BB cream, but unfortunately, it has morphed into something else. I wanted a modern brand that looks fresh, that is accessible, that really thinks about branding and luxury, and that is affordable, too." She thought, "Someone's gotta do it." Why not her?
The founder hopes the excitement over Black beauty brought on by 2020's racial reckoning continues as she thinks about the future of Ami Colé. "A lot of Black-owned brands that were suddenly highlighted in Harper's Bazaar or Vogue for the first time [last year] had existed for years. The beginning of the conversation was about diversity and getting those names through the door, but now that we're on the tail end of the fury, we need to make strides with thinking about equity," she explains. "Like, how do we institutionalize this change and not have it be tokenism?" N'Diaye-Mbaye notes the importance of equalizing resources, particularly for indie companies with smaller budgets. She wonders, if an upcoming brand is offered the chance to cover window displays in department stores across the country, but must spend between $50,000 to $100,000 to make that happen, how much of an "opportunity" is it really if they're competing with larger, established brands with unlimited funds? It's hurdles like these, she says, that must be cleared to create an equal playing field.
Below, N'Diaye-Mbaye shares her current product rotation for combination skin, including the oil cleanser that fully breaks down her makeup, the face oil that doubles as a hair oil, and the lip oil that works with all skin shades.
The Double Cleanse
"For the past five years, this has been my favorite oil cleanser. I stumbled upon it either at Sephora or on Tatcha's Instagram, but I'm also a huge fan of the brand's thoughtfulness and formulations.
I love to oil-cleanse, especially when I am wearing heavy makeup and sunscreen, and this oil is one that I can trust to break down all of the grime, sweat, and makeup on my skin. When I've gone for a second wash, or if I've just been lazy and wiped my skin with either a muslin cloth or a cotton pad, I've seen very little residual makeup — I'm always really impressed by that.
Also, as someone with oily skin, I've learned that I have to combat oil with more oil, and using this cleanser, I see more balance. Honestly, 50 percent of the reason I love this is that it feels so amazing on my skin. For a while, I was also testing other oil cleaners like the DHC Deep Cleansing Oil — it was a Reddit recommendation — but it was very thick and hard to get off. The Tatcha one transforms into a little bit of a milky emulsion and washes right off, which I really enjoy."
"I use Klur's Gentle Matter Moisture Cleanser to gently wash away the remaining grime. It's a no-foam, scent-free cleanser that conditions the skin while you cleanse; it's almost as if Glossier's Milky Jelly Cleanser graduated to a high-performing yet gentle cleanser. Lesley Thornton, the founder of Klur, is an amazing formulator, and she's also an aesthetician, so she would use it on her clients before doing any other treatment. It's strong but doesn't strip your skin. Have you ever used a cleanser where you wash your face and two seconds later, your skin is super-tight or you see evaporation happening in certain areas? That's never happened with Gentle Matter.
It is literally perfect for my skin, and as soon as I stop using it, I start to see texture emerge, especially around my mouth and cheek area; that's how I know I'm not doing a good job cleansing. I've been using it for the past four years, and I've literally gone through at least 20 bottles."
The Serums
"While my skin is still damp, I tap my favorite serum onto my skin. My serum of choice really depends on my skin's needs that day. If I am experiencing under-the-skin pimples, which happens a lot around my time of the month, I use the Skinceuticals Retexturing Activator Replenishing Serum. This is another product that I've been using for a very long time.
It's rich in hyaluronic acid and kombucha. Yes, kombucha. You would think that I would stay away from fermentation since I'm prone to atopic dermatitis, but it must be in there at a very minimal level because it's never irritated my skin. It's a really powerful antioxidant, so I just tap that on and wake up with clearer skin if I do have texture. The hyaluronic acid is in three different-sized molecules, so it really does a great job at penetrating the skin. Especially after a train ride or a plane ride, this is definitely one of my top things that I grab."
"This was a recommendation from Lesley [the founder]. I was like, 'Hey, hydration is key. I'm always traveling for work, and I'm always on a plane so I really need something to take care of my skin when I land.' It really does keep my skin plump and supple during all seasons. I actually use it when my skin's damp so the product can grab onto the moisture. It also has one of my favorite ingredients, niacinamide — it's a skin-care powerhouse. Someone with dermatitis would love this one because it soothes the skin and it's scent-free."
The Face Oils
"I am a huge face-oil fan. At night, I grab my Hugh and Grace face serum, which is a beautiful, brightening, and restorative oil with vitamin C, grapeseed oil, rose-hip oil, and primrose oil. It's simply amazing, and my skin thanks me for it. To be honest, the product is a bit pricey for what it is, but you only need very little — I use about two drops when I use it, and that's enough to bring it down from your face to your neck. A bottle lasts me around three months, and that includes me sometimes using it on my hair."
"This product can be very polarizing. Before trying it, I was one of those people that was like, 'There's no way on this actual earth that I'm spending that much money on a product.' It wasn't until I worked at Glossier and happened to be in the PR closet that I was like, 'Can I pretty-please try this oil?' They told me to take the bottle, and I tried it and understood the hype. At the time, my skin was freaking out because we were trying retinols and trying all of these different things, and it was really hard to find a balancing system for my skin.
Very few oils, and products in general, have given me instant results, but when I used this at night, I woke up the next day and my texture was gone by at least 50 percent. It's very potent, and it doesn't need to be used every single day — I don't believe in that — but on those troublesome days where you just don't know what to do and your serums have stopped working suddenly, this is it. It's my last step before I'm like, 'Let me go to the dermatologist.' The formula is just right and there's no way to duplicate it, though people have tried many, many times. It's a skin-care splurge that I don't blink twice about."
The Lip Oil
"All Ami Colé products are crowdsourced. We spent a lot of time asking our friends and family, 'What do you want? What are you using every day?' And both the Skin Tint and Lip Treatment Oil were those everyday staples we felt we needed to fulfill. But beyond the need, I'm a huge fan of lip treatments. I am one of those people that go crazy if I leave the house without ChapStick or something. I was obsessed with the Laneige Lip Sleeping Mask and the Bite Beauty Agave+ Nighttime Lip Therapy, but both of them require that you dig your fingers into it. I was like, 'How do I mitigate treating my lips without having to go into the pot?' Then I also wanted to create something that I can use throughout the day and give me a glossy finish and be very cocooning but isn't sticky and overwhelmingly scented. I was thinking, What are all the things that we hate about the old-school lip glosses?
We use a vanilla aroma, and then in terms of the color, we asked, 'What does nude mean to you?' We got a few common shades that kept popping up, and we literally mixed them all together and created this rosy taupe that really works on all skin colors."