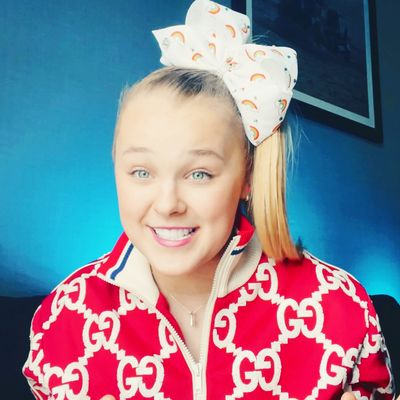 Photo: The 32nd Annual GLAAD Media Awards/Getty Images for GLAAD
Jojo Siwa and her dog, Buddy, announced today that the social-media star will be half of Dancing With the Stars' first same-sex dance partnering. We've seen artificial intelligence, luxury yachts, and elaborate prosthetics come to reality TV, so it's about time we saw some non-straight couples dancing. And who better to ring in this momentous occasion than the high priestess of all things sparkly and rainbow, Siwa herself?
Earlier this year, Siwa came out as a member of the LGBTQ+ community, posting a picture of herself wearing a shirt emblazoned "Best. Gay. Cousin. Ever." In an Instagram Live the next day, she said she had "never, ever, ever been this happy before." Since then, she's talked about her girlfriend encouraging her to come out , rejected a collab offer from DaBaby (wise), and revealed Demi Lovato played a key role in her "gay awakening." What a whirlwind.
And while Dancing With the Stars doesn't exactly have an unimpeachable record when it comes to casting (let's keep in mind this is also the show that welcomed Sean Spicer and Carole Baskin into its ranks), it's exciting to see Siwa make reality-TV history. After yesterday's announcement, she told Variety, "I think it's really special that I get to share with the world that you can love who you love, but now you can dance with who you want to dance with." As do we!
Also joining Siwa on the 30th season of Dancing With the Stars (though not as her dance partner) is Olympic gold medalist Suni Lee, who joins a long line of gymnastics who have appeared on the show, including Simone Biles, Shawn Johnson, Laurie Hernandez, and Aly Raisman. Also: This show is on its 30th season? We're really approaching Survivor territory here.
In any case, here's hoping this year's bow budget is big enough to accommodate Siwa's needs.